Way back in the day we used to upload voices to our hacked versions of TomTom to Pocket PC devices. Remember someone having Yoda speaking out the directions?
Now we've got Waze which, if you didn't know already, is a rather clever community-driven traffic and navigation app. If you install it then you'll see traffic issues that other drivers have flagged. What's good about it is the precision – you can see just how far the traffic jam goes. Clever stuff.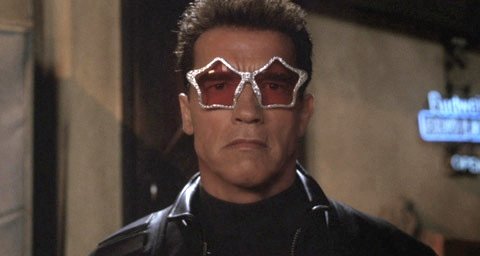 I expect this will eventually blend into Google Maps / Navigation and it looks like bits have already, because Google seems to be getting scarily precise at telling me where the traffic is on Google Now / Google Maps.
Anyway, I digress.
How'd you like Arnold Schwarzenegger telling you where to go in Waze? Oh yes. Welcome to 2004 baby. Now you can get Arnie saying, "I need your clothes, your boots and your motorcycle" and "A phased plasma rifle in the 40-watt range" with an "The Uzi nine millimetre".
Perhaps. It's free of charge to all users. You just need to get the Android or iOS version of Waze.
All of this is in no way an attempt to promote the new Terminator Genisys movie( (KER-CHING), created by Paramount Picture and Skydance Productions (KER-CHING). It'll be in your local cinema on July 2nd (KER-CHING). It'll probably be pants, but either way they've managed to get Arnie to say something about the chuffing app. He totally wasn't paid to say this..
From the first time I used Waze, I have wanted to lend my voice to it. The Terminator is the perfect machine to guide Wazers to their destinations.
Yeah. OK. Righty-ho. You've used Waze Arnold. Yeah? And you're seriously a fan? Really? Riiiggghhhhttt… I'll go with this, so dive into the press release below for more details.
Oh and by the way, they've got a live map which is really rather good, so if you want to check out how the traffic is right now, give that a spin too.