Vodafone today became the latest network to join the home broadband market, with their Connect offer. Vodafone Connect is a fibre service offering speeds of up to 76 Mbps with unlimited downloads.
https://youtu.be/Ysjo5PsSb3I
Rather than charging for different usage amounts, Vodafone have different tiers based on speeds, up to 17Mbps, up to 38Mbps and the top tier offering speeds up to 76Mbps. All packages come with free evening and weekend calls to UK landlines and a snazzy Vodafone Connect router.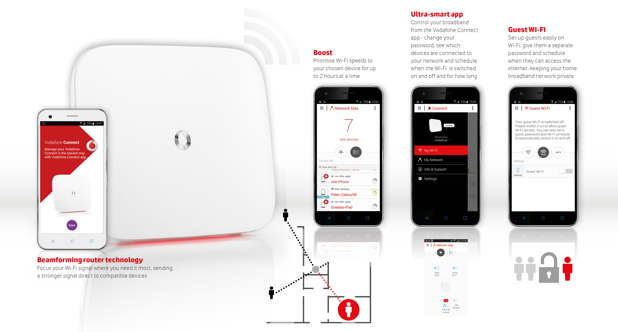 The Connect router has a number of extra features to ensure users get the best experience:
Boost – allows you to give priority to one device to ensure you get the fastest speeds, great for a gaming enthusiast or if watch a lot of streaming
Beam – uses Beamforming technology to ensure compatible devices get signal even if hard to reach parts of the house
Guest Wifi – allows you to restrict what guests can access on your wifi
Family time – for when you want to set up time limits for devices to ensure kids go to bed or spend time with their parents (Vodafone are not responsible for any arguments this may cause)
These features can all be controlled by…… the Vodafone Connect companion app (you knew there was one coming). The app will be available for iOS and Android.
Prices start from £5 per month for existing Vodafone customers or £10 per month for new customers (+£16.99 line rental) on an 18 month contract for the lowest package rising to £20 or £25 on the top package. There is an initial offer of 12 months half price. Vodafone Red customers also get an extra 300 minutes to use to call mobiles and landlines.
Before everyone rushes over to the Vodafone website to sign up, availability is slightly limited to start with. Initially it will only be available to existing customers in Manchester and parts of Surrey, Hampshire and Berkshire before soon rolling out to parts of Essex, Hertfordshire and Yorkshire. Other Vodafone customers will have availability later in the year with full offer opening to everyone by the autumn.
You can read more details on the Vodafone blog or sign-up at Vodafone Connect.