Honor decided to step up their game with the 6+, in a world of fancy curved glass or metal devices they had to release a really good looking device and at a decent price point too. Quite how a relatively new brand make a mark on the mobile market with a new flagship though remains to be seen. I have been using the Honor 6+ for the last month and it's now time for my thoughts on it to be committed to the internet. Starting of course with my good and bad points.
Good and Bad Points
Good
Decent spec.
Dual 8MP camera setup is capable of some amazing photos.
Dual SIM (1xNano & 1xMicro) or Micro SD/SIM (1xMicro SIM & 1xMicro SD) setup.
Nice display with great viewing angles.
Solid construction.
IR Blaster.
Great battery life.
Some useful software tweaks.
Bad
Emotion UI skinning leaves some areas un-themed.
Emotion UI at times can be confusing as to where settings have been moved to.
Fibreglass Backplate feels plasticy and is very slippy.
KitKat out of the box, with Lollipop coming soon.
Design
The Honor 6+ is a great looking phone, it's a mix of metal, glass, fibreglass and polycarbonate and the usual fingerprints, having a flat glass front and back (or fibreglass) really does attract fingerprints.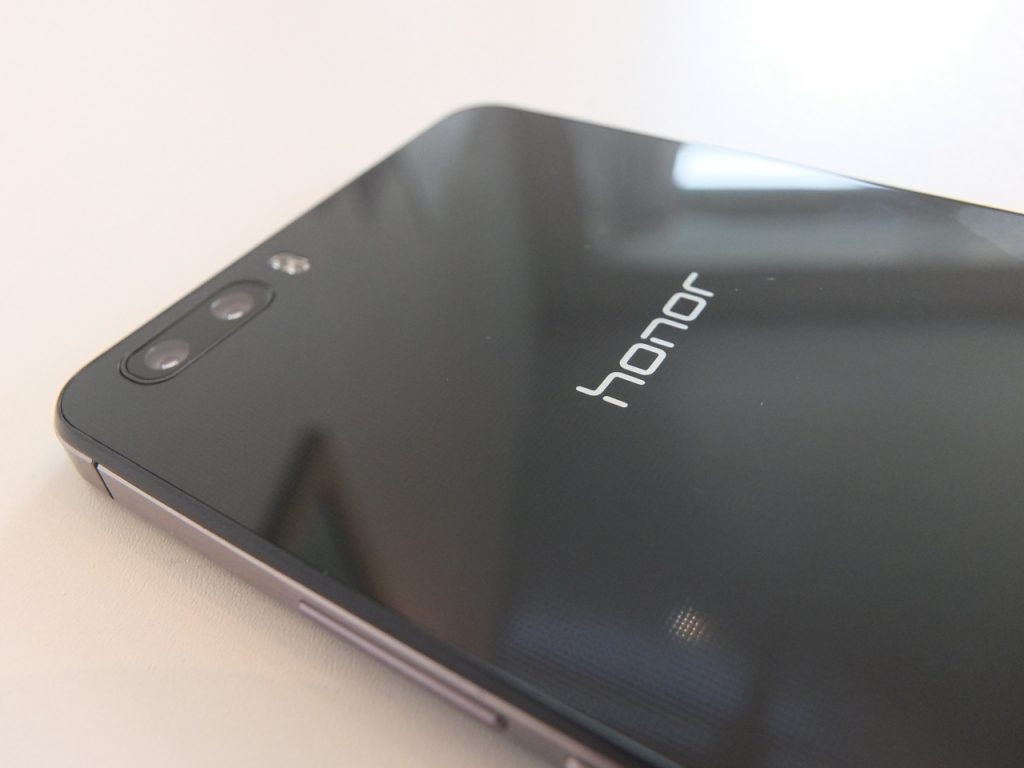 The right hand side is where the Dual SIM slots live, which is a Nano SIM / Micro SIM setup, with the Nano slot doubling up as Micro SD slot. Unlike the Huawei P8 slots this one actually makes sense and you can clearly tell what to put where.
The power button and volume rocker also live on the right.Both buttons have a faint texture too them, like the texture of a nail file almost. For me the power button sits in the perfect place for my left hand middle finger to operate, it is almost made for me…..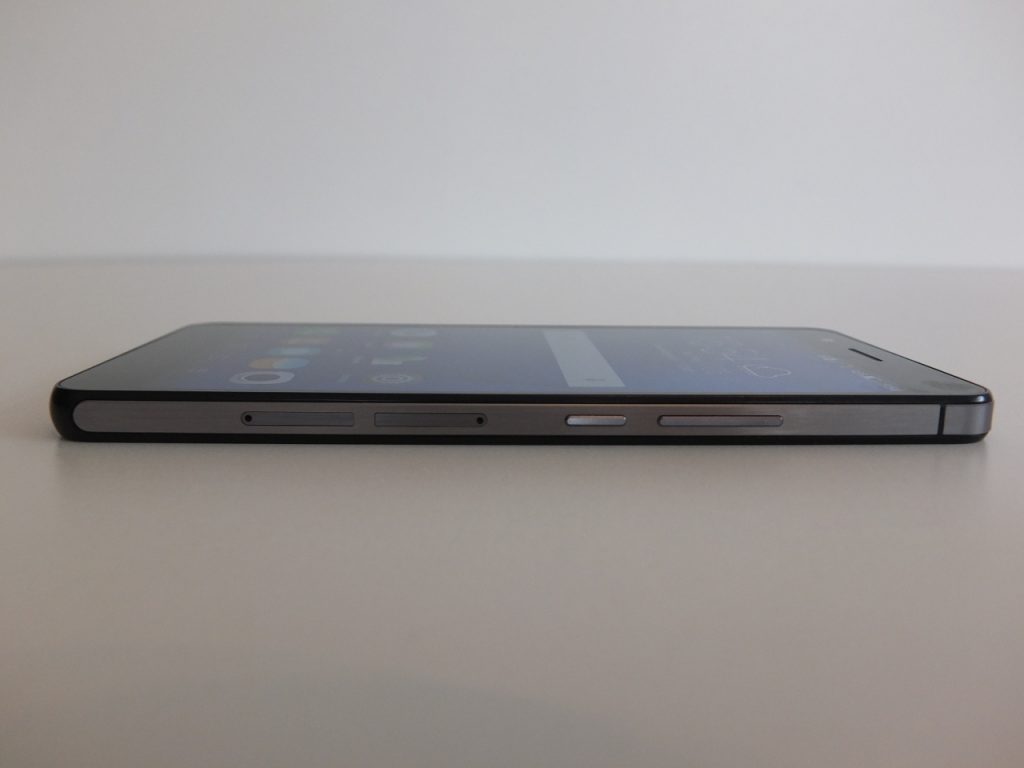 The top edge houses the 3.5 MM headphone socket, the IR blaster and the secondary microphone. Having an IR Blaster is really quite useful these days, being able to control things using your phone is really handy.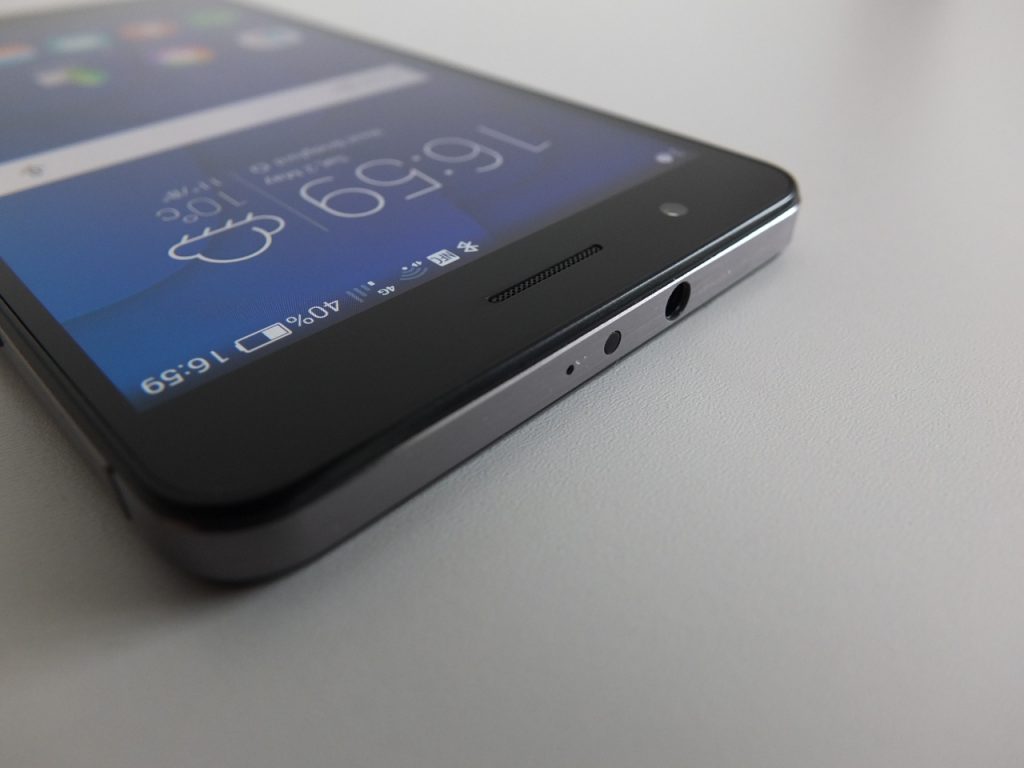 The bottom edge is made of polycarbonate and it just has the Micro USB port and the microphone.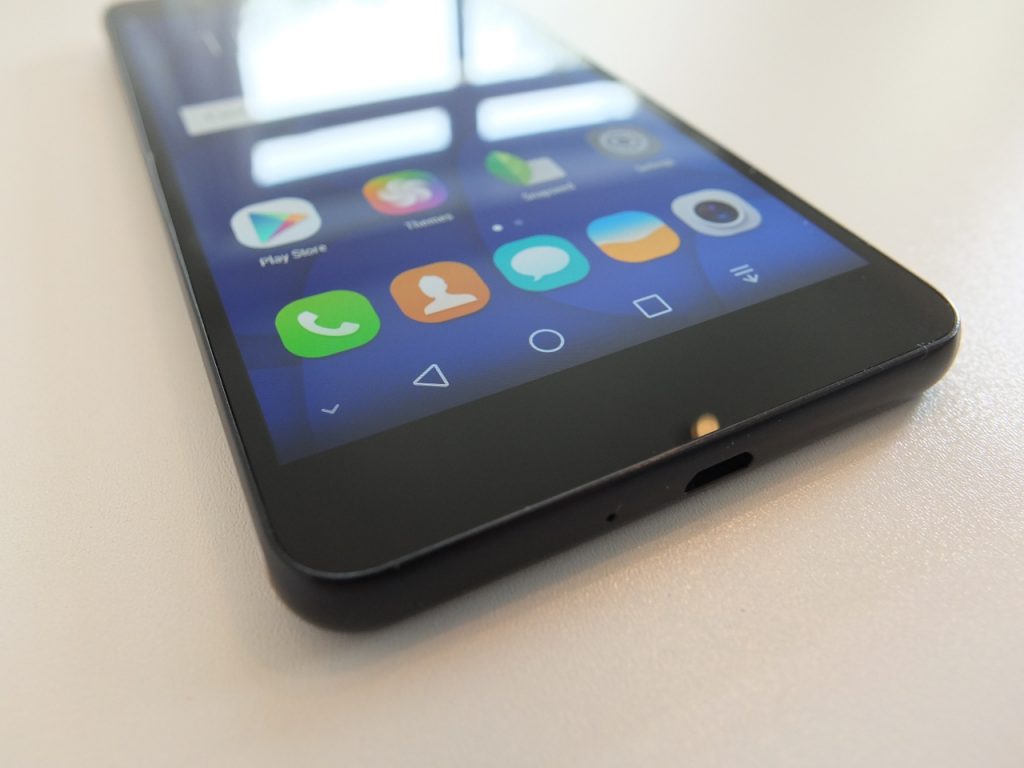 The back is a little weird, it looks like it will be glass, but it is just actually some shiny fibreglass. Inset into the back is the single speaker, the dual flash and the dual 8 MP camera setup. You also get the Honor logo too. The back if held at the right angle is slightly shimmery, which on the black version I have looks quite cool.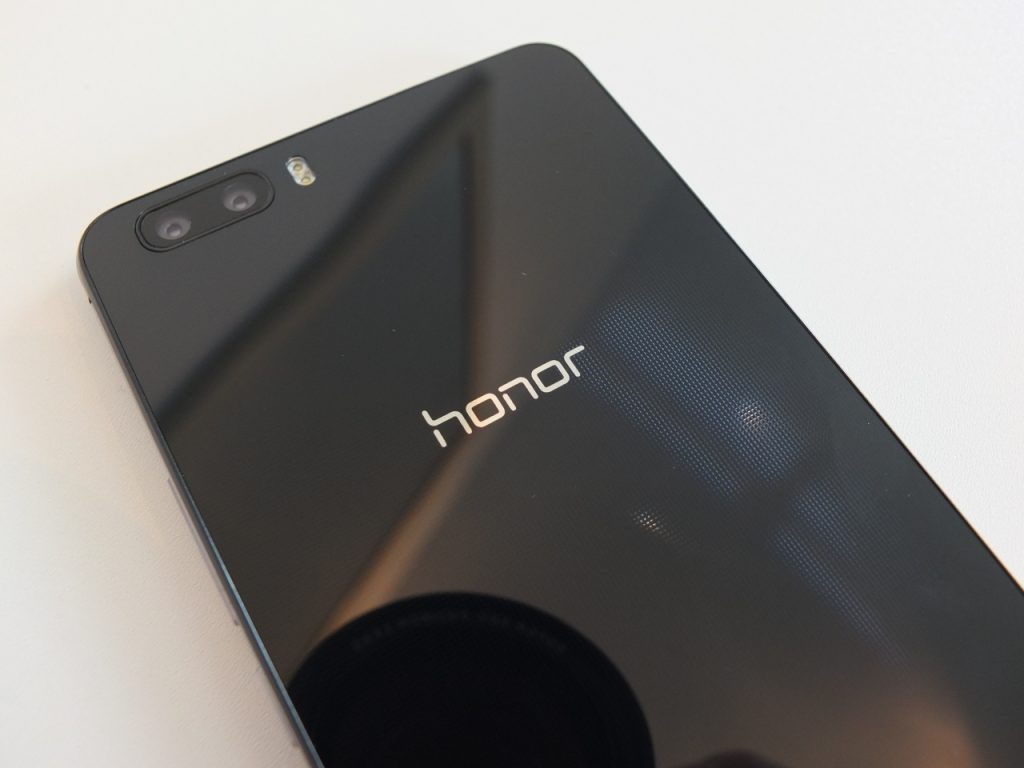 The front of the front is home to the 5.5" display, the front facing 8 MP camera, the earpiece and some sensors.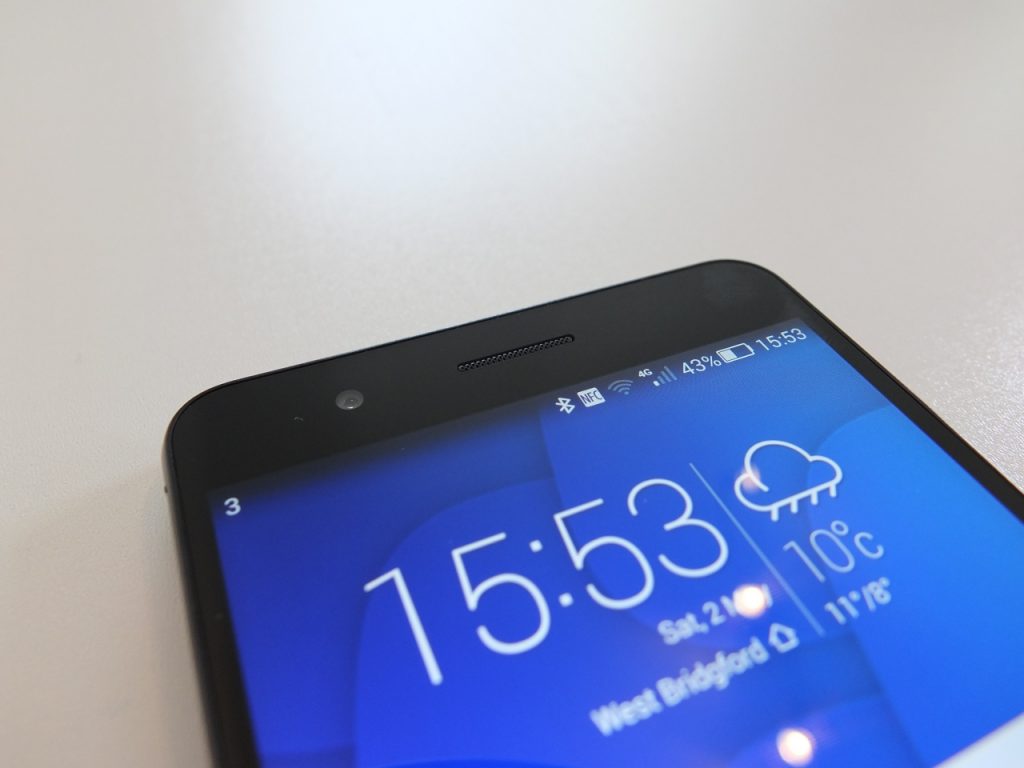 Overall the design is nice, it does feel a bit thick, but that is mainly down to the large battery it has on board. The thickness, the weight, the size and the overall solid feel to it, give it a really solid and reassuring feel to it. Some people say it is just another iPhone clone, which I'd say yes it does look a little bit like the iPhone 4S/5/5S, but it is so much more than just a metal strip around the edge of a device.
Here are a load of other shots of the Honor 6+ I took.
Hardware
Spec wise the Honor 6 Plus is quite a well spec'd device, with  the following specs:
Screen: 5.5″ FHD 1920×1080 JDI Display.
Chipset: Kirin 925 Octa-Core 1.8 GHz Processor.
GPU:Mali-T628 MP4.
Battery: 3600 mAh.
Rear Camera: Dual 8 MP.
Front Camera: 8MP.
Internal Memory: 32GB (about 25 GB free out of the box).
RAM: 3 GB.
Connections: WiFi a/b/g/n with 5G support and BT 4.0.
IR Blaster.
Android 4.4.2 with EMUI 3.0.
£299.99 from Amazon.
Having 32 GB of internal memory is nice, especially accompanied by a Micro SD slot. The inclusion of WiFi ac with 5G access is nice too. The only slight downside in the spec is the GPU, it's an older Mali-T628 MP4 which means some brand new graphically intense games may struggle a bit, I did however try a load of the current popular games like Monument Valley and Marvel: Contest of Champions and had no issues at all. It is just going to be the latest offering from Gameloft you may struggle with. I tried Dungeon Hunter 5 and the frame rates were so slow it was unplayable.
Benchmarks
As always the benchmarks give you an idea of where the device sits in the world.What it does show us is how far it is behind processor and GPU compared to something else out at the moment and yes I know the Note 4 costs more and the P8 is basically the same phone.
3DMark – 13641 (Huawei P8 – 12022, Note 4 – 23891)
AnTuTu – 44491 (Huawei P8 – 50175, Note 4 – 52271)
Geekbench – 3196 (Huawei P8 – 3451, Note 4 – 3268)
Quadrant – 11166 (Huawei P8 – 14023, Note 4 – 29030)
Battery Life
The 3600 mAh battery is quite capable, under my usual heavy ish use I was able to get between 3-5 hours screen on time with it lasting for a about 16-20 hours in total. It really depends what you attempt to make it do in the day.
Dual SIM setup
As you can see in the gallery above the 6+ has two SIM slots, the bottom slot is a standard Micro SIM slot and the top slot is a Nano SIM / Micro SD slot so you'll have to decide how you want to set this device up. If you want dual SIM you will need one Nano and one Micro SIM and you can wave goodbye to the Micro SD card. If you want to use a Micro SD card you'll need a Micro SIM in the bottom slot and a Micro SD in the top slot.
The Emotion UI SIM management section of the settings menu manages a Dual SIM setup quite well and lets you choose which SIM the SMS, Calls and Data come from.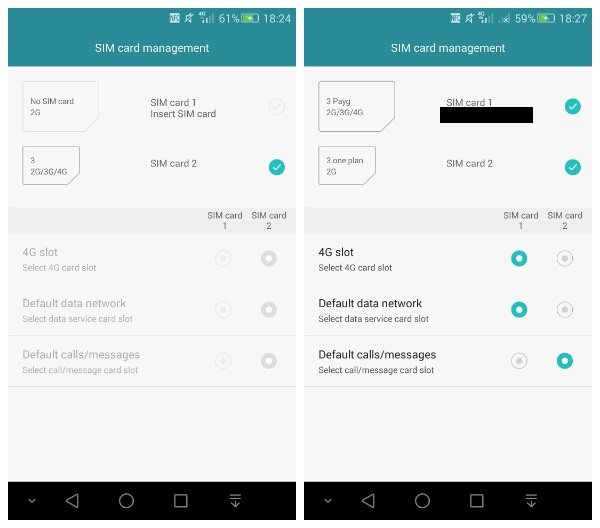 Sound Quality
Sound Quality is often something that can ruin a device and your outlook upon it, take the HTC Boomsound equipped devices, those owners will always want something of that standard from the day they buy one. The Honor 6+ isn't quite that good unfortunately.
The rear speaker is flush to the back panel and can get muffled quite easily is placed on a flat surface, volume is reasonable (not deafening), clarity is good with no real distortion at full volume, depth of bass from the speaker is basic overall it is just your average phone speaker.
With headphones in volume is good, clarity is good again with no real distortion at full volume, depth of bass is down to your headphones and with a range of decent pairs I have I found the bass a little lacking. Overall the sound with headphones in is good, its just the equaliser is an on/off affair from DTS and there is no adjustment, so you're left listening to music how they want.
Call quality is good, no doubt thanks to the underlying Huawei hardware.
Software
The one thing that people do not want to discuss about the Honor 6+ is KitKat, it runs KitKat, Lollipop is meant to be coming very soon. Personally I don't see Lollipop bringing that much to the 6+, bar the new style Lockscreen notifications, a new Notification Manager as seen on the P8 and a load of problems inherent to Lollipop. As for Android M, lets not go there. Honor/Huawei  have done a good job of skinning KitKat and you really can't tell a huge difference software wise between the P8 I have running Lollipop and 6+ running KitKat. The skin known as Emotion UI is a mix of themes, icons, skinned menus, skinned core apps and some widgets are very good at masking what lies beneath.
Launcher, widgets and App Drawer
The launcher is one of those that don't use an app drawer, opting to give a sea of icons in an iOS stlye, letting the user group icons into folders and tidying things up that way instead.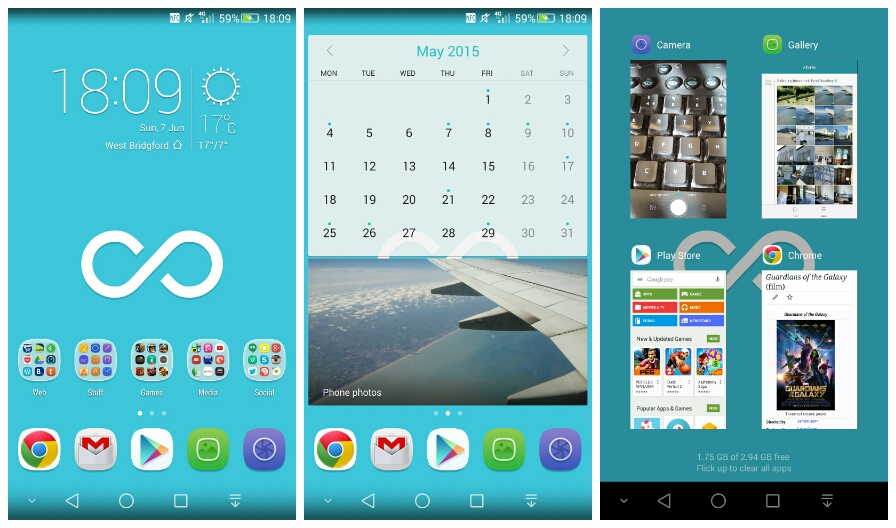 Simple Home Screen Style
The usual Huawei Simple home screen is present allowing you an easier interface to work with if needs be. It basically gives you a tiled interface a bit like Windows Phone.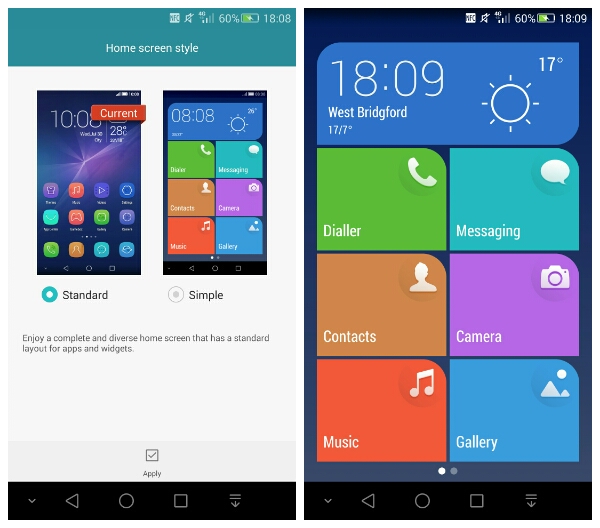 Phone Manager
Phone Manager is an app that "monitors and helps" with day to day activities, background tasks, power management and cache clearing. The world is divided over this sort of app, Android doesn't really need it as it manages all of this perfectly well on its own. But some users like this sort of thing and some manufactures keep on pre-installing them. At the end of the day it sets out to what it should do, it is just that isn't overly necessary, drilling down into the settings most elements can be disabled or turned off/down.  No doubt some people will be annoyed by this kind of stuff, it might even effect battery life by constantly monitoring whats happening, but for me I like being able to clear cache or junk files from one central place.
Notification Manager
The Notification Manager is part of the system that allows or disallows apps to push notifications to the drop down notification area, you can make an app ask for access, grant access or restrict access, it is handy for restricting apps that force adverts etc onto your device through the drop down area.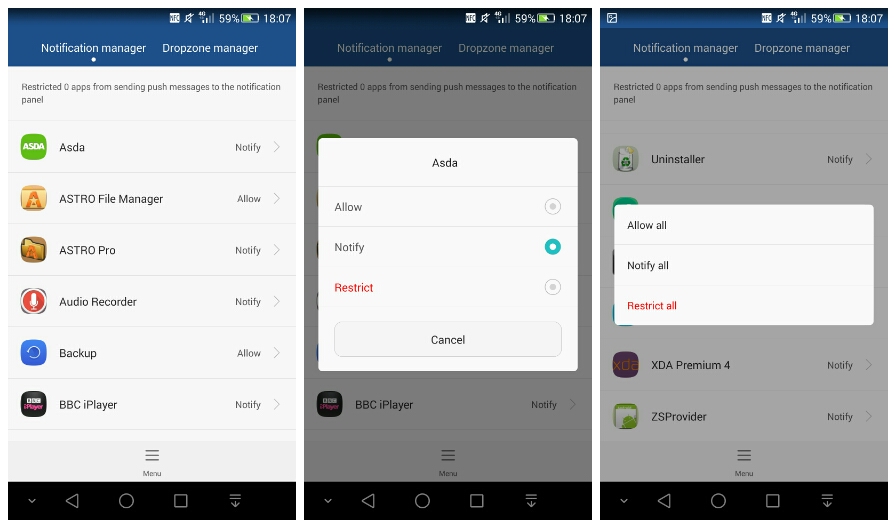 Themes
The Emotion UI themes are present, with a range of downloadable styles to choose from, I always find with this sort of thing that certain apps are missing from the icon pack and that using Apex Launcher and an icon pack results in a fuller theme.
Motions and Gestures
The motions and gestures section of the settings menu allows access to some pretty handy features, such as enabling double tap to wake, screen off app launch gestures or enabling the elusive TouchPlus screen protector.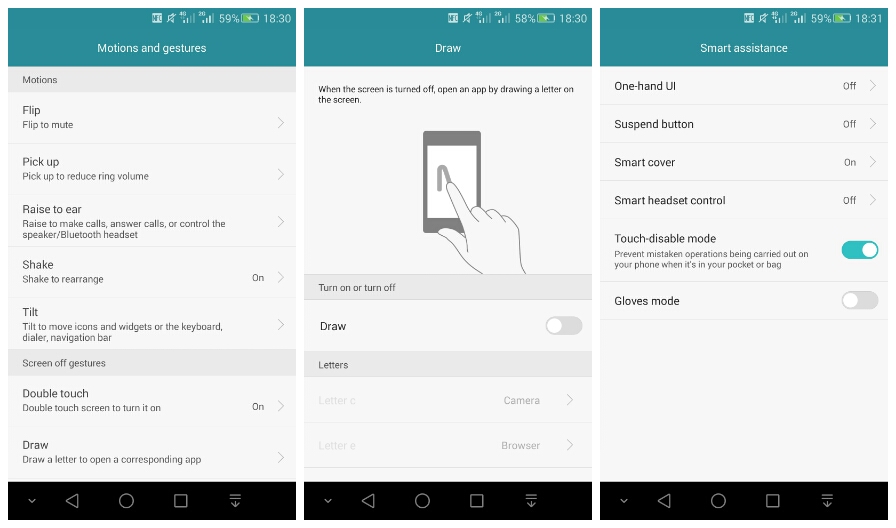 Overall the software is pretty handy, things like the gestures and the notification manager are actually quite handy. On the other hand running KitKat and having to deal with the phone manager side of things is a little annoying. Honor really need to push out Lollipop and do some long hard thinking about future firmware updates. For this device to not get Android M will be a disaster in the long term for them. It would put them on the "we don't update devices that often" pedestal with the likes of Archos, Oppo and Xiaomi and they really don't want to be in that club so soon into their move into the mobile market.
Camera
The cameras on the Honor 6+ are all good and were a pleasure to use, they do take a little bit of understanding to fully appreciate them though. Most of the fiddling is done through the camera app and the different modes it offers.
Here are some standard shots with the rear camera, some set to the 10 MP mode in 16:9 and some set to 4:3 in wide aperture mode.
Night Mode comes in two ways, firstly the camera in itself is capable of taking shots in low light, which are quite good, with a little noise in shot. There is then a mode called "Super Night" which advises to "keep your device steady or use a tripod" as you can set the camera to keep the shutter open from between 1/4 of a second to up to 32 seconds, which would allow a lot of light in and also would need totally stability. Luckily there is an auto mode which decides for you, I went along to the river nearby and took these, fairly impressive and I found Super Night to be more annoying than anything, any slight movement made the photo a little blurry when zoomed in. It does have potential though if used wisely.
The wide aperture mode also is capable of some great things, it basically takes a few photos at once, one focused up close, one focused on something far away and one focused on your chosen focal point. You can then go back and adjust the equivalent aperture size for the photo and create another version of the original image. You can play with this infinitely creating many variations of the same shot. It is a really neat effect for portraits or macro shots.
The app for the wide aperture images is quite straightforward is accessed through the gallery, images have a shutter icon on them showing that they can be changed.
You can then adjust the focus point or adjust the aperture size and save a new image from it.
Say you want to focus on the tree instead.
You can then also adjust the F stop right up and have a normal style image.
The front facing camera is pretty good and took some reasonable shots of my face.
Conclusion
Overall for the price the Honor 6+ is a cracking phone, with a few caveats though, all falling under the "you get what you pay for" moniker. The short version is this, the hardware is good, the build and design is good, the camera is amazing and the software is a little lacking. As I mentioned earlier Honor really need to makeup for the lack of Lollipop and the huge upcoming awkward situation regarding Android M, they need to push Lollipop out sharpish and vow to never release a phone with out of date software ever again.
Having said all of this, Honor have a great device on their hands, the camera is capable of taking some really astonishing pictures, in the right hands this camera can do wonders. For the price they are asking I would say it almost unrivaled in the camera department.
Design - 7
Hardware - 6.5
Software - 6.5
Camera - 8.5
Display - 8.5
Battery - 8.5
7.6
Honor 6+ - Review
Overall for the price the Honor 6+ is a cracking phone, with a few caveats though, all falling under the "you get what you pay for" moniker. The short version is this, the hardware is good, the build and design is good, the camera is amazing and the software is a little lacking.