Ever since Apple purchased music company Beats for £1.8bn of loose change in 2014, there have been rumors that the tech company has been planning a music streaming service to compete with the likes of Spotify and Google Play Music, both long standing players in the industry.
Today in San Francisco was the big day and during their WWDC event along with showing off the new iOS 9 software, Apple announced a new music service called 'Apple Music' and it takes your music listening to a whole new level.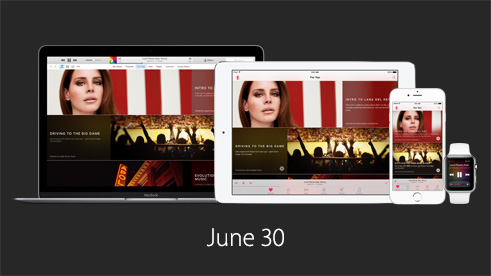 On the iPhone the Music app will be updated with the iOS 8.4 launch later in the month and Apple Music will go live to over 100 countries on the 30th June costing $9.99 a month.
iTunes will be updated to support this new service and the shock news is there will also be an Apple Music app available for rival platform Android later in the year.
No information yet on a UK price, we do know that it will launch on 30th June and in the USA cost $9.99 a month for a single user and $14.99 for a family plan allowing 6 users at a time.
The company did not just stop at announcing the new Spotify competitor, they also included some great features in their updated app including a 24/7 radio station called 'Beats One' and this will broadcast from New York, San Francisco and London with great content unlike the traditional basic internet radio stations.
Customers using the service will also get access to connect with artists content right on the move with a range of updates from photos, audio and lyrics right from the artist that you can share on Twitter or Facebook with your friends.
We hope to have an official UK price announced soon so we can update this article with the news, but until then be sure to check back for any more news on this new service that might come out before the launch.