This is just plain cool and for that reason and no other (well I kinda want to play with one) I am going to post something about it.
Anyway moving on. WowWee have just announced that they are going to be making and selling some "next robotic innovations". These are the  people who made Robasapian and Roboraptor in recent years and we all know how popular they were at Christmas with our bigger kids (Dad's included)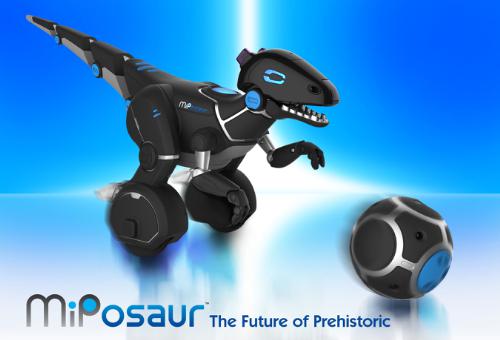 Uh-oh run Sky-net is coming and it has taken the form of a small cute dinosaur who chase's a ball. Oh wait that's just MiPosuar and he will not do you any harm apart from maybe the loss of few hours when you are meant to be working. Ah well we all need some R and R sometimes.
Here is a Video of what MiPosaur can do.

It will also have some games that you can use on your phone to interact with your new friend. I anticipate this sending my cat/son crazy which will be fun.
For those of you who have always wanted to live out you own Mad Max scenarios then WowWee have the REV. These are Robotic Enhanced Vehicles designed to battle with each other to the death (ok not quite but until someone wins). The are self thinking and have been hardwired to beat you the human opponent… wait this is sounding a bit more Sky-net like. Can I have the MiPosaur back it was more cuddly.
Here is a video of the REV in action.

If you are interested in either of these "toys" then check out the links below for more info, they are both due to retail at £99.99 from all good gadget retailers and most likley toy shops as well. they will hit the selves mid summer.
We have asked for a review unit of the MiPosuar so we will hopefully get hands on soon.