Want a tablet stand that's cheap and portable? How does £3 grab you?
This one is made from strong cardboard and ideal for slipping into your case or bag. It'll prop up your device and you can get a dozen of them for £16 – about the same price of one normal stand.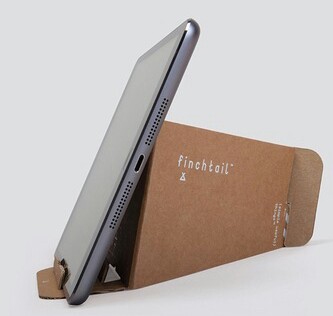 To be honest with you there's really not a great deal more we can say about this particular product, so it's perhaps best if you head to their website and scroll down to see just how easy it is to construct. You can also stick your phone in there and fold it all back up when you're done.
The makers, Finchtail, tell us…
The Finchtail Tablet and Smartphone Stand supports handheld devices for an ultra-convenient hands-free experience. Whether squeezing in a few chapters before bed, watching a film on-the-go, powering through paragraphs while sipping on a coffee or getting utterly lost during a flight, the innovative Finchtail Tablet Stand is the perfect solution for turning tablets and smartphones into free standing devices. 

If you want one, head to finchtail.com or dive into the press release below for more information.