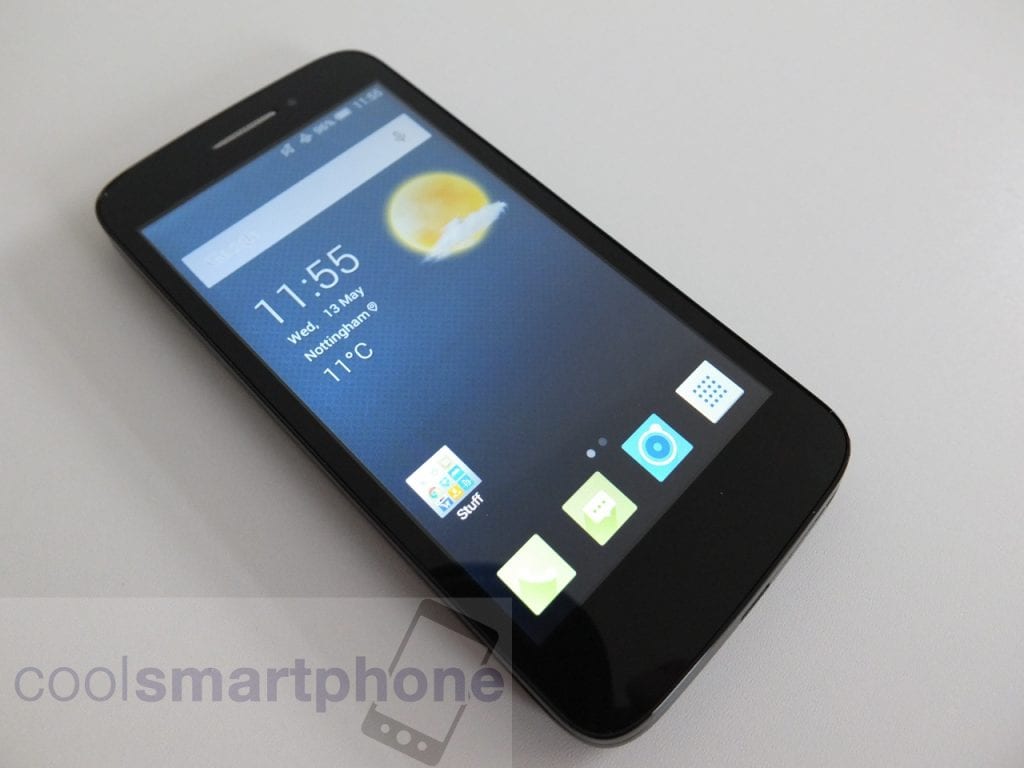 The budget phone market is big business these days, with everyone competing to be the "go to" budget device, one big seller these days is 4G and getting 4G on a device at under £100 is a good thing. I've been using the Pop 2 for a few weeks now and it's primetime for my review. Starting of course with my good and bad points.
Good and Bad Points
Good
– Small and Compact.
– Micro SD slot.
– Removable battery.
– 4G.
Bad
– Poor quality cameras front and back.
– 2 point multi touch display.
– Pre-Installed bloat.
– Only approx 5 GB of internal memory left out of the box.
– Music Volume with headphones in is quite low.
– Auto brightness sometimes takes an age to adjust.
– Readability outdoors is poor.
Design
The design of the Alcatel Pop 2 is pretty basic, at this price point it's all about fitting the cheapest components into the chassis and hoping that it all works. Or it is for some companies anyhow. The Pop 2 is plastic front and back, the front has backlit capacitive buttons for back, home and menu. The front also has the VGA front facing camera, some sensors and the earpiece. Oh and don't forget the fingerprints front and back, there are lots of them.
The sides of the phone are home to the power and volume on the right hand side, the Micro USB and microphone on the bottom edge and the 3.5 MM headphone socket and secondary microphone on the top.
The back of the Pop 2 has a speaker, the rear camera and the flash.
Check out my hands on video for more detail.
Hardware
Spec wise it is pretty basic.
– Processor: Qualcomm MSM8916 Snapdragon 410, CPU Quad-core 1.2 GHz Cortex-A53.
– GPU: Adreno 306.
– Display: 4.5 inches, 480 x 854 pixels, 218 ppi.
– Internal Storage: 8 GB (4.9 GB user available).
– RAM: 1 GB.
– Rear Camera: 5 MP, 2592 х 1944 pixels, autofocus, LED flash, Video [email protected]
– Front Camera: VGA.
– Network: GSM / HSPA / LTE.
– Dimensions: 132.5 x 65.4 x 10 mm.
– Weight: 147 g.
– Battery: Li-Ion 2000 mAh battery.
– WLAN: Wi-Fi 802.11 b/g/n, Wi-Fi Direct, DLNA, hotspot.
– Extras: Android 4.4.2, MicroSD, up to 32 GB, Bluetooth v4.0, A2DP, NFC, GPS.
– Colours: Lemon Yellow, Lavender, Jade Green, Cozy Red, Aqua Blue, White, Platinum Silver, Ash Gray, Volcano Black.
For me the most annoying thing here is the display, I could live with the low resolution, I could live with the poor visibility outdoors, but make me use a 2 point multitouch display in 2015 and I just couldn't. It impacts on everything you try and do, typing with two hands is virtually impossible. I ended up forcing myself to use it one handed, it is the right size to do this. It just takes some adjustment.
The 4G wasn't as good as I thought it would be either, I found in some areas where I normally get a decent 4G signal I was down to 1 or 2 bars, not that this noticeably effected speed though.  The other annoying thing was the internal memory, it comes with only 4.98 GB free out of the box and someone at Alcatel decided it would be a good idea to install a load of games and apps to "help" the new owner.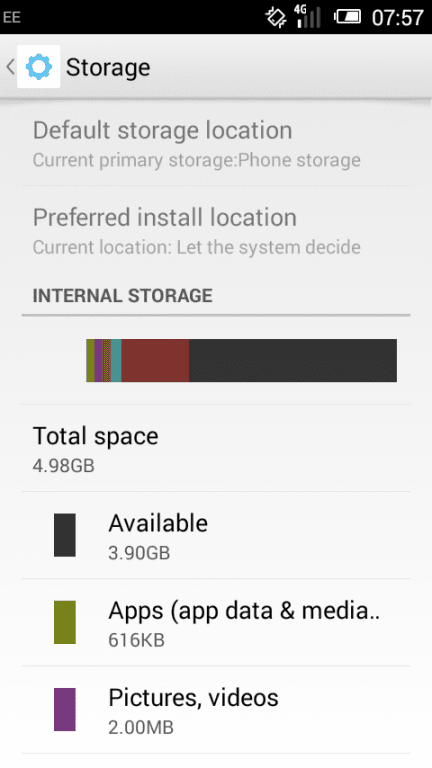 Software
Alcatel are one of those manufacturers that like to skin Android and this ethos even continues down to the entry level devices. The Pop 2 is running on Android 4.4.2 and as I mentioned it is skinned, it also has a load of pre-installed stuff out of the box, a mix of games and utilities. Luckily Alcatel allows you to uninstall them which is handy.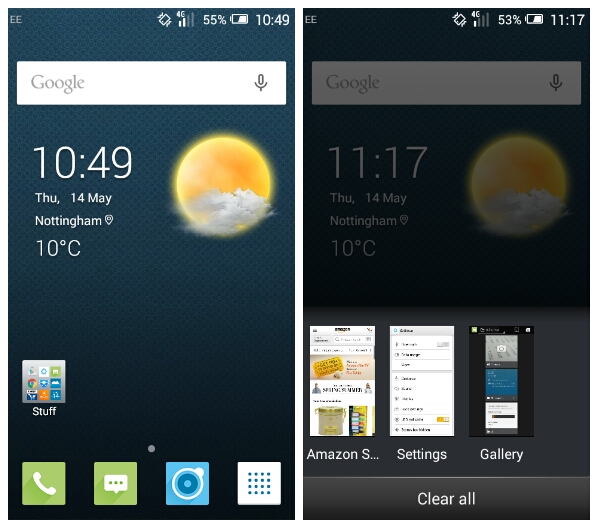 The Launcher is a little bit like Touch Wizz and to be honest it's pretty basic, you get some themed icons, some skinned core apps, some basic widgets for the clock and the weather, an app drawer and those apps/games that you really don't want.
The Lockscreen is a little different as well, to unlock you swipe to the right and to swipe to the left you can open the camera.  The lockscreen has a variety of information present such as the weather, calendar reminders and certain notifications.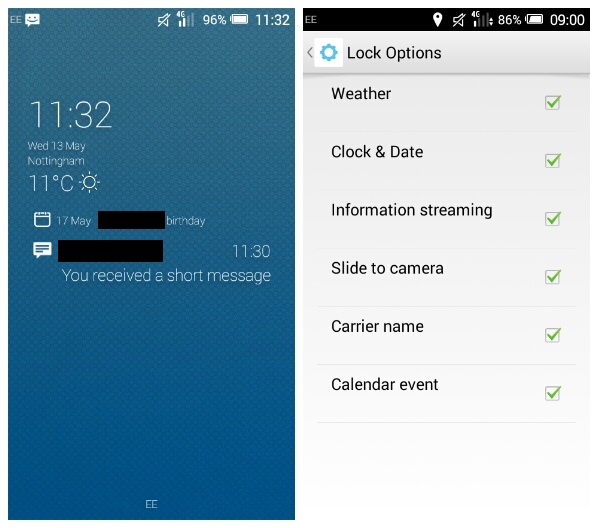 The notifications and settings toggles are skinned as well, it knows if there is a notification if you swipe down and will display the toggles if there isn't one.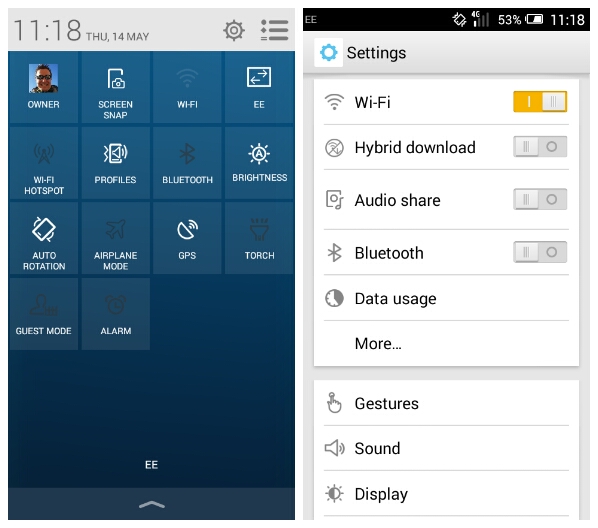 Overall the software is ok, having the bloat pre-installed is a little annoying, luckily you can uninstall these apps. There is a slight delay to open apps and move between apps, which I guess is expected at this price point, especially with the Snapdragon 410 chip.
Camera
The cameras on the Alcatel aren't the best, the rear camera works OK in decent light and you can pick focal points, the front camera is only VGA rated so don't expect much from it. Both struggle in low light and introduce noise, in bright light they struggle too with flare and over exposure.
The selfies taken with the front facing camera weren't up to much. With noise and lack of focus whatever I tried to do.
Other notable stuff
Battery Life
The 2000 mAh battery doesn't cope well under heavy loads and I had it wiped by lunchtime, that was with several Google accounts synced, Twitter and Google+ doing there thing and calls and SMS to boot. However under light us the battery coped quite well, giving me nearly two days of standby time with the screen on time nearly at an hour and a half.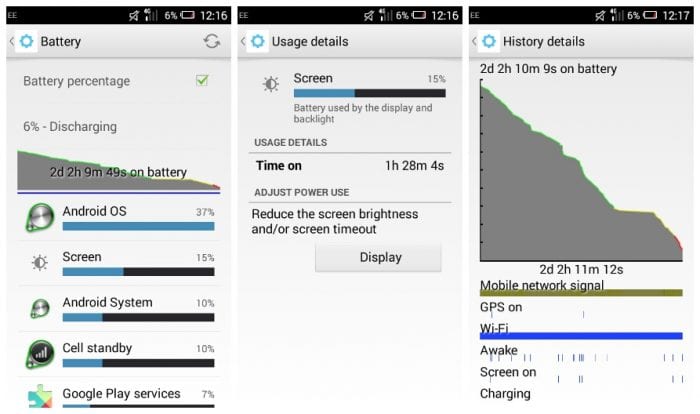 Benchmarks
As always Benchmarks give you a vague idea of how a device performs, in a statistical kind of way. As you can see the Pop 2 4.5 comes out higher than the current Moto G and the Honor Holly, personally I'd take either of the Alcatel.
AnTuTu – 21823 (Honor Holly – 18957 , Moto G 4G 2014 – 18324 )
Quadrant – 11782 (Honor Holly – 7176 , Moto G 4G 2014 – 5050 )
3DMark – 1444 (Honor Holly – 3138 , Moto G 4G 2014 – 2811 )
Geekbench 3 – 2637 ( Moto G 4G 2014 – 1152 )
Audio Quality
Call Quality is reasonable, on thee 4G EE network everyone sounded perfectly, just not crisp. Speaker Quality was loud, tinny and a little distorted at max volume, Headphone Quality again was ok, lacking any depth and the volume was about 3/4 of the way from where it should have been, try listening to music on a loud train surrounded by people and you'll regret it.
Conclusion
Overall the Alcatel Onetouch Pop 2 4.5 4G (it really needs a better name) is an ok phone, if you really really want 4G on the cheap that is. For me the problems with the display would stop me using it and that's that. Although someone coming from a £20 feature phone wouldn't see this as a problem. The one thing I keep coming back to is the new Moto E 4G 2015 which also costs about £100 and runs Lollipop and arguably has a better overall spec and will probably receive firmware updates for time to come.
Alcatel Onetouch Pop 2 4.5 4G - Review
Design - 4.5
Hardware - 5
Software - 5.5
Battery - 6
Camera - 2.5
Display - 2.5
4.3
Overall the Alcatel Onetouch Pop 2 4.5 4G (it really needs a better name) is an ok phone, if you really really want 4G on the cheap that is.