Hey, wanna know something? If you've ever been in the passenger seat of a car when it's raining heavily on the motorway, try holding your phone up and take a picture. You'll probably find that the preview screen affords you a better view of the road than your eyes alone. Strange huh?
So, here's some augmented reality glasses that MINI have created for driving. They're almost as good as those completely genuine Oakley sunglasses I got for €5 in Cyprus last year…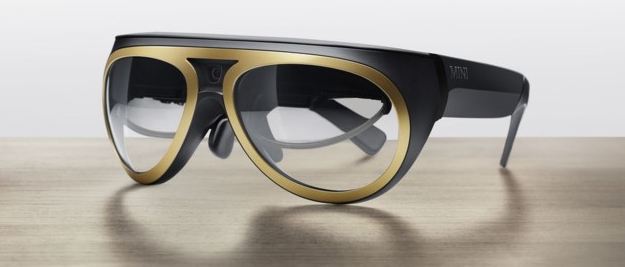 What they'll do is display information on the glass in an "augmented reality stylee" to show speed limits and points of interest. Good so far, and they look like you're wearing some properly stylish aviators. Designed by BMW's DesignworksUSA, they've been shown off at the Shanghai Auto Show. MINI don't currently have info on whether these will come to market unfortunately.
The big thing about these is the fact that they can do something else. Around the concept car there are cameras, and when you look in the direction of one of those cameras it'll overlay the camera image onto your shades, like so…

Clever. Now I can see the bottom half of that skateboarded. So glad, I thought he was a floating head. Inside there's a Qualcomm CPU driving the face-furniture and the company is waiting to see how they're received whilst ironing out the system and possibly delivering it to the masses.
By the way MINI, the steering wheel is on the wrong side.