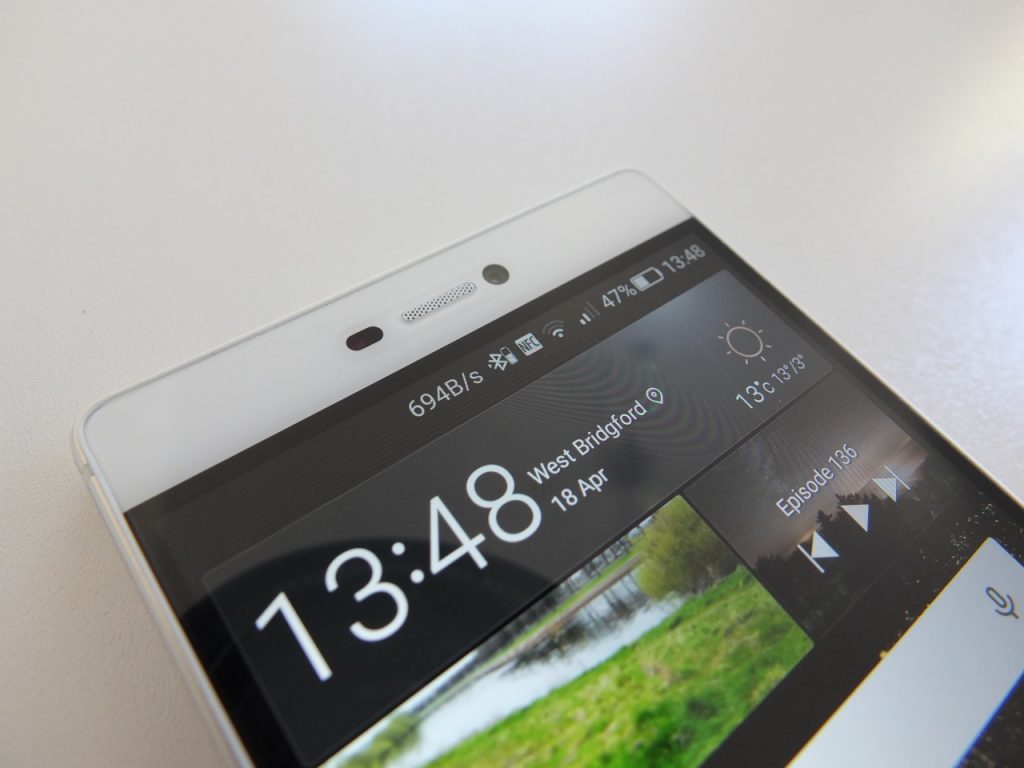 The Huawei P8 is one of those phones that look good, damn good to be precise. Some may say it looks a bit like an iPhone, or an Xperia Z3 or an HTC One, but there is no arguing in that it looks good, damn good. We were at the launch event a few weeks ago where we were told it was basically the best phone in the world ever. The best camera, the best battery life, the best call quality and best at some other things I've since forgotten. So it is the perfect time for my review starting with my good and bad points.
Good and Bad Points
Good
Great design.
Lightweight.
Amazing camera with lots and lots of modes and filters.
Some nice software tricks up its sleeve.
Micro SD slot.
Decent audio quality throughout, be it calls, music or speakers.
Bad
Lollipop and Emotion UI combined is a confusing array of options and settings, that often just don't work.
Dual SIM arrangement really doesn't make sense.
Only single speaker on the bottom.
Lag at times in parts of the UI.
Dual SIM and Micro SD arrangement is fiddly to work out where things go.
Design
I may have already mentioned that the P8 is a great looking phone, it is crafted from a single piece of Aluminium and the display and all of the internals are placed inside that shell, this gives it a great look and feel with no rough edges where different elements join.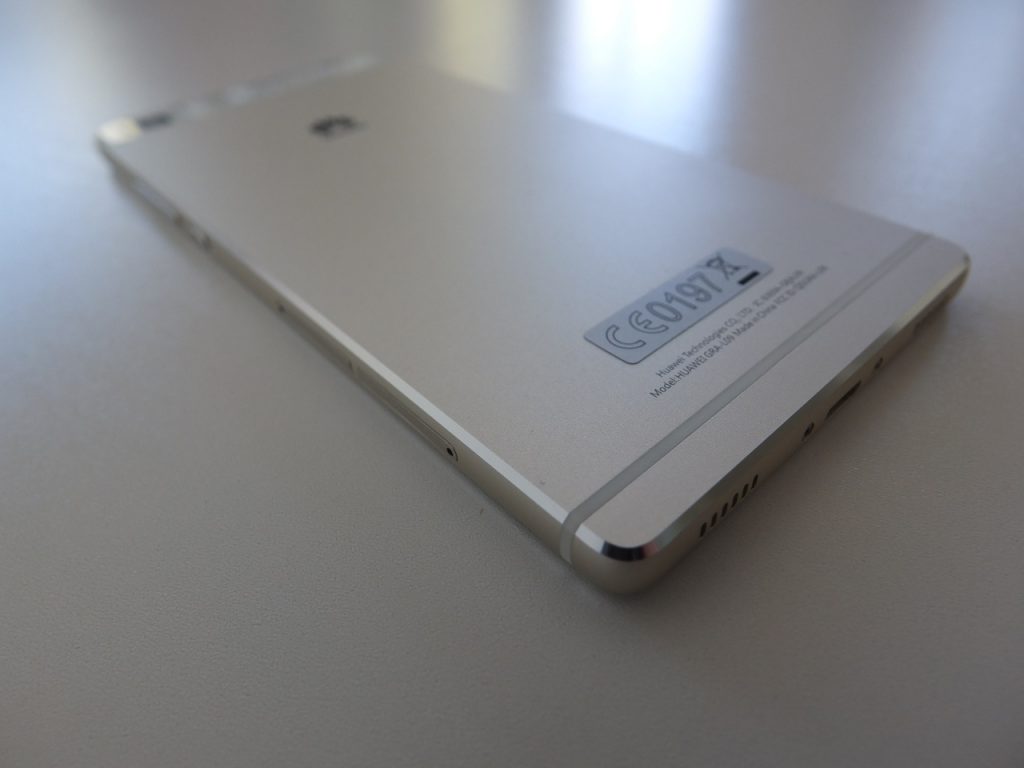 I've got the Mystic Gold version which is a very light Champagne Gold on the back and sides, the front of the phone is white. The front of the phone is a little bit of an optical illusion, as when you look at it the display seems to go edge to edge, but it is just a black bezel beside the display. You only really realise this when you turn the screen on. This shot I took at the launch event shows what I mean.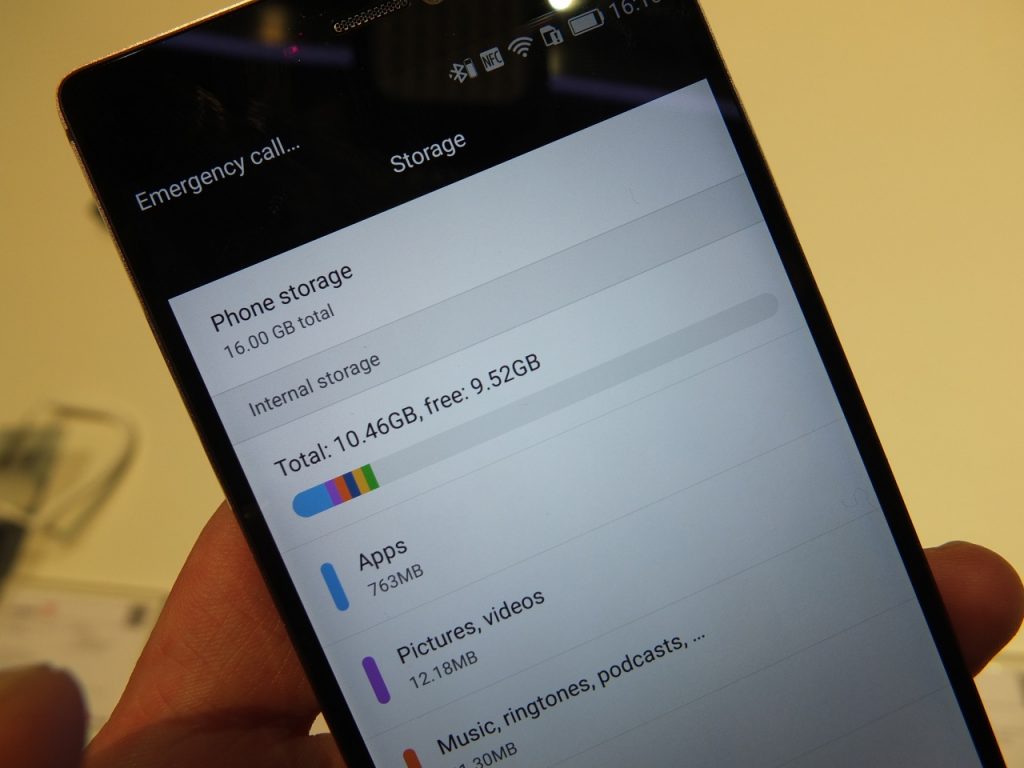 The rest of the front of the phone is pretty plain looking with a large white section beneath the display, this doesn't actually do anything unless you use a smart screen protector. Above the display is the front facing camera, the sensors and the earpiece.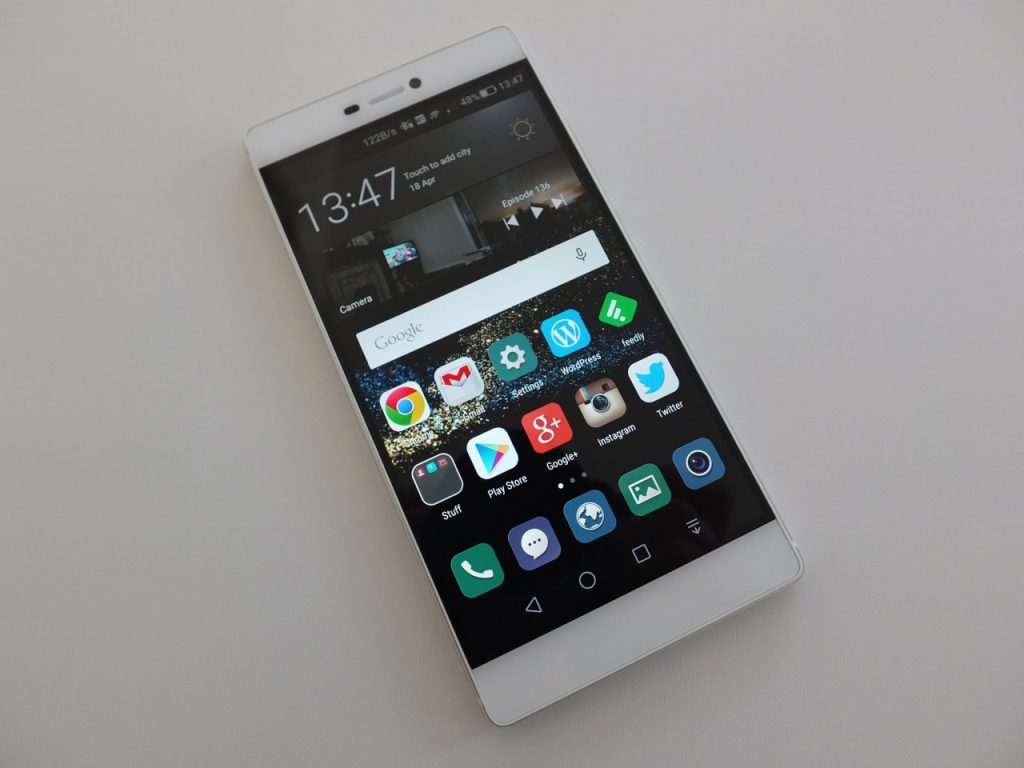 The edges of the phone are slightly curved with a chamfer top and bottom, Huawei said this makes it more grippy, I actually found the phone really quite slippy and I had to get a case for it so I wouldn't drop it. The edges are home to the variety of ports, sockets, slots and buttons. The left hand edges is totally bare.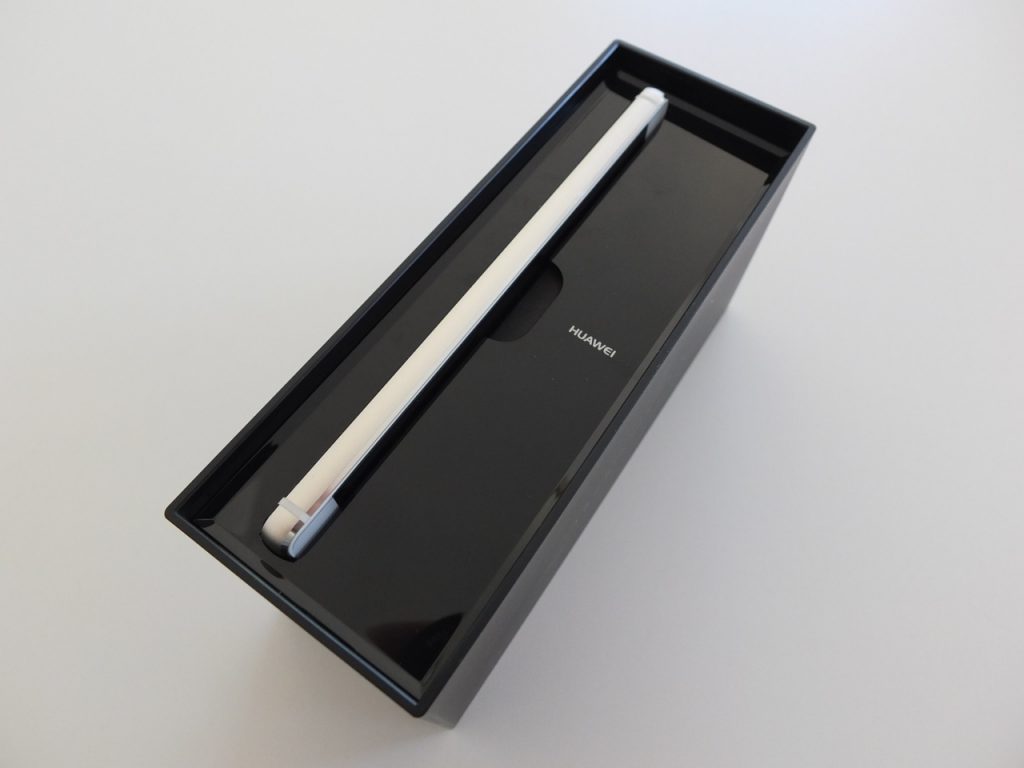 The right hand side is where all the action takes place, with the two SIM slots, the bottom one being a Nano SIM and the top one being a dual Micro SD and secondary Nano SIM slot, I couldn't work out how on earth this second slot takes a SIM card, I just put a Micro SD card in it instead. Each SIM tray is removed with a SIM pin tool. Above the slots is the power button which is nice and defined and you usually always find without a problem. Above that is the volume rocker which is the same colour and material as the main phone.
On the top edge is the 3.5MM headphone socket and the secondary microphone.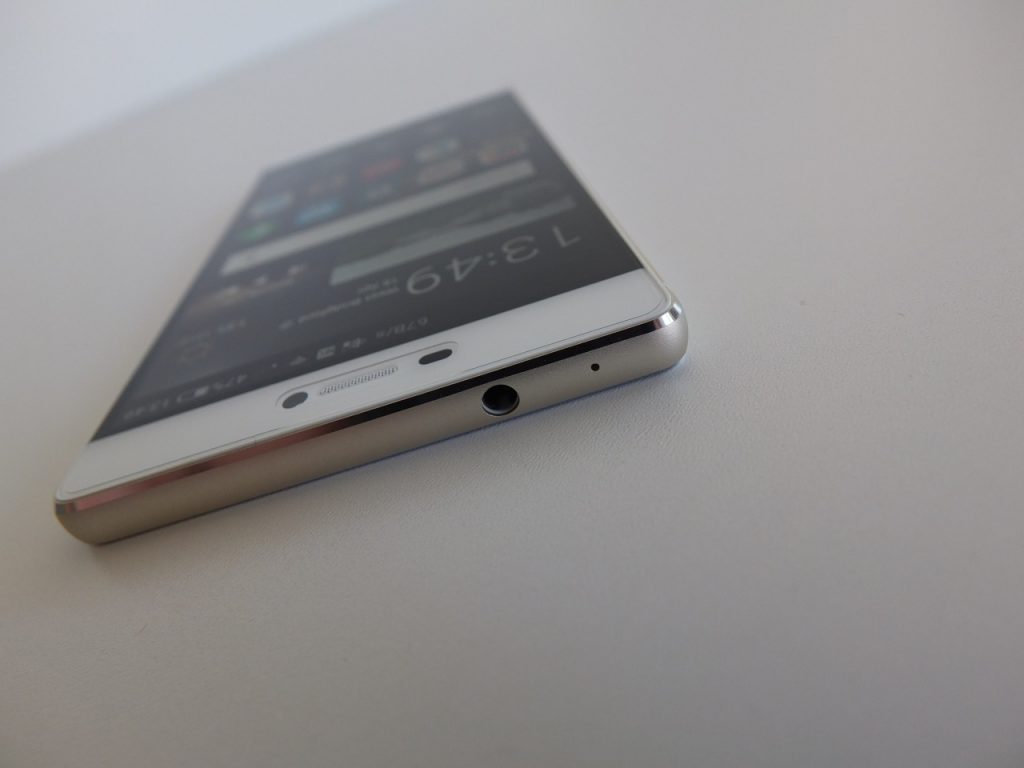 The bottom edge is again a bit of an optical illusion, the two slots look like they'll be speakers, they aren't the left hand grille is a speaker and the right hand one is where the main microphone lives. The Micro USB port is on the bottom flanked by two screws that people are saying copy the styles of the iPhone and S6. They are just screws holding it all in….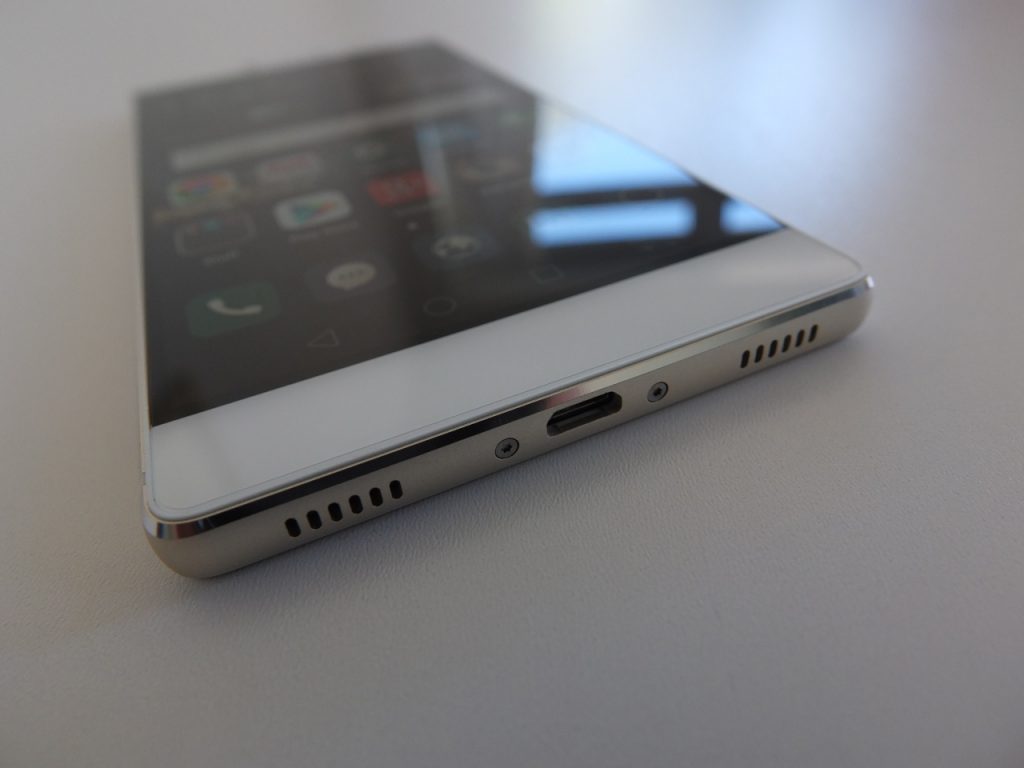 The back of the phone is a huge slab of metal, with the Huawei logo, a strip of plastic to help prevent the grip of death and a glass piece at the top to allow the radios to connect to the outside world. The camera and the flash are flush mounted in this glass piece.
Overall I like the design, it feels great and not too big. You can easily manage the phone in one hand and thanks to some clever software tricks that really quite easy. As I did day though the phone is a little slippy. Also the camera placement is a little bit too close to the edge of the phone and I found I had to adjust my grip to avoid taking pictures of my fingers.
I made a hands on video to go with my initial impressions, it shows the hardware and some of the software.
https://youtu.be/bXOQs7MMxlg
Here are all the pictures I took over the last few weeks of the Huawei P8, as I'm sure you'll agree it is a fine looking phone.
Hardware
The spec list for the Huawei P8 is pretty decent.
Processor: Hisilicon Kirin 930, 8-core 64bit, 2.0GHz.
Display: 5.2″ FHD Screen, 1080p (1920 x 1080), 424 ppi, 16M colours.
Internal Memory: 16 GB / 64 GB.
RAM: 3 GB.
Rear Camera: 13 MP, OIS, RBGW sensor, DSLR-level Image Signal Processor, F2.0; Dual color temperature flash.
Front Camera: 8 MP.
Android 5.0.
Network: GSM, EDGE, HSPA, LTE.
Extras: Micro SD, Dual Nano SIM, Nano coating, WiFi b/g/n, BT 4.1+LE.
Battery: 2680 mAh non removable.
Dimensions: 144.9 x 72.1 x 6.4 MM.
Weight: 144g.
As always some things are missing off the list, the GPU isn't the latest piece of silicon around and as such leads to some modern games just being unplayable. The WiFi chip doesn't support Dual Band WiFi AC so if you're one of those lucky people with a 5 GHz fast network you'll not be able to use it. IT does however have b/g/n WiFi which I didn't have any problems with. You need to remember that this is only a problem if you stream stuff across your home network and it won't really effect your Internet Connection speed.
There are some good things here though, the self made Kirin processor and the 3 GB of RAM combine well to make a fluid device. Most of the time apps open and close quickly, transitions snap around as you'd expect, the only slight issues arise totally at random and seem software related. For instance if I am watching a video on YouTube or listening to music the display becomes rather unresponsive to swipes, taps are ok it's just swipes.
The display is nice, it is a 5.2″ 1080p panel at 424 ppi, it is an IPS LCD panel and it looks great, not overly coloured or warm like a Samsung AMOLED display, you can read it outdoors with the brightness turned up and it always pleases me to say that the screen is viewable from any angle.
Here is what the internal storage on the 16 GB model looks like out of the box.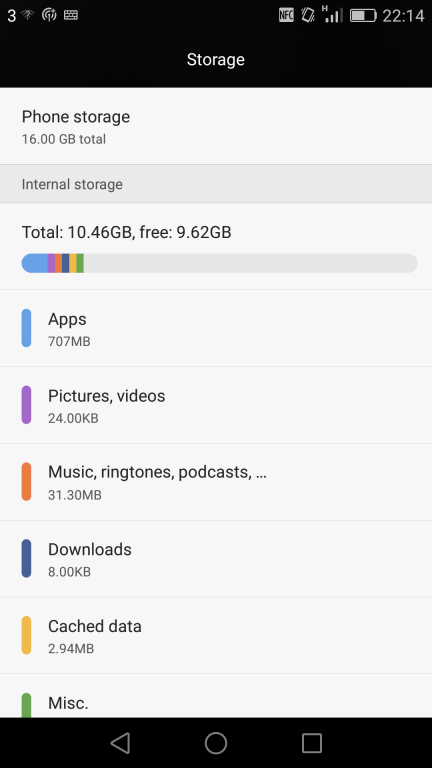 Overall the hardware is nice, it's cool to see this trend with manufacturers picking decent 1080p displays instead of power hungry 2k displays, to save on battery life, combined with some fancy software tricks the 2680 mAh battery copes quite well.
Software
There is a trend with the current crop of large Chinese phone manufacturers to skin Android, it has been done for years. The current offerings from the likes of Xiaomi, Oppo, Honor and Huawei have every conceivable app icon, widget, setting menu and UI section within an inch of its life. To skin it to such an extent that the version of Android the device is based isn't identifiable.
Enter stage right the Huawei P8, which just so happens to run Android 5.0. Although only a few tiny clues give that away. Don't get me wrong Emotion UI 3.1 is a beautiful selection of apps, themes, icon packs, widgets and wallpapers, but at times you wish for the plain sotck Android way of doing things.
Lets take a look at the software side of things, you've got the launcher and the themes, the core apps, the lockscreen and notifications and then lastly the settings menu.
Launcher and themes
The launcher is one of the iOS "no app drawer" launchers where you either struggle with a sea of non alphabetised shortcuts or you come up with categories for your apps and group them into folders. Things like Media/Games/Stuff/Tools. In amongst all of these icons and folders you can also add widgets. So you can end up with something quite nice if you have one screen just full of folders and the rest is setup how you want.
Within the launcher a swipe down triggers an iOS style search bar that searches through apps, contacts, messages and online to find what you're after. A long press of the recents button onscreen jumps you back to your previous app which is quicker than picking it from the recents list. The recents list displays four shrunk views of the recently used apps and you can scroll over to the right to view any further apps, a swipe up on the bottom of the recents list will close all apps and free up some RAM. A swipe up on the home button triggers Google Now as you'd imagine.
The Huawei P8 has a few themes you can choose from and these will change icons, fonts, wallpaper, some widgets and the lockscreen styling. Themes are a good idea, but I'm talking third party themes for launchers like Apex where you can download an icon pack with thousands of icons and loads of different wallpapers. With built in themes you always end up with apps remaining unthemed with jarring icons, things like Gmail or Google Play Music are glaring omissions in these themes.
One of the weirdest things I have ever seen on a device is the double tap with your knuckle functionality. Anywhere in the UI when you double tap with your knuckle it takes a screenshot. Handy at times? Yes. Bonkers? Yes very.
Core Apps
Some of the core apps are skinned, things like the Calendar, Messaging, Web Browser, Gallery, Contacts and the Dialler. They all look nice but don't really offer much functionality. They are all skinned to follow the themes and look ok. I haven't felt the need to find alternatives, even for the gallery which is normally is the first thing I replace.
Lockscreen and Notifications
The Lockscreen on the P8 is one of those areas that functions slightly differently to how the normal Lollipop lockscreen does. Which isn't a bad thing, although it is a little bit broken at the moment.
You get the normal stuff such as a swipe unlock, a pin unlock and Lollipop Smart Unlock. The swipe unlock is tied into the various themes present on the device and as such it will change slightly if you change the theme. The wallpaper also will change if you have it set to magazine style and you get a new picture every time you turn it back on.
Lockscreen notifications are present on the swipe to unlock mode, with an opt in option in the notification manager. You can add lockscreen access to the app and then any notifications will pop up, waking the device. The only problem being Huawei forgot to add the core Google apps to this list, so no Gmail, Hangouts or Google+ notifications for you, the core apps like messaging or phone both are present along with any third party apps you install.
The notification manager also handles apps access to the status bar and toast style notifications, allowing you to adjust how the phone displays notifications.
The Notification drop down is two way, much the same way as seen on Xiaomi devices and on previous Huawei devices. A single swipe down will display the notification if there is one and if not it will display the power toggles. A quick side swipe will display the other thing, be it Notifications or Power Toggles.
Protected Apps
There is also a protected apps program too, which allows apps to run in the background. Which to me seems counter intuitive, Android handles multi tasking and apps running in the background quite well. Having another app manage this as well can't be a good thing, I allowed a few apps and disallowed a few others and didn't notice any difference.
Smart Assistance
The smart assistance section of the settings menu is wear the cool stuff lives, here you can manage Speech Awareness to talk to your phone when it is in standby. You can manage Touchplus which is a fancy screen protector that enables capacitive buttons above and below the display. Motion Control allows you to change the behaviour of the phone when you flip it over, pick it up, raise it to your ear and shake or tilt the phone. Navigation bar allows you to arrange the navigation buttons beneath the screen including a notification drop down button. One-Hnad UI enables certain one handed features. Lastly you can also control Smart Covers, Smart headsets and Glove mode here. All in all lots to play with.
Simple Mode
As with a lot of the other Huawei and Honor devices the simple mode is present allowing you to setup a basic tiled interface a bit like a Windows Phone. Ideal for basic users or the elderly.
Phone Manager
The last thing that deserves a mention is the Phone Manager app, which is the main reason you get so many notifications moaning about apps running in the background, Anti Virus notifications after each app install/update and also power saving prompts. Have a dig around in here and see what settings will improve your experience. Just don't try and update the anti virus app as that'll cost you a few quid……
Overall the software experience was good, Huawei need to update Emotion UI rather sharpish. The over zealous anti virus notifications need an option to be disabled, Android Wear and Pebble notification access needs fixing as a matter of urgency, Lockscreen notifications needs all of the Google apps adding to the list and they could do with updating to Android 5.1 whilst they are at it.
None of the bugs were life changers, although not being able to use my Sony Smartwatch was annoying.
Camera
Huawei made a lot of noise about the camera on the P8, quite rightly so, the combination of the 13 MP RGBW sensor, OIS, the F2.0 Aperture and some clever software makes for a really good experience. I found the camera great at whatever I threw at it, be it landscapes, Macro shots, low light or selfies. The addition of light painting mode for car light trails, light graffiti or star tracking really give creative sorts with a tripod something good to work with, the Super Night, Panorama and HDR modes also allow you to create something quite cool.
Video recording is up to 1080p, with no 4K available. The video I tried was pretty good, with light adjustment and focus adjustment reasonably quick, although auto focus would not pick up close objects.
https://youtu.be/u626m0spajY
Front facing camera
Selfies are pretty good on the P8, the 8 MP takes some clear shots, in low light things deteriorate as you'd expect. As always I apologise for my dodgy looking selfies and no I'm not always wearing winter coats.
Other Notable Stuff
Some things need mentioning in a review and I can never really work out where to slot them, so I created this section.
Audio Quality
Huawei told us that the P8 and they weren't lying. Phone calls sound great and don't seem to get dropped, music with headphones in sounds really good, no doubt thanks to the work of DTS and the speaker on the bottom edge also sounds quite good. Fairly loud, although it doesn't have as much depth as Boomsound on a HTC device.
Benchmarks
Benchmarks don't mean everything, they just give you an idea where a product sits in the spec league table. The P8 doesn't score that well, coming out lower than the Note 4 in 3 out of 4 tests I did.
3DMark – 12022 ( Note 4 – 23891).
Antutu – 50175 ( Note 4 – 52271).
Geekbench – 3451 ( Note 4 – 3268).
Quadrant – 14023 (Note 4 – 29030)
Battery Life
Battery life on the P8 is reasonable, under heavy use the 2680 mAh battery lasted through the day with about 3 hours screen on time on the Three network with a flaky 4G signal, under light use I got over a day standby time again with about 3 hours screen on time this time using the much more stable EE 4G network.
Light use day
Heavy use day
Conclusions
The Huawei P8 is an amazing piece of kit, with a great build quality, an amazing camera, great sound quality and a degree of flexibility thanks to the various slots and ports. The big but here though is the software. The software feels a little bit rushed, like Huawei knew they could not really release a flagship running an older version of Android this far into 2015. So Emotion UI 3.1 based on Lollipop was created. With the bugs that I mentioned above, the kind of bugs that really shouldn't exist, especially if someone had spent more than a few hours testing the software…..
Huawei can fix this fairly quickly though, they just need to tweak the notifcation centre to allow wearables access to notifications and to add Google apps into the list and you've got yourself a really damn good Lollipop device. Your move Huawei.
Huawei P8 - Review
Design - 8
Hardware - 7
Software - 6.5
Camera - 8.5
Battery - 7
Display - 8.5