The Kitsound Evoke is a Bluetooth speaker, but this one is a little different. It needs to be plugged in. Not totally wireless, but it can easily be relocated to another place provided there's a plug socket within reach.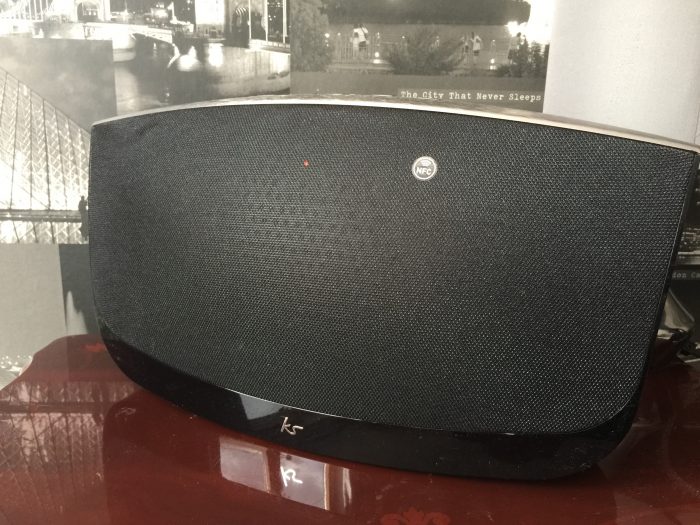 It looks absolutely fantastic. A sleek modern black glossy design with an elegant silver trim. There is an LED status indicator on the front letting you know when it's on, off or searching for a Bluetooth device. The buttons are easily accessible along the top of the speaker and as an added bonus you get a small and simple remote control.
When you set the Kitsound Evoke going you instantly notice the amount of bass coming from the product. This is helped along by the 2 port holes on the rear allowing the .1 of the 2.1 speaker system to breathe easily and fill the room with the low sounds. The other 2 speakers provide a good quality sound even at high volumes. With the remote control the bass can be controlled seperately so, if you're a little more of a piano listener than a bass junkie, you can turn down the boom boom for more elegant listening.
The power cord is more than long enough to place the speaker on the average table but, as it needs to be constantly plugged in, it does reduce the movement. It's aimed more as a HiFi Extra / replacement and that's exactly what it's done in my kitchen. It's been used pretty much everyday when cooking tea, doing the pots or even the washing.
I really like this speaker, it's adequate sound and excellent bass levels make it a very good bit of kit. You can easily connect your device to it and it's easy to connect a different device if necessary. It's easy to connect other devices to, you have a one-touch NFC pairing option and the Aux-In on the rear. As an added extra there is also a USB port that can be used for charging your device.
The Kitsound Evoke is available from Kitsound directly and I've also seen them in Tesco too.