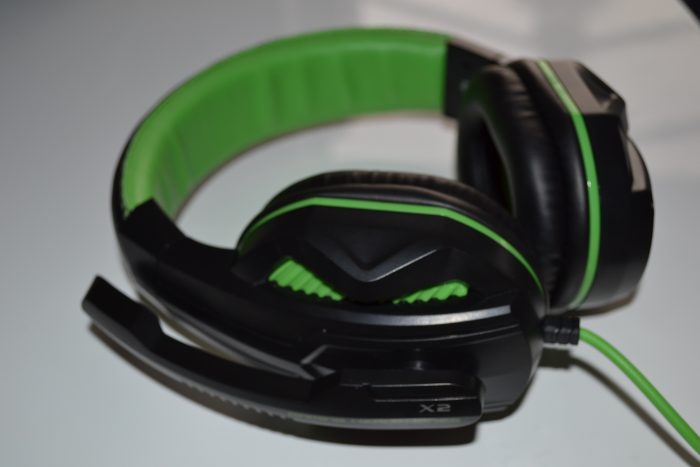 A few years ago I was a big online gamer (ooooohh yes, I remember the days of online gaming with a 56k modem. Quake and Unreal Tournament come to mind..). Anyway, my gaming came to a halt about 6 years ago, which funnily coincides with the birth of my son.
I have recently been sent through a gaming headset to review so I thought it was time to dust off the joysticks.
Good Points..
Lightweight
Both in-line headset and mic 3.5mm audio jacks.
Inline cable volume controls and on/off switch.
Brilliant sound quality.
Price
Bad Points… 
Not enough padding on the overhead bar becomes a little uncomfortable.
No adaptor included for the headset and mic 3.5mm audio jacks, for use with other devices.
Colour scheme not for everyone.
The ear cups themselves are a little hard.
Design.
The headphones are made out of plastic, which means the unit is lightweight, but on the flip-side they don't feel like a premium set. On the lefthand headphone is an omnidirectional microphone, which folds up out of the way when not needed. The headphones come fitted with over 6ft of cable, which is great. The cable has a volume control and on/off switch for the mic, and at the end of the cable are twin 3.5mm jacks one for the mic and one for the headphones.
In Use.
I was really surprised of the sound quality that came out of this head set, it was crystal clear with a good deep bass and clear treble. When using the mic for gaming it was reported back that my voice was distortion free and not too loud.
Conclusion.
I enjoyed using the EasyAcc headset, I must have been wearing them for a good couple of hours of gaming with no major discomfort. I did find that the over-head bar was staring to "dig in" so the headset could do with a little more padding in that area (although I might have a funny shaped head).
It would have been nice to see the set come with adaptor so that the headset could be used with other devices, for Skype calls etc, but these are inexpensive from on-line retailers.
The EasyAcc headset is currently available from Amazon for the cracking price of £17, which is an absolute bargain for someone after a new gaming headset.