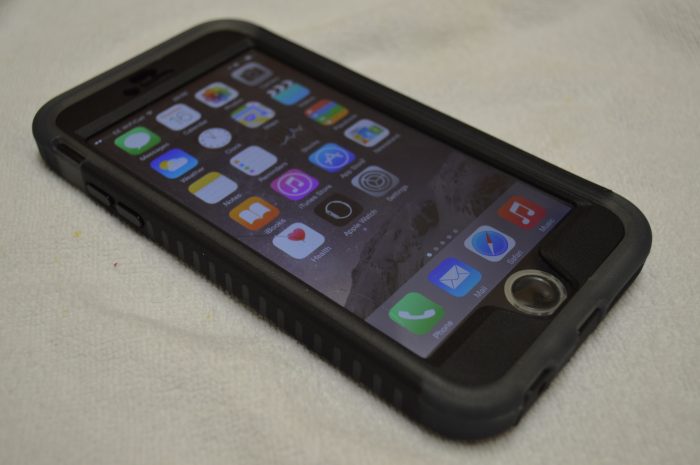 I think I have a fetish for cases, either that or I have just never managed to find the right one. I'm always swapping and changing. Now this is my next victim, the Tech21 Patriot Case.
This is a rugged case for my iPhone 6 Plus. Tech21 assure me that this case can withstand a drop from up to 13 feet and to look at it, you can tell. It is bulky and adds to the size of the 6 Plus, hmm. However, it does protect it, even from dust and splashes, so surely it's worth it.
The case comes in three parts. Part one clips around the front of your device and the built-in "Impact Shield" protects the screen. There is also a membrane that protects the home button but still allows the fingerprint sensor to work (sometimes it can be a little temperamental but bare with it).
Part two, this has the impact protection or "FlexShock" as it's branded on this one. Once you have part one on your device you put it into part two. Then comes part three, now not everyone will use this. It's a holster that clips onto your belt. Considering the size it really isn't a bad idea but… Would you use it? Personally I wouldn't.
The complete case feels comfortable to hold in the hand, the material allows for a lot of grip too. The iPhone 6 Plus can be a slippery devil.
With the case being a fully enclosed design it covers all the ports and switches. All the buttons are in the right place and actually feel like button presses, not the dudd clickless type. The mute switch is a strange design, not one I've seen before but it is effective. It's a little piece of plastic that slides through a moulded part of the case (there is an image below). For the Lightning connector and the headphone socket there are little rubber fillers for the holes. This is to help with the protection against dust and splashes. I've also noticed a sort of cover over the speaker grill, don't worry though, this doesn't cause and sound deadening or distortion.
On a general round up of this case it is a quality built case and will protect your phone even under some heavy conditions. Cost-wise it's on par with other cases of similar features. Want better protection for your device? Go on then, you can buy one from www.tech21.com.
As a side note and if you don't follow me on Twitter here's a reminder as to what can happen to an unprotected iPhone, which I found out very, very recently.