I am here in London finding out the future plans for the Three network thanks to an invite from their team.
The network has invited along a range of social media fans and some press to announce what they have in store for us going forward.


As well as the points below, the network team from Three answered questions from Twitter using the hashtag #ThreeNetwork so be sure to check that out for much more info.
Three have announced that in September they will start rolling out 800Mhz spectrum for their 4G network allowing coverage to stretch further than ever before.
They also announced that Voice over LTE aka VoLTE will be switched on at the same time giving customers clearer voice calls, near instant call connectivity and no dropping back to 3G when in a call.
Any customer will be able to gain from this service as long as they have a compatible handset such as iPhone 6, iPhone 6 Plus, Samsung Galaxy S6 and the Edge with more being added.
Customers do not need to do a thing, this is all seamless and you will notice better indoor coverage than in the past as well as improved data.
Three also confirmed to us that the 50Mbps TrafficSense limit has been removed and speeds are now uncapped – a great piece of news for customers.
4G coverage has hit 60% population using the existing 1800Mhz network and, with an additional block of 1800Mhz due before the year end, customers could see a 50% increase in speeds.
Feel at Home in 18 locations now including USA, Spain, France and Australia giving customers free use of their phone like they are in the UK.
Cross network HD calling is in the works with one company already but no confirmation who, bets are on EE due to MBNL network agreement.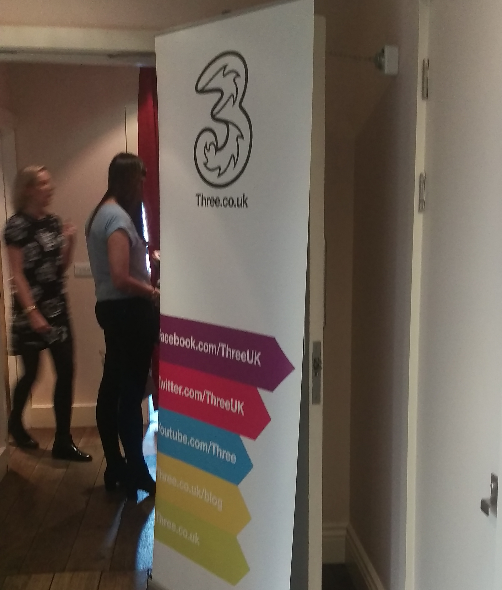 At the event Bryn Jones, Three Chief Technical Officer stated
Our aim is to keep our customers connected wherever they are. Adding low frequency spectrum to our network and enabling voice calls over 4G and WiFi will mean Three customers can stay connected in more places than ever before.
Three also gave us news on their WiFi calling service called Three inTouch and announced 1 million customers have now downloaded and activated it.
Danny Dixon, Director of Customer Strategy said:
The Three inTouch app has been highly successful with over 1 million users to date. Seamless connectivity on mobile and WiFi is a key part of our future stratigic direction and by using the app, our customers will never miss that important call or text, whether they are in the home, commuting to work or away on holiday.
A big thanks to the Three UK team for taking time out to invite us along and be part of this event.