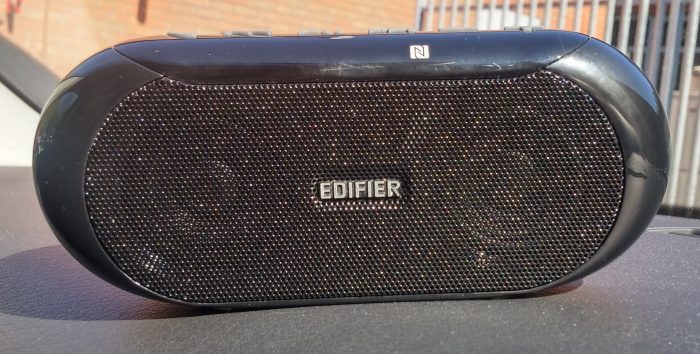 This is a small and very portable Bluetooth speaker which will fit fairly easily into your pocket and very easily into the likes of a handbag or small bag.
First up, the design makes it look like one large black paracetamol caplet but (in the case of this review model) black. It's got NFC and up top there's some shockingly-easy-to-understand buttons to navigate through your music collection, alter the volume and make / receive calls.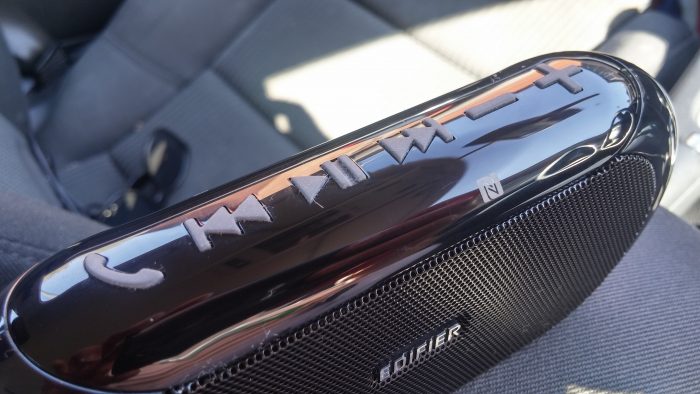 The simple and chunkyv buttons are made from rubber and very easy to locate, not just due to their size but also because of the feel of them.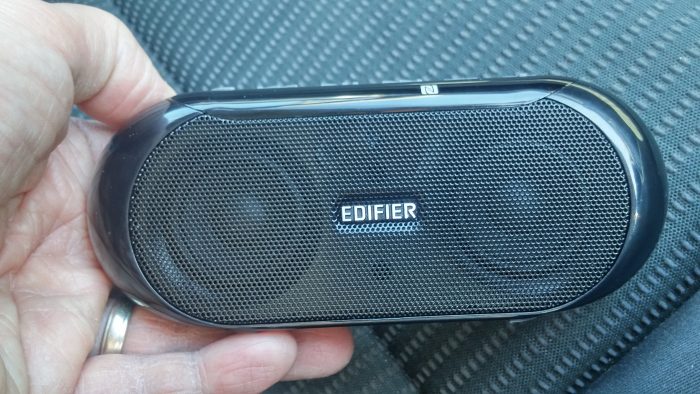 The front and rear are both mainly grills, allowing the speakers the outlet and air needed to operate.
If you don't have Bluetooth, then you can slot a microSD card right into the back and start playing tunes directly off that if you prefer. Just use the skip / back / play buttons on the top and the volume to find the track you'd like and get dancing. You can press and hold the previous / back button to hop between folders too, which is quite natty.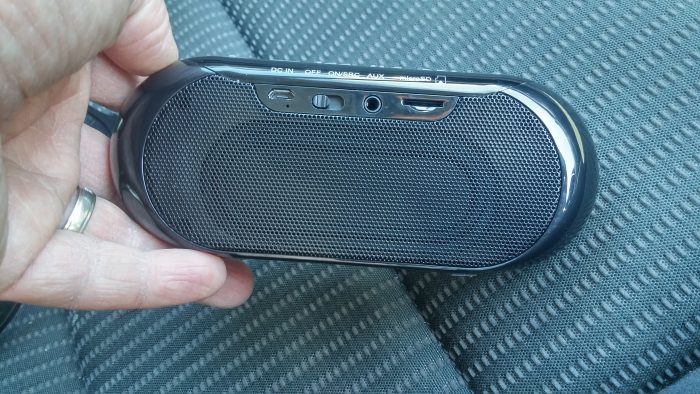 Likewise, you can also use AUX input if you have an old-style tape-player or something similar kicking around. You retro person.
Right, so first things first. Inside there's a li-ion battery which saw us playing tunes for around 10 hours straight. Charge that up with the standard microUSB cable and you're away.
The pairing process is very easy indeed and there's NFC right out of the box. If your phone has that, just hold it near to this speaker and it'll fire up the pairing process over Bluetooth 4.0.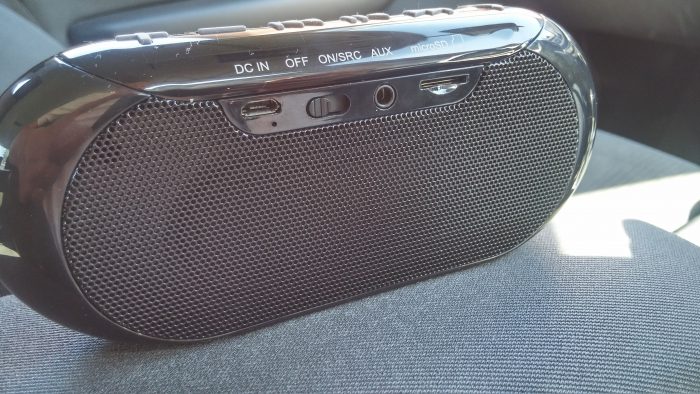 There's a switch at the back for turning the device on and off. I must confess that I left it turned on a few times but it didn't seem to impact battery life a great deal, so I'm assuming that there's an auto power-off system somewhere. When you push the switch to the right it'll scroll through the input choices – microSD, AUX and Bluetooth. You get a different coloured LED up front so that you know which one you've selected.
On the right, a lanyard loop. In the box there's also a very swish pouch for keeping the speaker in pristine condition too.
Sound quality, when pumped through the passive bass radiator, is definitely impressive, but unsurprisingly a speaker of this particular size isn't going to be blowing your ears off. It's decent enough, and more than loud enough for your camping expedition, beach, picnic or as a speaker for your hotel room. It's far, far better than your speaker on the phone and, considering the size, it really does well.
Overall, it was really easy to use and had an admirable output which wasn't distorted or dull. You can use it as your speakerphone too, thanks to the call / drop key, and I liked the inclusion of the microSD card so that you could easily just fire it up without having to worry about ensuring your phone was in range.
The build quality is strudy and it's a compact but good-looking speaker with sparkling and beefy sound. It's available for around £34.99 from retailers such as Box.co.uk but I also found it for £31.93 at MoreComputers.com
Edifier MP211 Bluetooth speakers review
Audio quality - 8.2
Battery life - 8.3
Build quality - 8.4
Features - 9.2
8.5
Compact but pretty powerful and with nice easy-to-locate buttons. Quick and simple setup process and many inputs.