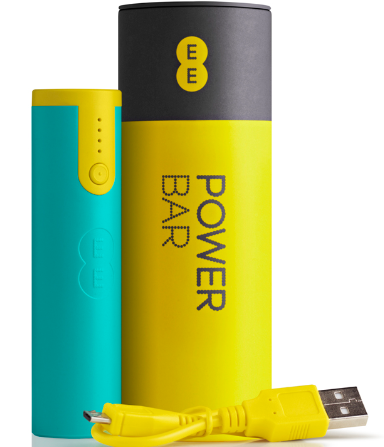 We had a bit of a dig into the Terms and Conditions of the free EE Power Bars and, well, it's all a little strange. The PDF actually states that…
A Power Bar is made available to you on a free to hire basis, under the terms of this agreement, for a maximum of 18 months. After 18 months, the Power Bar must be returned to EE and the Service will end.
Now, it's fair to say that many people probably won't give the thing back. I don't really see this as a "contract" and they'll probably renew this "free to hire" system indefinitely, but it's rather interesting nonetheless. You could lose it, lend it to someone or whatever. Ahh, but wait, there's actually something you should be aware of if you don't actually return the thing. If don't give it back after you cancel your contract and cease to become an EE broadband or mobile customer, you'll have to pay a £5 charge…
When this agreement expires or terminates (for mobile or broadband customer this will happen automatically if you chose to cancel your agreement with us for mobile or broadband services), you must return the Power Bar to an EE store within 60 days. If you don't you'll have to pay a charge to compensate us for replacing the Power Bar. Currently this is £5.

For mobile and broadband customers, this will be applied to your bill. If you're not an existing customer, we'll contact you using the information supplied to us when you joined EE Power and we'll issue a bill for the cost of replacing the Power Bar that has not been returned.
So basically, it looks like the Power Bar is yours for nothing provided you're an active EE customer. If you stop being that, you pay for it – even if you've had it for quite a while.
Just in case you're in any doubt, the T's and C's also state…
The Power Bar remains our property, you are responsible for making sure that the Power Bar is kept in good working condition and used properly whilst in your care.
Thanks to Ant for pointing all this out.