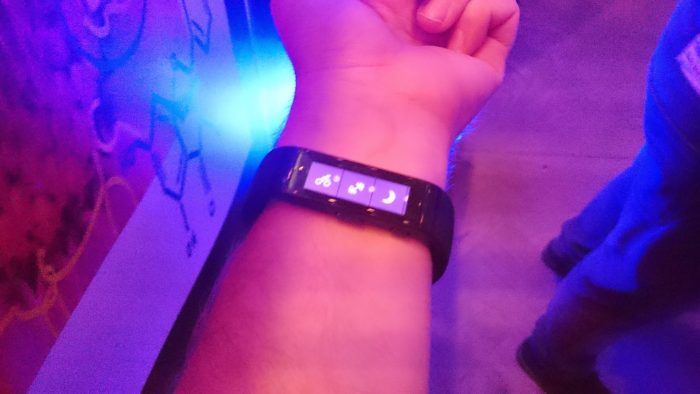 Yesterday I was at a Microsoft  event in sunny Glasgow where I was lucky enough to get hands on with the Brand new Microsoft Band, which is launching on Wednesday.
I am very impressed with it and in the short time I wore it, it felt quite comfortable. The Band is going to be available from Amazon, O2 and PC World. It will cost £169.00 and it is being positioned as a smartband that has watch functionality. The Band will come in 3 different sizes ranging from 39mm to 49mm wrist depth. I tried the small and it seemed to fit okay but I would probably get the medium if I were to buy as the bands do have some adjustability built into the clasp.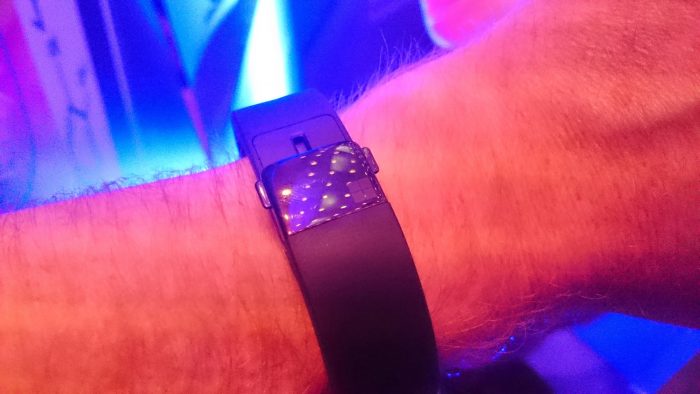 The clasp is brilliant and it has a very nice and positive click action when you close it which makes it both very secure and reassuring to the wearer (this was an issue I had with the Sony Smartband). The band can be worn inside the wrist and also facing outward and it will not impede the heart-rate sensor. When being worn on the inside of the wrist the screen will be prone to scratching so a screen protector is advised.
The unit feels very well built and it is also no more obvious than any of the other smartband's I have used.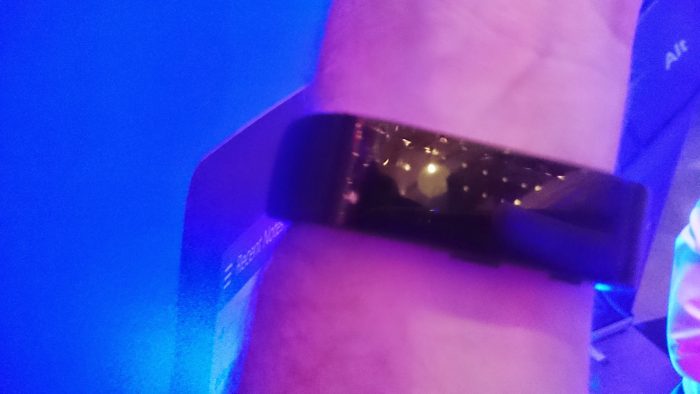 However it is a lot cleverer, Microsft have crammed 10 sensors into the band itself and at the time of writing this article they are only using 7 of them, as to what the other 3 will be used for the mind wanders. Included in the working sensor's are.
UV.
Heart Rate.
GPS.
Accelerometer /Gyrometer.
Microphone.
Ambient Light Sensor.
Galvanic Skin Response.
The listed sensor's are the ones that are working at the moment with 3 more mystery one's to come soon.  I particularly like the GSR as it will detect when you are actually wearing the Band , so you will only get the readings when it is on you wrist which makes sense. The one disappointment is that due to all the open sensor ports they have not been able to make it submersion proof  a'la Sony and their wearables range. perhaps something for version 2?

Now for those of you who are new to the Band you may be thinking "well I dont have a Windows phone so why should I care?" Worry not Android and iOS users, as Microsoft have made sure that this will work with your phones too. The requirements for the Band App are as follows,
Windows Phone 8.1 with Bluetooth update.
Android 4.3 upwards.
iOS 7.1 upwards.
This makes it a really viable option for a large market and the first wearable that I have seen that will work across all three platforms, credit to MS for doing this. I believe that at the moment this is the only device that will give this level of cross compatibility (bar the Fitbit). It really does annoy me that more of the wearable devices that are out on the market today don't allow you to use them across multiple devices. I can only hope that this move by Microsoft will prompt the rest of the industry to at least consider the option of making their devices compatible over more OS's.
I have to say that from the very brief demo I was given on the Band's companion app it is a massive improvement over what can be done with Android Wear currently. I have not used an Apple Watch so can't comment on that, what at half the price if I had an iPhone I know where my money would be going. Battery life comes in at a reasonable 2 days for average usage which again trumps many Wear device's and the Apple Watch. The only device's to offer better battery life is the Pebble or Pebble Time and the Smartband Talk. Once you do run it down though it will recharge to 80% in half an hour which is pretty good going and on par with other wearable's that I have used.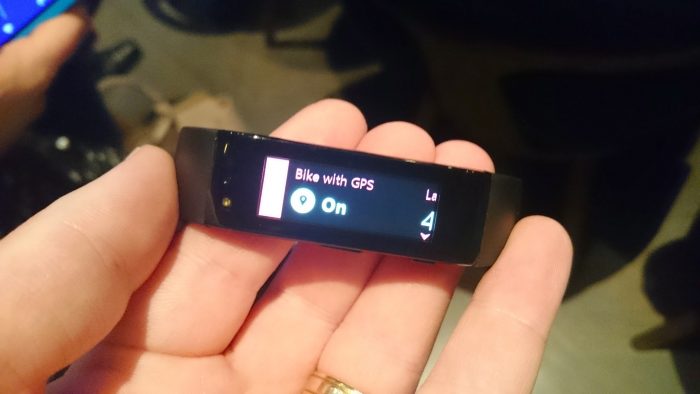 I didn't see much in the way of apps but it goes without saying that they will be getting apps from all the major developers and Microsoft where very keen to point out that Starbucks' have got their rewards app working already so you can pay for you mocha coffee with sprinkles from your Band. I am sure as we see wider adoption more apps will come and they are going to be vialable across the gamut of App Stores as well. Microsoft really want the developers to use the SDK to get there apps on quickly and it is already available for them to use. One thing that I did see that I was really pleased with is that if you want it you can use a web app to view your info on your PC or Mac, but if you want something more native they have made desktop apps for both OS's as well.
Microsoft have also introduced the concept of Guided Workouts to the band. Essentially these are workouts that you pick in the companion app and then the Band will guide you through them telling you what to do and count the reps as you do it. If you over do it the Band will also tell you and warn you to stop before you over do it! All the fitness aspects of the Band will work with all devices on all platforms. There are however a few extras that only Windows phone users will get and the biggest of these is Cortana integration. However if rumours are to be belived there may soon be a version of Cortana for android at least.
So all in all I am pretty impressed with the Band from Microsoft and I think it may cause some other band makers to have a look at what they are offering and step it up. Will I be buying one on Wednesday, not yet but it is on my radar as a possible future purchase.