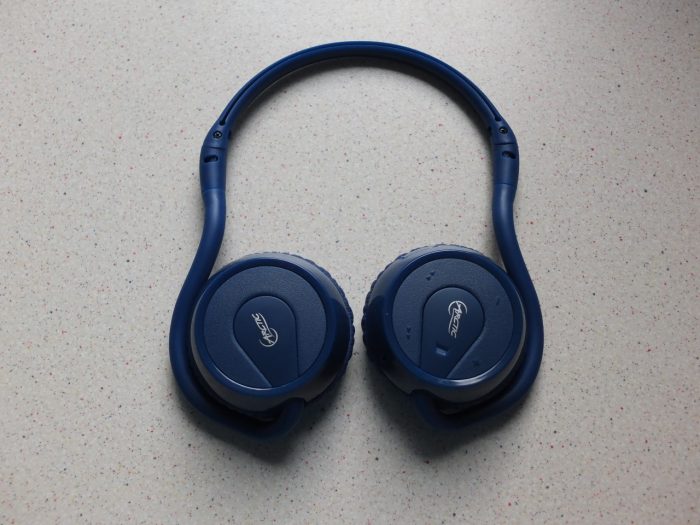 Taking a pair of headphones out with me running is quite an undertaking, controlling my music whilst I'm out running is also fiddly. The fit is usually not quite right, the volume not quite right, the cables flap around and catch on stuff, the Bluetooth connection to my watch fails leaving me unable to control the music, the list of things distracting me from just running is endless.
In the past I'd settled for a pair of wired earbuds that go round the back of my neck and the controls are handled by my Smartwatch, the wiring is then tucked down inside my T-Shirt. We recently posted news about some new Bluetooth Headphones from Arctic the colourful P324BT, which are a great price, have Bluetooth, have controls for playback and volume, are available in a range of colours and are now on my desk waiting for my next run. In the meantime let's get onto my review starting with the good and bad points.
Good and Bad Points
Good
Playback controls on the right ear.
Micro USB charging.
Bluetooth 4.0.
Decent sound quality.
20 hours playback battery life.
Lightweight and compact, especially when folded up.
Bad
Getting them hooked onto your ears takes a little practise.
Not fully waterproof.
The hinged arms feel a little flimsy.
Design
The Arctic P324BT come in a little box, in the box is a little case and in the little case is some fancy electrical origami. I was surprised and impressed at how easily the headphones fitted into the case and thats down to some rotating and twisting arms.

The headphones themselves are the on ear style, so the overall size isn't enourmous. The ear pads are actually removable so you can clean them if you have dirty ears or if you lend them to someone with dirty ears.
The two headphones are held together with a plastic neck band with a cable running through the middle of it. The neck has two hinges on each arm, these allow the whole thing to fold up into the small included case.
The headphones I got were in blue and it was quite a nice colour, they are also available in Black, Lime, White, Pink or Purple.
The right ear is where all the fun happens, there is a built in battery which is charged via a Micro USB port on the bottom, the port is hidden behind a plastic flap that nicely tucks out of the way. The outside of the right side has playback buttons on as well, allowing you to change the volume, play pause jump forward/backwards. The centre button is a Multifunction Bluetooth button which turns the unit on, initiates the Bluetooth connection, acts as a play/pause button and also to answer calls and trigger voice activation on your phone. The right ear also has a microphone built in as well so you can use them to make/take calls with or control your phone with voice recognition.
The arms around each earpiece are used to hold onto your ears to keep the headphones in place, this is a little fiddly and needs practise.
Overall I liked the design, they fold up nicely into the carry case and they are nice and lightweight. However the hinges do look a little flimsy and I wonder how they'll be in a years time. The one ear controls are really handy too, once you've figured out which button does what anyway.
Spec
Everything has a spec these days, even a pair of headphones.
Headphone Type:Supra-Aural On-ear, Neckband.
Driver Size:28 mm.
Frequency Response:18 Hz – 22 kHz.
Impedance:32 Ω.
Weight:78 G.
Bluetooth Version:V4.0, Range:10 m.
Supported Profiles:A2DP, AVRCP, HSP, HFP.
Battery – 400mAh Lithium-ion. Polymer Battery, Playback:20 hours, Standby:Up to 400 hours.
In Use
Like with any device the first thing to do is to charge it, which is nice and easy thanks to the Micro USB socket on the right underneath a rubber flap. Once that was done I set about pairing them, again that was super easy as they put themselves into discoverable mode if another device doesn't connect. If you are wearing the headphones when you pair them you'll hear a confirmation tone to let you know they are done. If you pair them to a device with phone functionality the option to listen to phone audio or media audio will be present in the Bluetooth settings for the headphones. It is handy leaving both on as if you are out for a run and someone rings you, you can deal with the call from the headset.
Once paired up it was time to fit the headset, at first I struggled to work out how they were going to stay on my head, as the neck band doesn't really apply much force to the ears. You basically have to loop the arms around the top of your ears, which is done by opening the headphones up as though you are putting them onto a head way bigger than your own and you'll find your ears just slot into place. It is probably best to do this for the first time in a mirror.
Once I had stared at myself in the mirror for a bit I set about listening to some music, I was really surprised at how good they sounded. For £22.99 I was really surprised. Really really surprised. I gingerly reached up to my right ear and felt around for the controls and it just kind of clicked, the volume controls are at the top and the playback controls are at the bottom, again a mirror helps here, but is unnecessary as each button is clearly pronounced and your fingers just find them without a fuss. Remembering which button does which however……..
Conclusion
Overall I really liked the Arctic P324BT headphones, I go for a run every few days and each time I took the P324BT with me, they are unobtrusive once you've got them fitted properly, they sound great, the battery will last for a good number of runs, they have handy controls on the earpad and most importantly they don't move around or fall off regardless of how many times I accidentally hit the back button instead of the next track button.
You can get them from Amazon here and don't forget they are available in a wide range of colours.