Getting Office documents working on your mobile device can be a hit and miss affair. Sometimes you'll find an app that opens certain documents but won't let you edit them. Sometimes you can edit some document types but not others, and you can find that the document will save in a different format to the one you originally opened.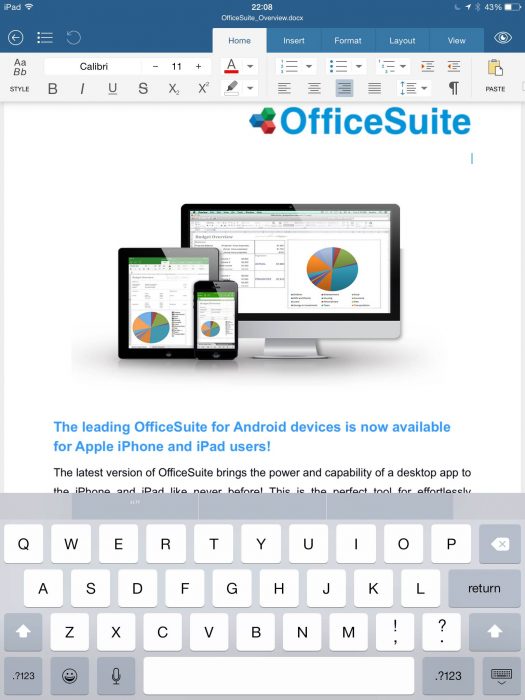 OfficeSuite Free is now available for Apple iPhone and iPad users, with the familiar desktop app power delivered to a mobile device. This app will let you view, edit and create Excel, PowerPoint and Word. Basically this means that if you get emailed a document on the go and you're not happy with it you can quickly tweak it to fit your style. It's actually quite surprising how far you can go with the editing of documents. You can insert tables, pictures or a photo directly from the camera. You can also add a hyperlink, line or page break and bullet points etc.
The layout and setup of the document can be altered too, with the ability to switch orientation, margin spacing and document size.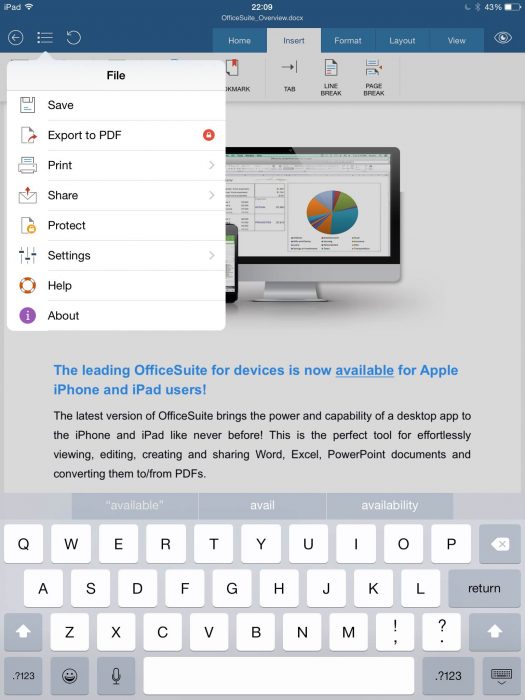 An advert will appear towards the bottom of the window when you're using this app although, strangely this seems to hide under the on-screen keyboard most of the time so you really don't notice it. The app also lets you cut / copy / paste and alter the font, line-spacing and you can even do a word count if your document needs to be of a certain length.
Through a small pencil button on the top right you can switch from edit to view mode and back again, which also lets you find text, hop to different page numbers and more. There's also the ability to export the document to PDF, print, share or protect. The app will even let you turn spell check / autocorrect on and off.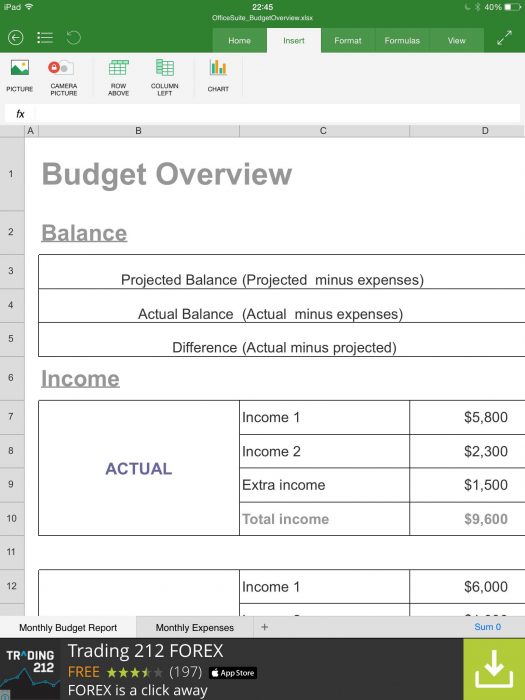 Excel is another app which is always used heavily on traditional desktop PCs but can sometimes struggle in the transition to mobile devices. Here it all seems pretty painless, with the familiar functions sitting just about where you'd expect to find them. As with the Word edit / view system, you can tweak the font and cut / copy / paste, insert pictures or do a search / replace, however there's also the full formula system and the ability to merge and centre, add a chart, hide rows and columns and also auto-fit columns too.
The formulas tab has a range of options including date and time, financial, logical and text formulas to use out of the box. You can also save as XLSX, XLS or CSV, then just send them off by email.
The whole system is incredibly quick and fluid. It's all familiar too, and if you're using Windows and the Office desktop PC package you'll find yourself at home here. It supports Google Drive, Dropbox, Box, OneDrive and iCloud. There's no faffing around – it just works with them directly. The PowerPoint editor and viewer continues the theme and makes the process of building a powerful slideshow really straightforwards. You can navigate easily with the Slide Carousel, Search, Zoom, and Go to Slide features. It'll let you create manual and automatic slideshows and also gives the ability to reorder slides, adjust images, texts and shapes.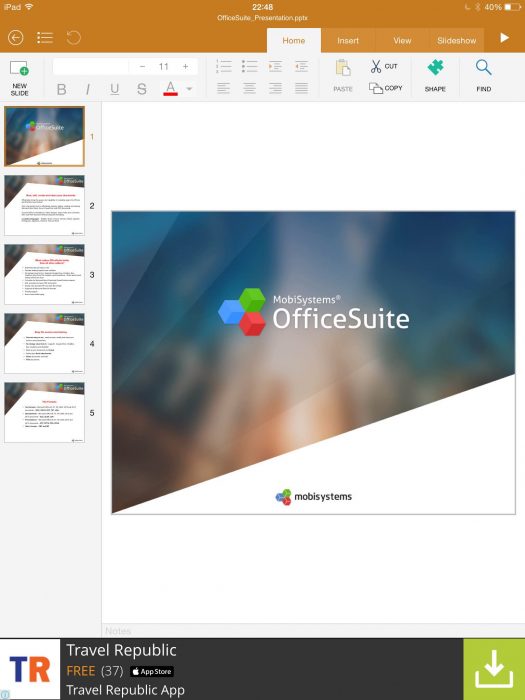 The app also lets you open PDF documents, with the ability to navigate around documents and search through pages and zoom in.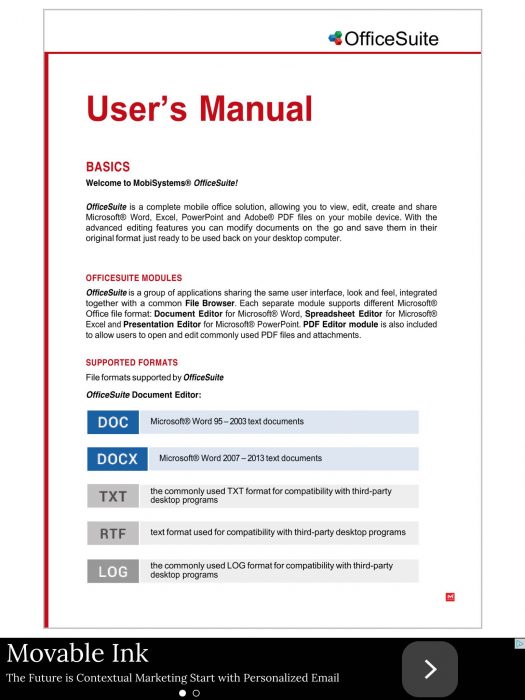 Overall, and remember you're paying absolutely nothing for this, it's perhaps one of the best mobile document editing and viewing solutions I've seen in a long time, and it's great to see it finally arrive on the iPad and iPhone. Download OfficeSuite Free for iPhone and iPad from iTunes.