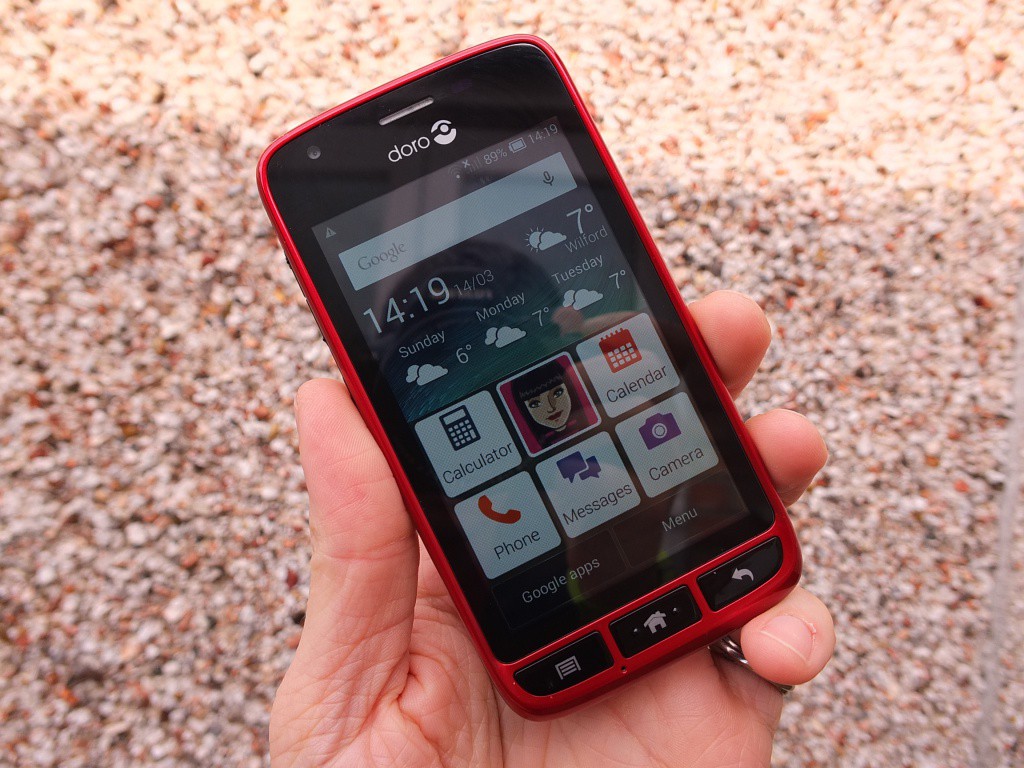 Doro have found themselves a niche, they have really really thought of everything that a phone should do in that particular niche. A few weeks ago I was introduced to the new Liberto 820 Mini and when I got back from MWC there was one waiting for me at home to really get to grips with.
Good and Bad Points
Good
A great custom UI that is really well thought out.
Nice design and great feel in the hand.
Doro assistance and management apps.
Buttons are all easy to use and locate.
Charging Dock included in the box.
Dock Mode enables key functions.
Bad
Overall low spec at times leads to delays on loading apps.
Front facing camera very low spec.
Small Internal Memory could be problematic.
A little costly compared to other budget devices on the market.
Design
The Liberto 820 Mini has a pretty basic design, although it has a solid construction and it actually looks quite cute.

The model I was sent was the red model and thanks to that it was quite unique looking, the unique looks continue around the device. The front of the device is dominated by the three hardware buttons beneath the display, for menu, home and back. Long pressing these offer different functions, long pressing back brings up the recents list and long pressing home triggers Google Now. Pressing these buttons does wake the display as well, which saves you having to reach for the power button. The Home button even has two lumps on to help people find the home button if their sight isn't great or it's dark.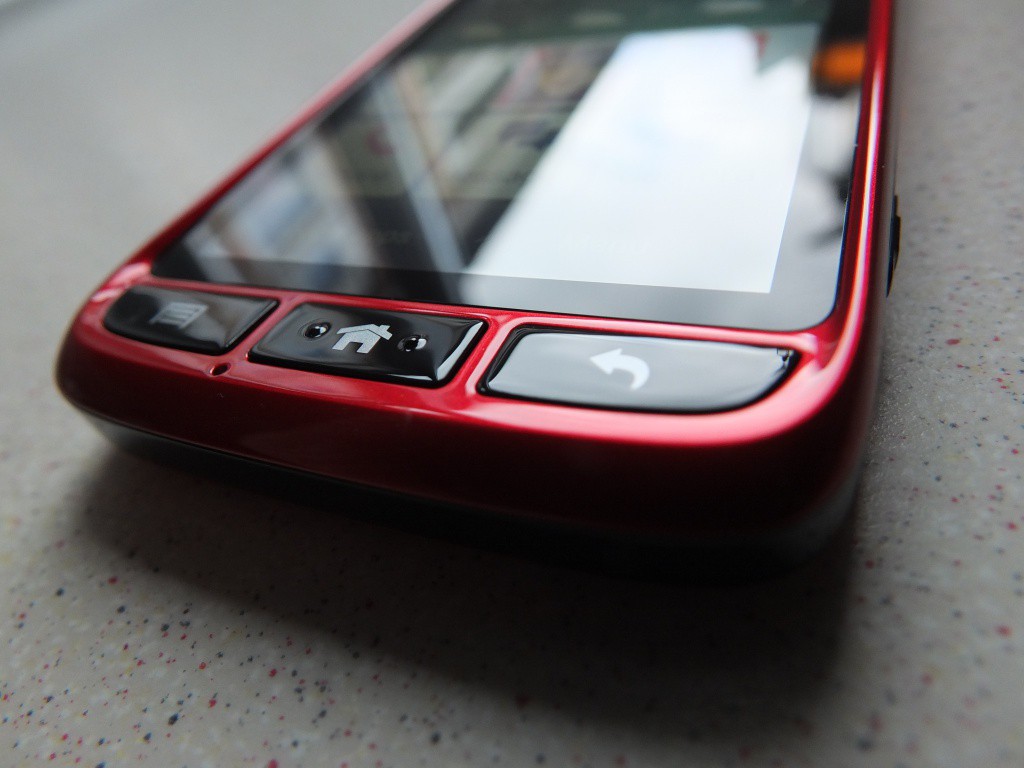 The front also is home to the front camera and various sensors. The display feels in all honesty like a very good resistive display, although it isn't, it's a 4″ WVGA 5 point multi touch display that attracts fingerprints like a some sort of fingerprint magnet. I ended up clearing the display several times a day.
The sides of the 820 Mini are home to a variety of buttons (all of which are labelled) and ports. The left hand side has the power button and volume rocker and thanks to the overall small size they are easily reached, although I did often hit the volume down button instead of power.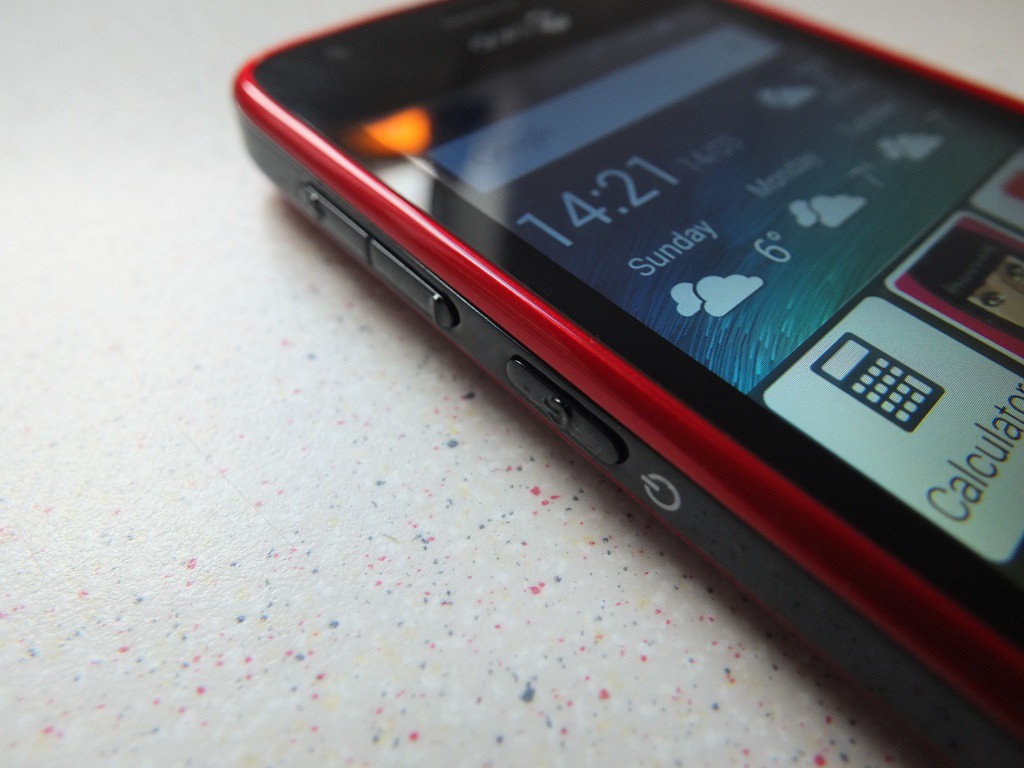 The top of the phone has the headphone socket.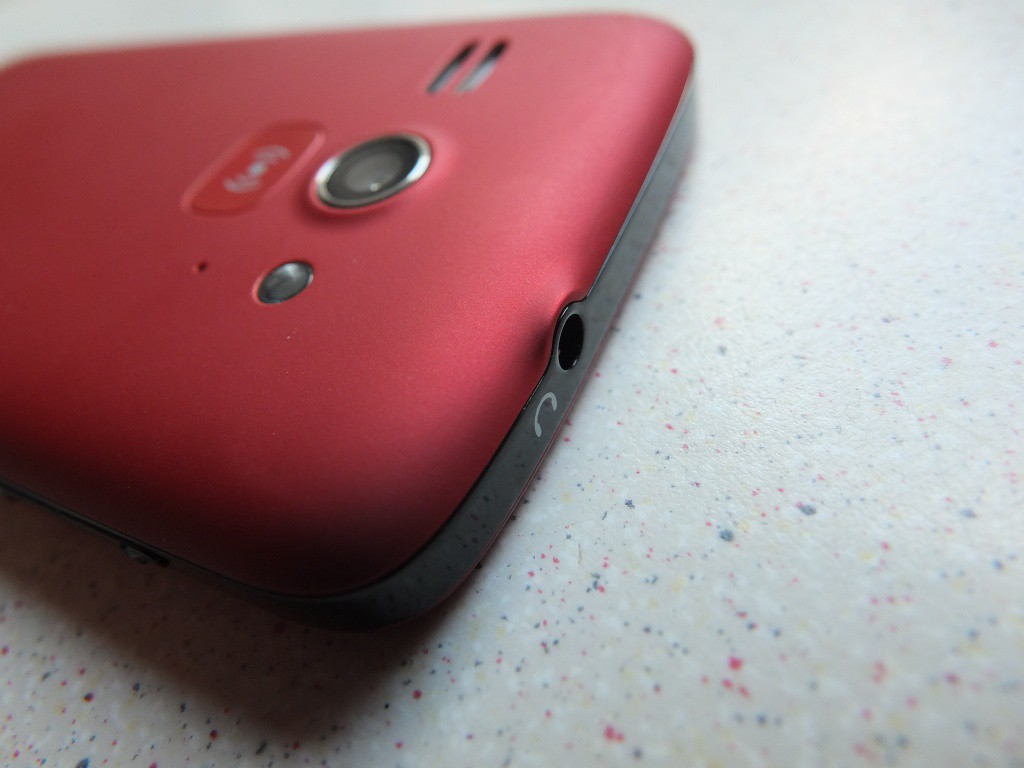 The right hand side has the Micro USB port, which initially seems weird, although it's placed there to work with the included charging dock.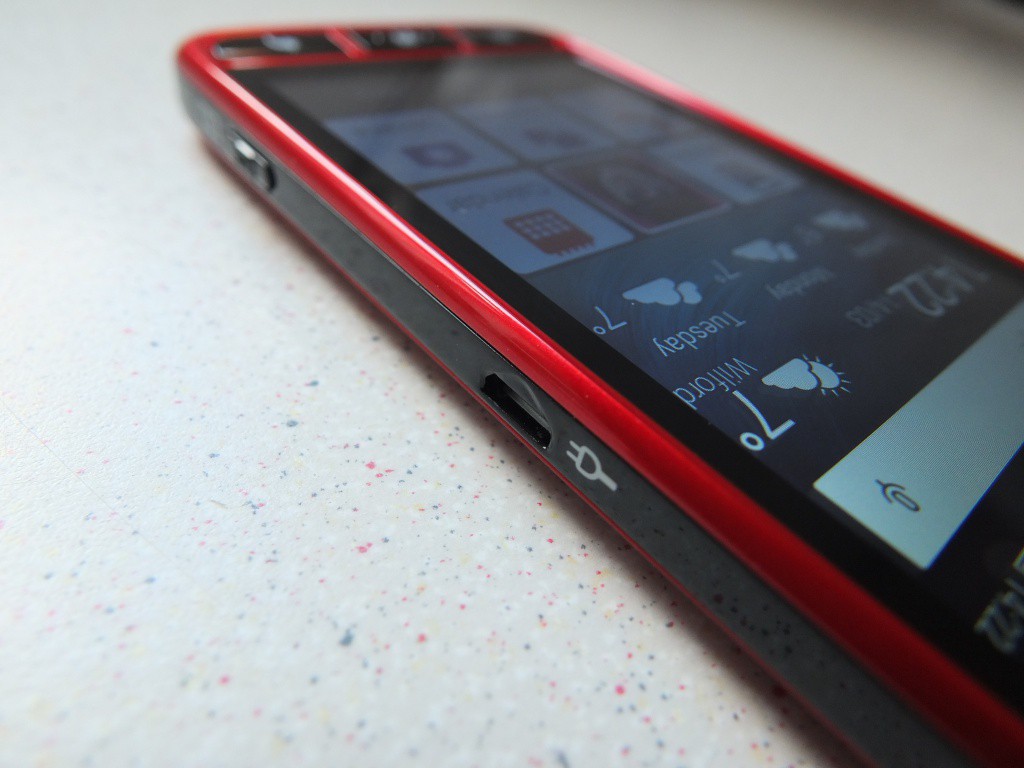 The right hand side also has a camera shutter button, which unfortunately doesn't trigger the camera app when pressed or when pressed and held. It is handy none the less.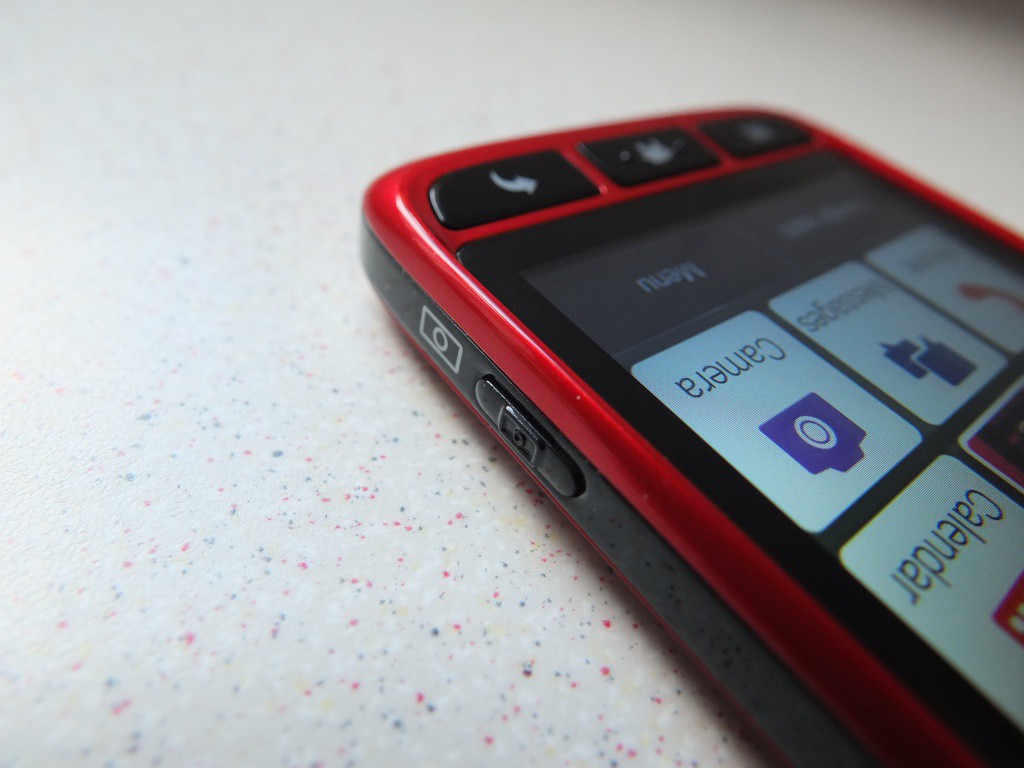 The bottom of the phone doesn't house anything. The back of the phone is where the camera, the flash, the speaker and the assistance button live.
Under the backplate you get a Micro SIM slot, a Micro SD slot and a replaceable battery. Although tracking down the battery may be fiddly.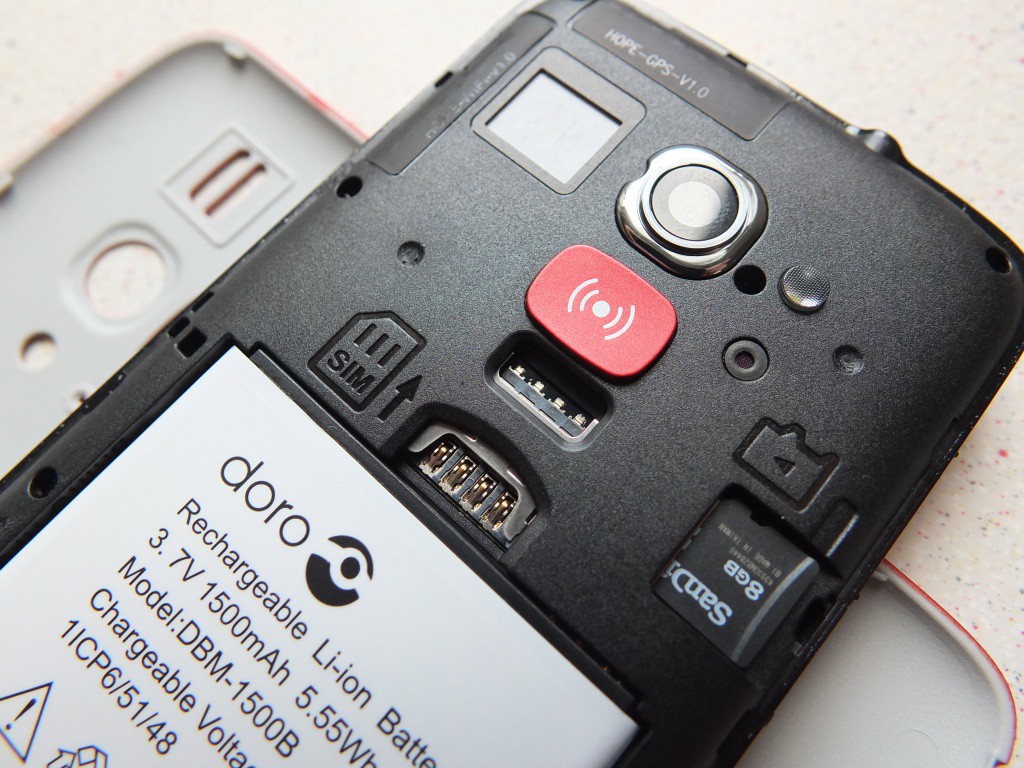 The dock is pretty solid and houses the device in landscape, it is nice that it comes in the box and it won't fall over.
Overall the design of the 820 Mini is pretty basic, it's more functional than anything. However it does feel nice in the hand and the back has a kind of soft touch backing. It's just the fingerprints that detract from the overall design really.
I've also made a brief hands on video too:
http://youtu.be/1Vg4ku6E1b0
Hardware
Spec wise it is pretty basic
Processor: MediaTek MT6572 1.3 GHz Dual Core ARM Cortex-A7.
GPU: Mali-400 MP.
Display: 4″ 800×480 WVGA display 233 PPI.
Internal Memory: 4 GB with 1.8 GB free out of the box.
RAM: 512 MB.
Rear Camera: 5 MP with Auto Focus and Flash, 720p Video.
Front Camera: VGA photo and 480p Video.
HSDPA 21 Mbps, HSUPA 5.76 Mbps.
Battery: 1500 mAh Li-Ion 500 hour standby, 18 hour talk time.
Android 4.4.2.
Bluetooth 4.0, Micro SIM, Micro SD.
Hearing Aid Compatibility Rating: T4/M4 (3G), T4/M3 (2G).
Dimensions: 126mm x 66mm x 11mm.
Weight: 132g.
Available colours: steel grey, white and silver, white and black or red.
Key points in the spec are the small amount of internal memory left out of the box, the lack of RAM, the basic low resolution display and the basic processor. On the plus side however Bluetooth 4.0, Micro SD slot and the speaker are all pretty handy. The overall low spec here isn't the main event though, Doro have created a software experience for a specific niche market and they have done that through software.
The display is low resolution at WVGA, which sounds horrific and yes at times certain elements do appear pixelated, but the display doesn't have any weird viewing angles and it is readable outdoors.
Out of the box the Internal Memory has about 1.8 GB of the initial 4 GB.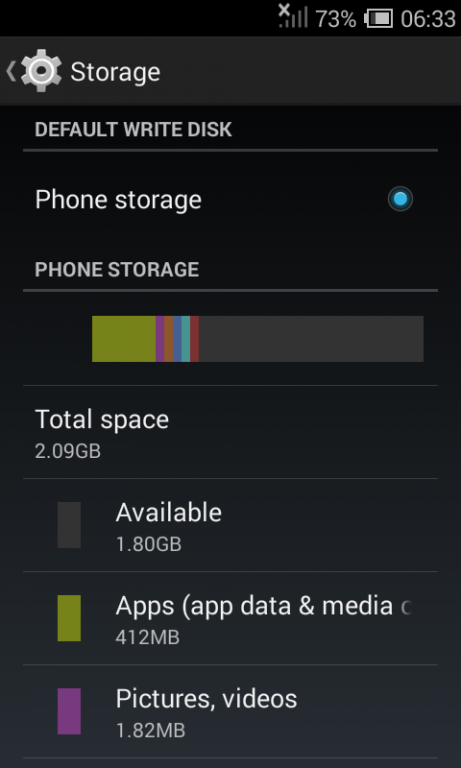 Software
Software is key, without it your phone won't do anything. Attention to detail is another key ingredient, without it you'll end up with a mess, like one of those dodgy foreign phones. Doro make phones and they make software, both make life easier for their users. They have spent years honing and refining their software, creating an environment that at first doesn't feel like Android and only when you dig down into it you realise that you are holding a real life smartphone.
The Doro Liberto 820 Mini runs Android 4.4.2 with a custom launcher on top and a whole host of skinned apps included as well. Doro have identified a load of apps and services that their typical users will use and have improved them to be more user friendly. Take for instance the launcher, as show above you get large tiles for each app and only the Google Search Widget and a Weather Widget, that's it really. You can swipe through screen after screen of apps, you can also make folders and put app tiles within the folder. It is simple and straightforward, designed for the user to get the main thing done, i.e. to open apps fairly quickly.
Doro have also skinned the settings section, as the settings area on a normal Android device is a little daunting at first, Doro have taken the key things you'll want to use and put them on nice big tiles, although the icon in the top right opens up the normal settings list.
Doro have also skinned and simplified a lot of the core apps like messaging, phone, calendar, calculator, alarms, camera, gallery, contacts, weather, torch, timer, notes, private notes and dock mode.
Doro in addition to a range of simplified and skinned apps, have also added a few apps that will enable people to be helpers for your phone, which allows them to send you images, contacts and applications. But you also have the assistance button on the back. It is triggered via either a long press for over 3 seconds or a double click within 1 second. Once the assistance button has been triggered it will send an SMS to everyone on the list requesting assistance along with GPS information, it then also dials the contacts too using speaker phone. So if the user takes a fall they can hit the button and call for help over the speaker. It is nice to have on a phone and would give you peace of mind if you were giving this to an elderly person.
The last thing that is worthy of a mention is the Dock Mode, in the box you get a dock for the phone, it allows you to dock the phone in landscape mode, it charges the phone and triggers a special mode with some key features that would be handy when the phone is docked. It is a really nice feature and will allow you to charge and use the device in a neat way.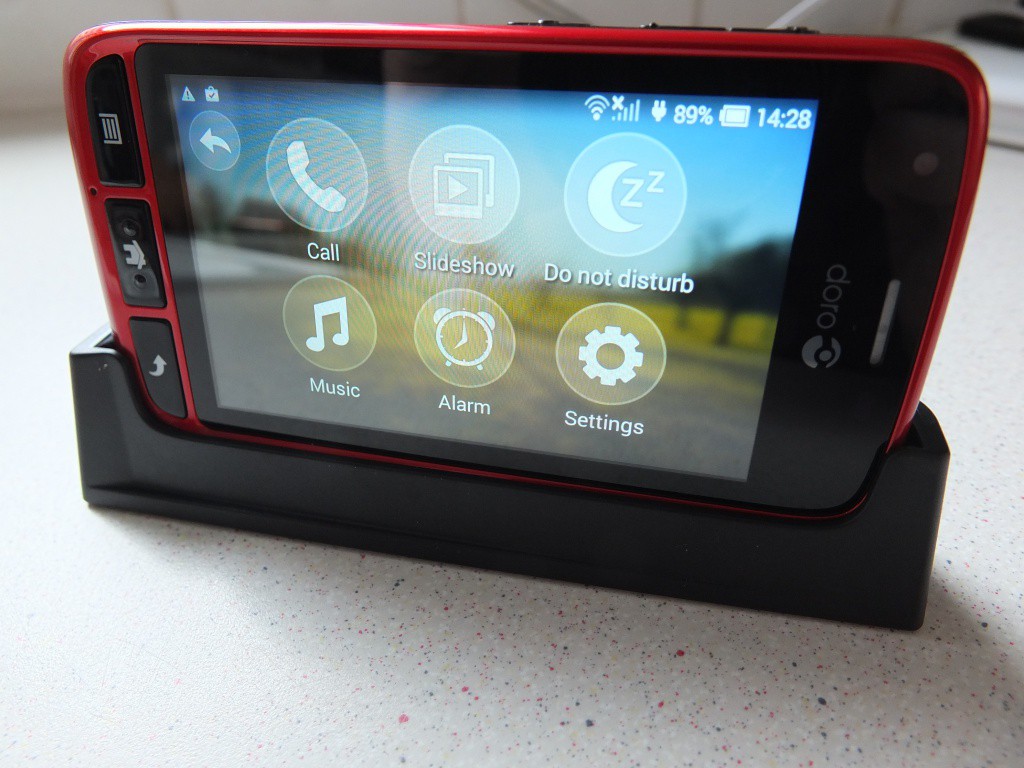 Overall I was impressed with the software, Doro have put a lot of thought into the core UI and what it can do. In a power users hands they'll get frustrated at the lag and the limited number of apps you can install.
Other Notable Stuff
Camera
The rear camera is rated at 5MP and in decent light it just about manages to take a photo, with no real clarity or detail when zoomed in on and it it's too bright you get over exposure. The front facing camera takes shots at 480×640, which is ok for contact pictures I guess, not much else. Both cameras introduce lots of noise in low light especially the front facing camera.
Here are two selfies I took, sorry….
Battery Life
The Doro Liberto 820 Mini has a pretty small battery, at 1500 mAh Li-Ion it didn't really instill me with confidence, Doro claim 500 hour standby and 18 hour talk time. In reality it all depends on quite what the user wants it to do. When I had it set up just to send and receive SMS, make a few calls, snap a few photos, browse a few websites and watch a few hilarious cat videos on YouTube the battery will last a day or so. If you set it in Android power user mode, with several email accounts syncing, Facebook and Twitter doing their thing, some gameplay at lunchtime in the gents toilet and your Pebble and FitBit syncing all day like there is no tomorrow and you can wave goodbye to that battery by lunchtime.
Below is what the battery stats showed after two and a half days of light usage. The device was turned off at night and it died at about lunchtime on the third day. For a 1500 mAh battery this is pretty good, it would be handy for an elderly person to not need to be charging it every day.
Benchmarks
Benchmarks aren't everything as we are often told, but they sure do give us a rough idea of how a device performs. Here is how the Liberto 820 Mini performed.
Antutu – 11608 (Moto G 2014 – 17585).
Quadrant – 4427 (Moto G 2014 – 8806).
3D Mark – Failed to even install the background data required.
The scores basically show that the dual core MediaTek chip is a bit slow, which you can tell by turning on the phone and browsing through the UI.
Sound Quality
The 820 Mini caught me off guard when I heard the sounds coming from it. You get a headphone socket on the top and a single speaker on the back, neither sound amazing, they are just loud, be it the SMS noise or the ringtone or listening to music. Which is ideal for an elderly relative.
Conclusion
There are two ways of looking at the 820 Mini, it is either a rather underpowered Android smartphone that doesn't really have any unique selling points bar the software or you could see it as a really great phone for the elderly, the technologically unsure or for a child. Doro have identified a huge range of use cases and have morphed the Android system to help the user get the job done quickly and easily.
The few weeks I had the 820 Mini for were great fun, mainly for me the Android power user trying to see just what I could get it to do. Yes at times things were frustrating like with the lag at times, the unresponsiveness shortly after booting and the woeful camera. But for the market that Doro are targetting non of these issues will matter.
Tesco Mobile have the Doro Liberto 820 Mini available for £99 on Pay as you go, in either grey or white. Or from Doro direct unlocked for about £130 including our friends at Clove, check out the product page here.
Doro Liberto 820 Mini - Review
Design - 5
Hardware - 4
Software - 7
Battery - 8
Camera - 5
Display - 5
5.7
There are two ways of looking at the 820 Mini, it is either a rather underpowered Android smartphone that doesn't really have any unique selling points bar the software or you could see it as a really great phone for the elderly, the technologically unsure or for a child.