If you're tired of having to pay £500, £600 or even £700 for a smartphone, there are options way down at the other end of the scale. This, the Alcatel POP C1, is available on play.com rakuten.co.uk for less than £30 at the moment. Likewise, you can head to the EE website or Argos and get it at the same price – just £19.99 with a £10 top-up, £29.99 total.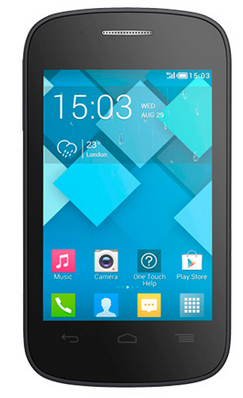 No, it won't have much street cred. If you're ..err… "hanging with your crew" then be prepared for some friendly jibes from your mates as you whip out your Android 4.2 device with a 2 megapixel camera and 3.5″ 320×480 screen.
Other specs, well they don't get much better. You're looking at 512MB memory, 4GB on board storage and a microSD slot for another 32GB. It won't do 4G but you do have WiFi, GPS and Bluetooth.
On the flip side, for someone who really needs a mobile phone and doesn't want to spend the earth, this is actually very good. EE do plans which include the £1 "Data Pack", where you get 100MB of data, 10 minutes of calls and 10 texts every week. If you need more then the £10-per-month "Everything Pack" gets you 500MB of data, 150 minutes of calls and unlimited texts, which is ideal for your nan and you can probably buy this phone as a gift pretty easily to keep in touch.