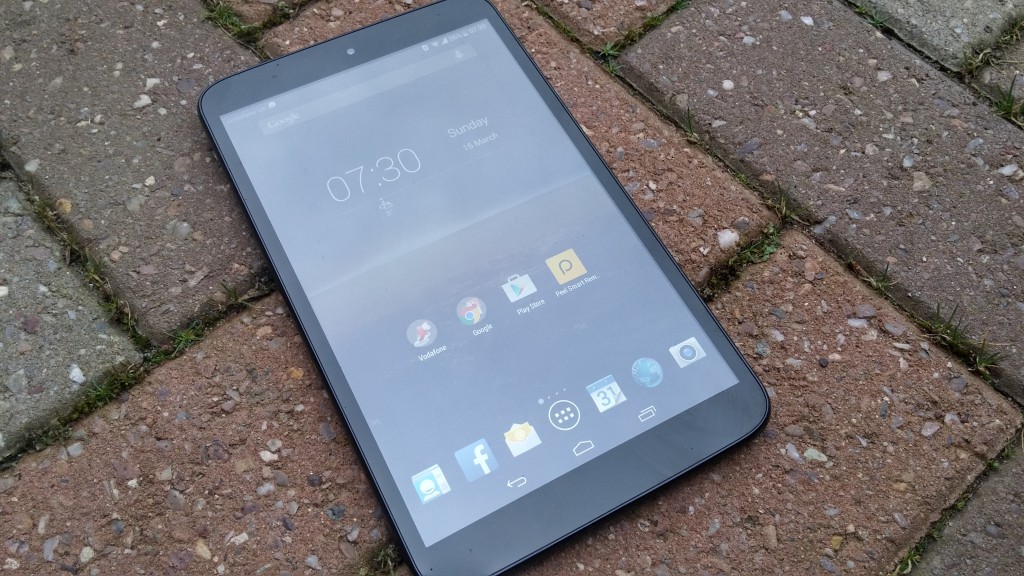 Look at a network-branded tablet and you'll sometimes find yourself in a strange world of rebranded Chinese kit. Is it good? Is it bad? It's really hard to tell. However, for £125 on Pay As You Go or £21 per month for 3GB of 4G data per month, it's worth a review.
So, initial impressions are pretty good. It's a light and easy-to-handle device which reminds me of an e-reader. The 8″ IPS WXGA screen is a bit of a fingerprint magnet, especially after my son grabbed it to install some games. It's a blur-free experience though, with images showing up clearly on the 1280×800 pixel (213 dpi) display. This is fine until you realise that the brightness level is cranked up, so you need to adjust it down to save your battery life as there isn't an "auto" setting.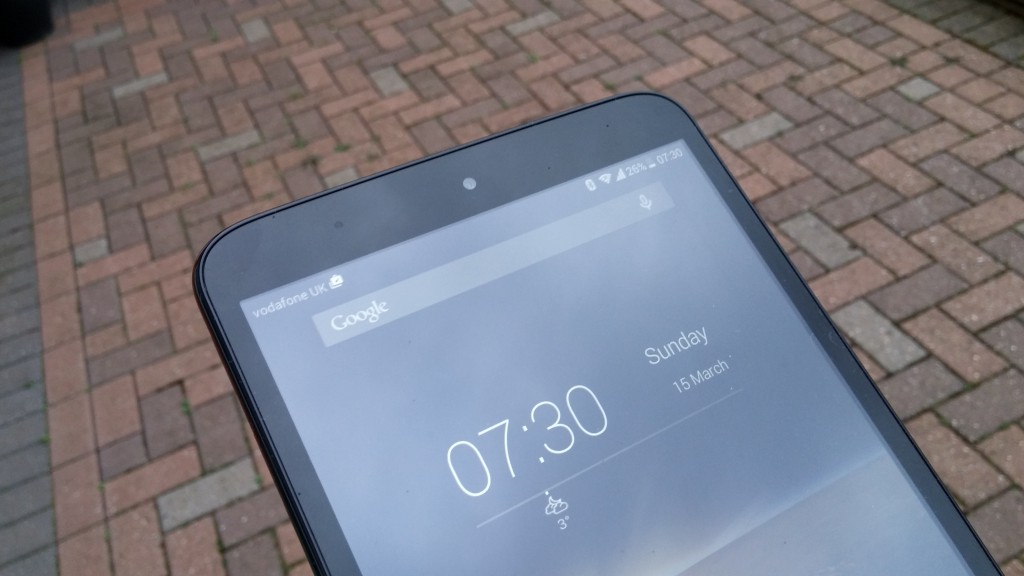 The OS is Android 4.4.4, so no Lollipop action here and no news of whether it'll get an upgrade. The front of the unit does have a 2 megapixel camera, which will suffice for the odd selfie and if you're into Skype etc.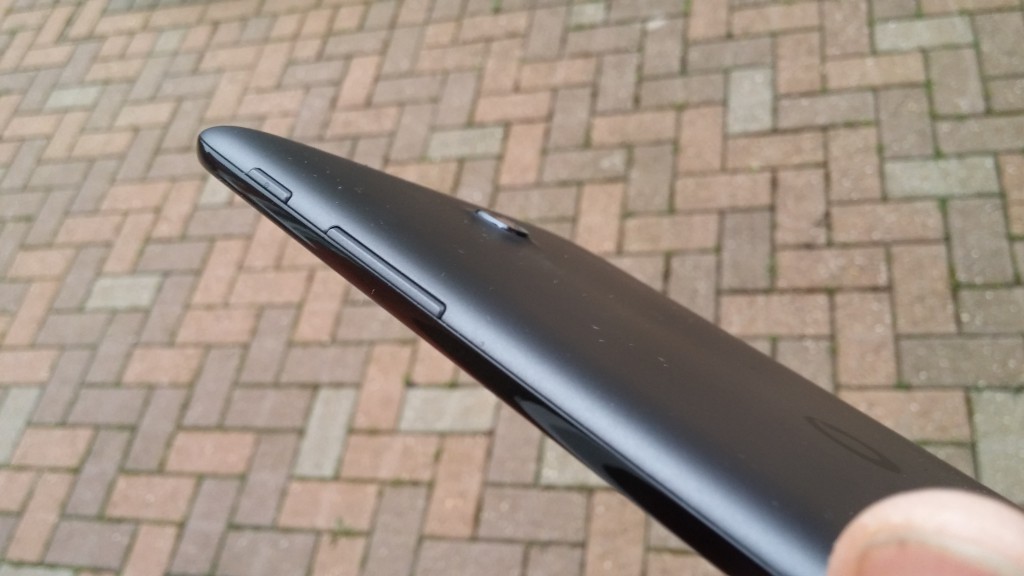 The black polished frontage meets the matt-feel rear section around the edges of the device and on this unit it's a dark silver / grey. The right side has the volume controls and a power button, which is a little fiddly to find at first. This, though, wasn't too much of a problem as I found the tablet to have lifted LG "double tap to wake" system, which means you can just tap the screen with your finger instead.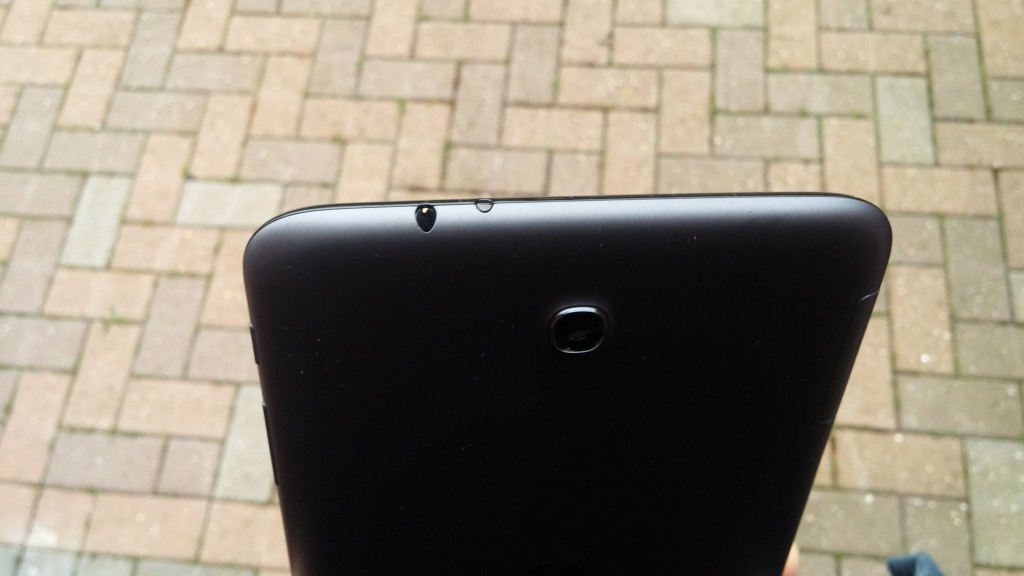 Also, up top, there seems to be an IR blaster. This isn't mentioned in the specs but I assume this is what it actually is. Next to this is the obligatory 3.5mm audio port.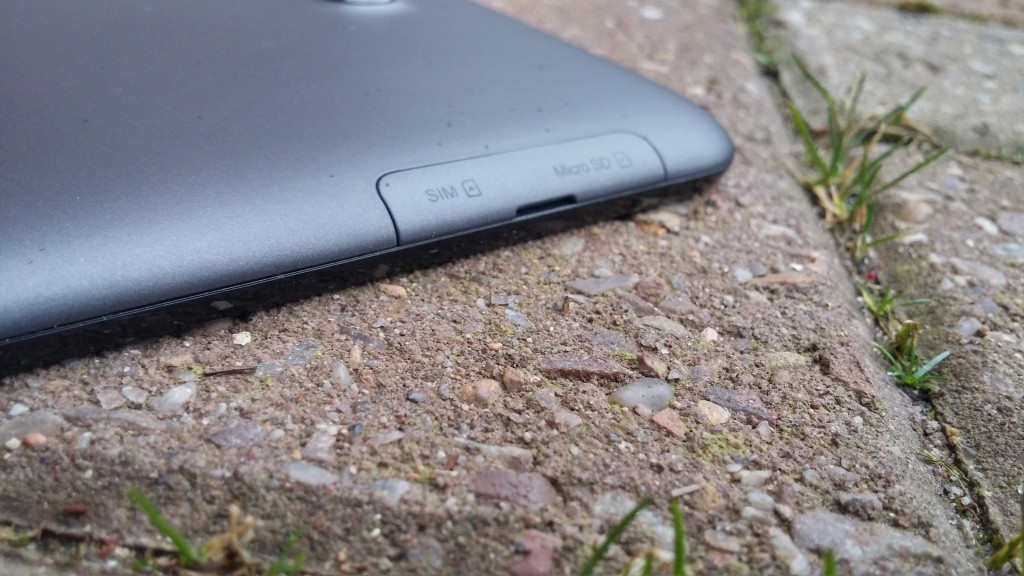 To the left, near the top, a small flap which hides the SIM and microSD card slot. There's actually 8GB of storage on here, but you can whack in your own microSD to boost that by up to another 64GB.

The back, which is nicely sculpted I must say, has the external speaker grille and a 5 megapixel camera (I'll mention the camera quality later) which doesn't have a flash. It's pronounced a little.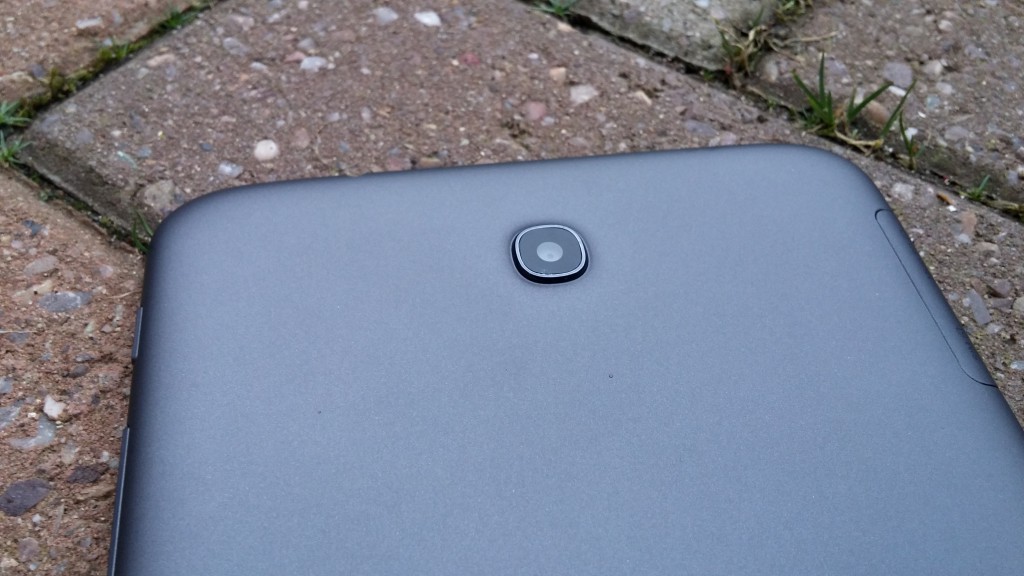 At the bottom, should you dare to make calls on this, there's the microphone and the charge point.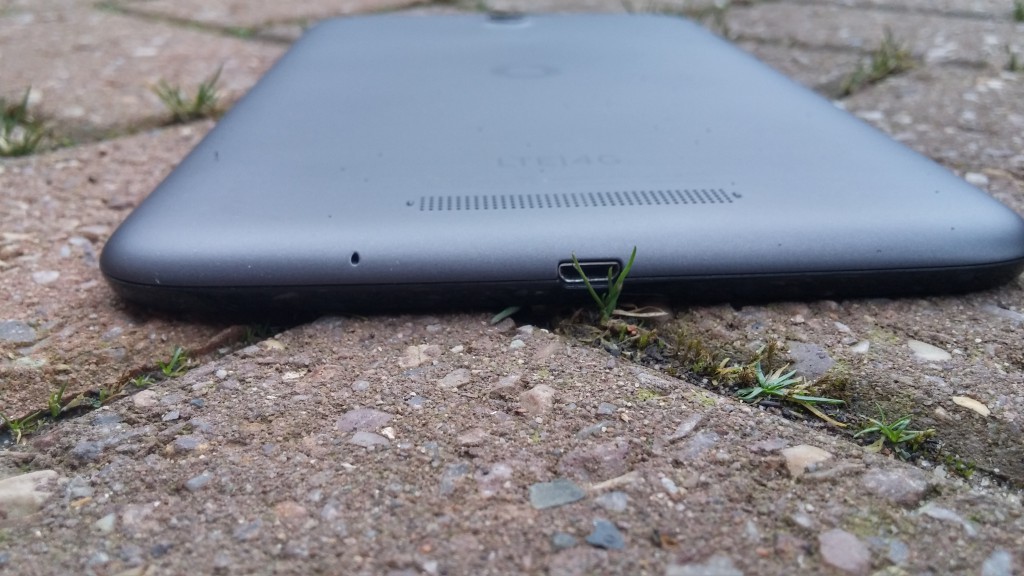 Looking under the hood, we're in fairly standard mid-point tablet territory. It has 1GB memory and runs a quad-core 1.2Ghz Qualcomm MSM8916 with an Adreno GPU. The battery is a 4060 mAh and faired well during testing, plus you get GPS, Bluetooth 4.0 and WiFi b/g/n.
INSIDE
There's a small amount of tweaks within the OS but nothing to ruin the experience. Voda have added something called "Smart Flow", which lets you select a range of images which will then be zoomed "into". This makes you feel like you're flying over the scenery or background in question and is really rather nice. I've seen live wallpapers before but this is a particular unobtrusive idea.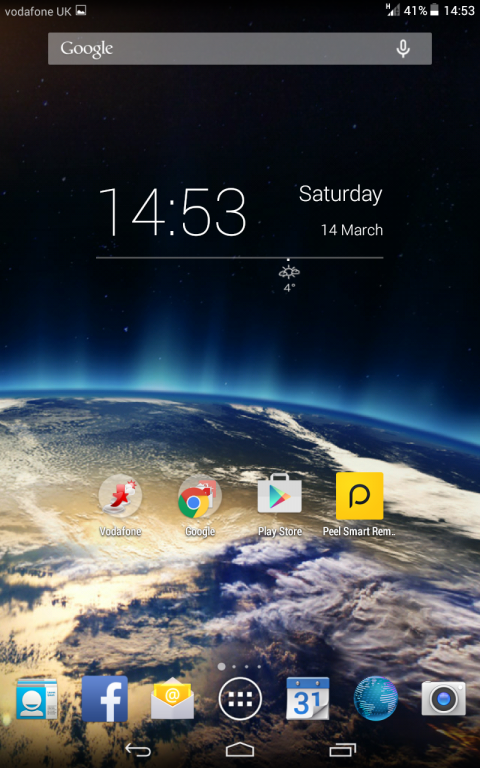 Another addition is "Smart Weather". This grabs data from AccuWeather and pops it onto the main screen so you'l know whether to grab your umbrella.
There's also the Vodafone "Discover" application which seems to group together news and information from various Voda sources. You can drag this around to suit your requirements. you can see your device status, the latest Voda Tech Team news, signal coverage and various other bits. It's basically like a support section and a bunch of Vodafone news snippets in one.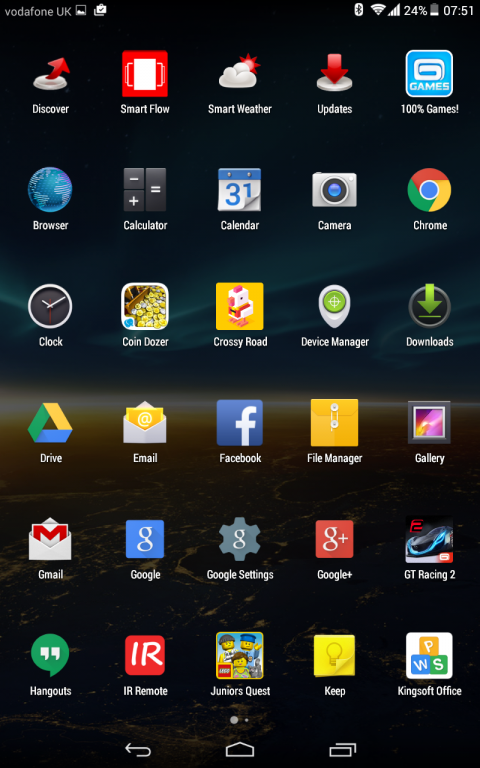 Other than that, it's everything you expect from Android. All the Google paraphernalia is there – YouTube, Google Maps, Hangouts, Drive, Chrome, Google Play, Books, Games and so on. As this has a 4G SIM in the back you can, subject to coverage, expect some very decent speeds and you can of course also text to and from the device too. As this is Google, you can hook into Gmail and get your contacts and diary appointments sync'd up with the almighty Google cloud. If you have a POP3 account elsewhere, that's fine too. There's a mail client and solution for any email account you may have. Not only that, but Kingsoft Office is available so that you can open and edit documents, spreadsheets and presentation files – just as you would in Microsoft Word. The keyboard is swipe-style but you can also just jab away at the on-screen keys or install your own keyboard if you fancy.
Other treats include a file manager, clock / alarm, two browsers (the stock Android one no-body uses any more plus Chrome), a calculator, sound recorder and Google Now for doing that clever "OK Google" magic.
CAMERA
If you do dare to take this out to take snaps then I'll admit the resulting pictures aren't too bad at all. There's a range of options in the camera and it's both responsive and sharp. Here's a few example shots.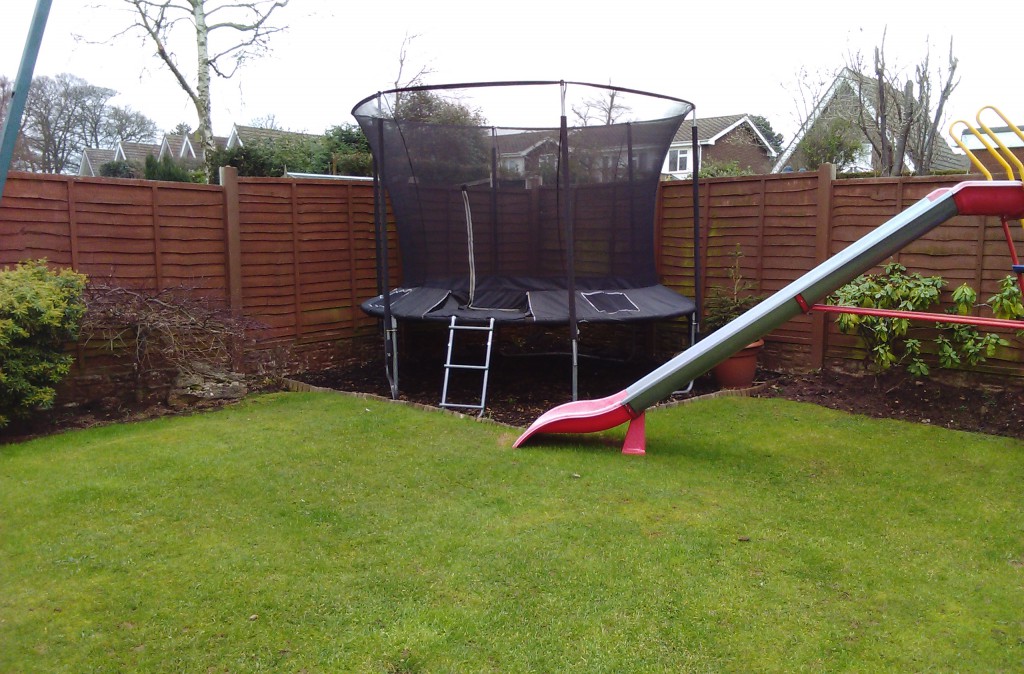 OVERALL
It's not shockingly quick, but likewise it's not annoyingly slow. The quad-core 1.2GHz CPU can get a bit of a sweat on if you try opening a particularly hefty Word document in the Kingsoft Office application, but YouTube, Twitter, Facebook ran fine and it rendered sites quickly enough too.
The price is about right for what this is. A decent and solid mid-range tablet. The 4G speed was very much appreciated, although I think I'd be buying it on Pay As You Go and then just topping up £10 to get myself 1GB of data if I was out and about. It's a thin, well put-together device which also just-about-fits in your rear trouser pocket. Just don't sit down will you?
For keeping the kids entertained on long journeys this is bang on the money. Get the full pricing and availability of the Vodafone Smart Tab 4G on the Vodafone website.
Vodafone Smart Tab 4G Review
Value for money - 8.3
Build quality - 8.7
Camera - 8.4
UI experience - 8.3
8.4
At this price, this is a solid and well-performing 4G tablet.