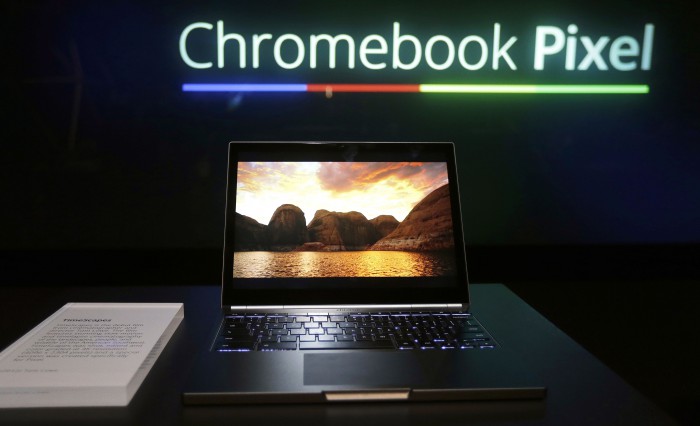 A number of us here at CoolSmartPhone towers use Chromebooks. I for one am currently writing this post from my HP 11 Chromebook which I absolutely love. Chromebooks are usually inexpensive, with a good battery life, but not that highly specced in terms of RAM or onboard storage, but because nearly everything runs in the "cloud" they are quick to boot up and relatively secure compared to your average windows machine.
Two years ago, Google released the "daddy" of all Chromebooks – the Chromebook Pixel, which was a aluminium bodied device with a 12.85 inch HD touch screen display, Intel CORE i5 Ivy Bridge processor, but still the machine only came with a 4GB SSD drive, the pixel was all about aesthetics, but came in at a whopping £1000.
Google have now announced the new 2015 Chromebook Pixel, which to start off is cheaper that the last iteration, but still a wallet clenching £800. But for your money Google have up'd the spec's of the device.
Specs.
Dimensions 11.7″ x 8.8″ x 0.6″/297.7 mm x 224.55 mm x 15.3 mm.

Screen: 12.85″ display, with 3:2 aspect ratio, 2560 X 1700 at 239 PPI, capable of 178° extra-wide viewing angle.
Choice of either Intel i5 Processor, 2.2 GHz or Intel i7 processor, 2.4 GHz.
Up to 12 hours of battery life.
2 USB Type-C.
2 USB 3.0 ports.
720P HD wide-angle camera with blue glass.
Choice of 8 GB or 16 GB memory.
Choice of 32 GB or 64 GB of flash storage.
Type-C USB charger, new industry standard
1TB of cloud storage that you get from Google Drive for three years.
The new Pixel is listed as coming soon on the Google Store.
Are you interested in the new Pixel, even at it's lower price it's certainly in the Mac Book Air territory? Granted, it's faster, lasts longer, has an easy way to read the battery left if you knock twice on the cover, has a 239, retina-beating display and can last for 12 hours straight, but do you really want one?