I went to meet the lovely people at Kyocera, who I've only previously known for their printers, about their phones. To be honest I was surprised. This is a company that have been in existence since 1959 and have 70,000 employees and they have been profitable every single year of their 55-year history.
As I live in the UK I wasn't aware that Kyocera actually made any phones, but they currently have 16 phones in Japan. They're the third biggest phone company there behind Apple and Sharp. They also have 9 models on sale in the USA.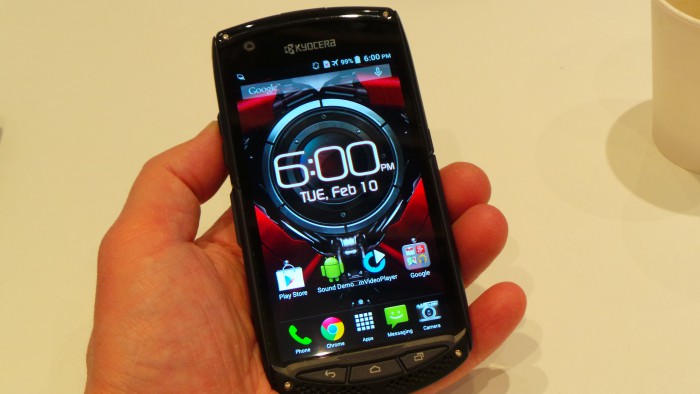 They specialise in ruggedised phones and hit the military standard (MIL-STD-810G) meaning that you can do, well, this with them..
When I was told that they'd been in the smartphone market for 15 years I wanted to know quite why they'd taken so long to launch this, the TORQUE, in Europe. A rep told me that..
Kyocera wants to make sure that they have perfected and grown into a market properly and successfully before moving onto another.
You get a sense of quality and passion from everything they do. Everything is done in that "Japanese way" with phones rigorously tested before going live. This, the TORQUE (the one you saw dropped onto the wooden display) marks their entry into Europe.
This phone, like all of their handsets, is made in their own Japanese factories to an exacting standard. It's not a Chinese model with a chunky case, this is Japanese through and through. It's powered by Android 4.4 (KitKat) on a Qualcomm Snapdragon MSM8928 quad-core 1.4GHz CPU and comes with clove functionality out of the box. This is built with construction workers, maintenance staff and other tough jobs in mind. The GUI has been altered slightly in parts so that it's friendly for gloved hands. Wake the device, unlock the screen and then use your gloved hand to unlock and make a call easily.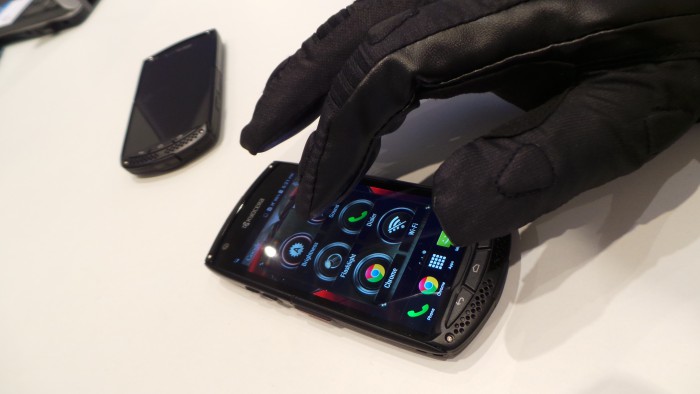 Kyocera also showed how those wearing big ear-defenders can still take calls on their handset whilst wearing them. Placing the phone against the ear-defenders will send vibrations through to your ears. You'll hear the call as normal and can communicate even whilst wearing your chunky ear-defenders. Pretty good idea that. It's called a "Smart Sonic Receiver" and works using a ceramic actuator.
The 4G-enabled handset has a 3100mAh battery and there's wireless charging too, so you don't need to fiddle about with cables if you've got big manly hands like me. It comes with a 4.5″ HD (1280×720) screen which works when wet. Around back is a 8 megapixel camera with auto-focus, LED flash and auto-focus. Up front is a 2 megapixel unit for video calls and selfies when you're driving your digger.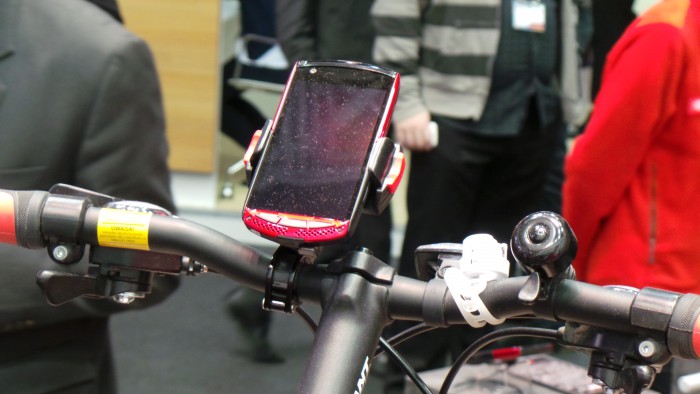 It's not just builders, road-workers and the like. Those who enjoy extreme sports and want to actually strap their phone to a bike or hand-glider can do so without fear that the device will end up broken by the time they get home. It is, of course, water, dust and drop proof too. You can dunk it in up to 1.5 metres of water for up to 30 minutes.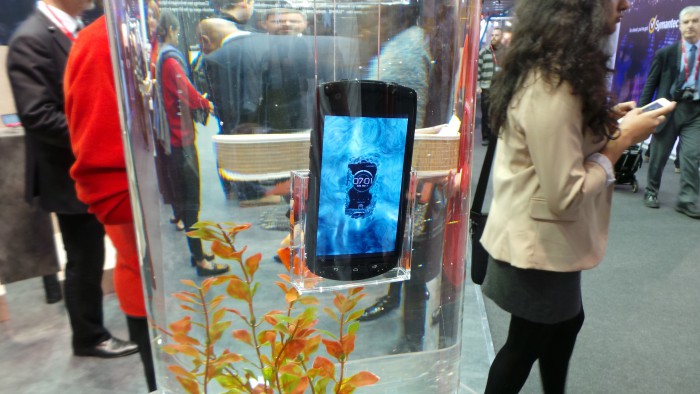 WiFi, Bluetooth 4.0, NFC plus 2GB RAM plus 16GB on-board storage with a microSD slot also feature. It also has a push-to-talk feature, which will be remapped to a "action key" in Europe, and an eco-mode to prolong battery life.
Pricing and availability information to come, but by the sounds of it Kyocera will be launching more handsets in the UK soon.