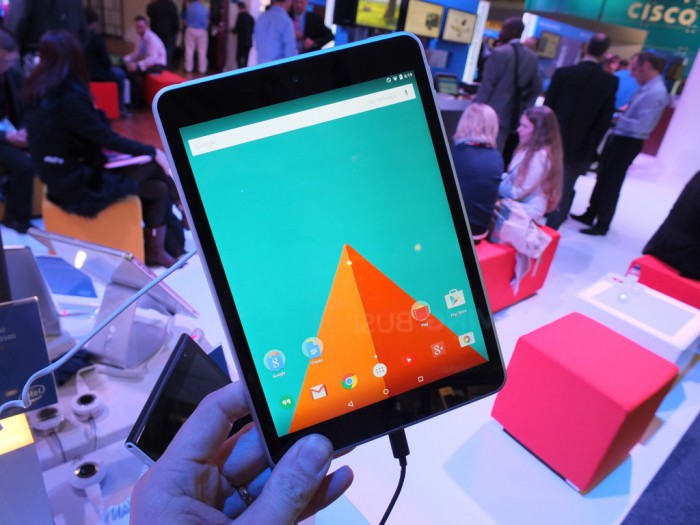 So today we finally managed to track down the elusive Nokia N1 after searching for it for days James managed to find one and snap some close up shots. Immediately after he told me I was up out  of my chair like a greased whippet and went to see it. I'm pretty sure may have taken out a few suited gentlemen on the escalators on the way down.
It was worth it though as this is one lovely bit of kit. Now I have always maintained that Nokia are one of the best hardware manufacturers in the industry, a claim I still stand by today. So when I was fondling the N1 it brought back lots of memories of Nokias brilliant build quality. However it then dawned on me "Nokia didn't build this it was Foxconn", so I can only presume that Nokia must have a hand in the quality control on these devices during the manufacturing process.
I love what Nokia have done with this device, they have effectively made something that can compete with both the Google Nexus 9 and the iPad Mini 3 and in many case come out on top. I was concerned with one aspect and that was that they would not allow you utilize Lollipop in its purest form. Well rest assured that the N1 will be able to run the OS as the mighty Google intended. Woohoo. The elegance of the pure Android user interface is a really nice match to the simplicity of design being used in the N1.  The clean colour pallette and lack of clutter and wasted screen real estate is pleasing to the eye and easy to use. I am a real fan of Lollipop and I am glad to see Nokia have had the sense to have it on the device for launch unlike some other tablets that were released at the same time such as Sony's Xperia Z3 Tablet Compact.
This is exactly what needed to be done for Nokia to make any sort of an in road to the Tablet Market. Nokia's Z Launcher is still present and correct if for any reason you want to use it but in all honesty I found that after using it for half an hour I turned it off.
Here are the specifications of the tablet again
Display 7.9″ 2048 x 1536, PPI 324, 16M
Processor 2.3GHz quad-core, Intel Atom Z3580
2GB RAM 32GB on board memory
8-mp rear camera, 5-mp front camera
Wi-Fi 802.11 a/b/g/n/ac, GPS, Bluetooth v4, NFC, 3.5mm jack
Micro-USB Type C
Accelerometer
Ambient light sensor
Gyroscope
Dimensions 200.70 x 138.60 x 6.90 mm
Weight 318g
Battery capacity 5300mah
Here are some hands on shots of the tablet.
There is some very good kit inside all that smooth aluminium glass and exterior. We have the brains being driven by an Intel 64 bit Atom Z3580 quad core, processor. This allows the user to swiftly navigate around the UI with nary a moment of lag. You also have 32Gb of memory and 2GB of RAM, which will keep things moving along nicely. For your power supply you have a 5300mah battery unit that will give about a days constant usage.
Both James and I were very impressed with the Nokia N1 and it is good to see Nokia are still very much alive and kicking within the hardware area albeit not as the actual manufacture. If they keep up the level of quality control that has been displayed on this device then I cannot see any thing to worry about in the future. I can only hope that when they start to do Android Phones they give them the same level of detail that they have given the N1.