Each year I come to Mobile World Congress with the same thought. "Where else can smartphones go?"
Yes, there's better cameras, faster processors and sharper screens, but it's just quicker with incremental changes. It's not always new technology and new ideas.
After meeting Elliptic Labs, who have created their own touch-free solution for smartphones, we went to see BoydSense. They're a start-up who have created a "sniff sensor" which can be built into smartphones.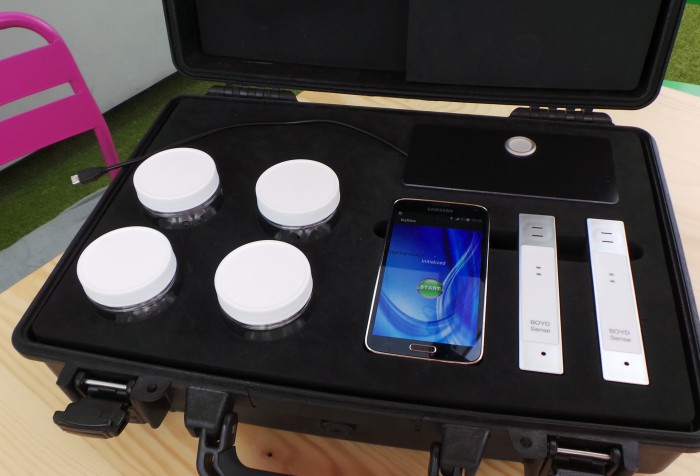 I met up with CEO, Bruno Thuillier. The company are based in San Francisco and they have been working on this particular solution for 3-4 months. Currently, in this early demo unit, they've had to add a CPU, Bluetooth, battery and everything else that you'd normally find in a smartphone (or smartwatch) before actually adding their gas sensor.
They've entered into an agreement with Alpha MOS, who have added their own sensory analytics skills into the mix and together they've produced this "multi-bio sensing" platform that can be incorporated into smart devices.
Breath can give a lot of information, but they've also got a way to detect fraud – for example smelling coffee to see if it includes any nasty stuff. Ideal if you're a coffee company checking on your outlets to see if they're making the coffee correctly. To be honest the possibilities of this are endless. Just imagine this technology in your smartwatch. It could detect that you're walking down a street with lots of exhaust fumes, perhaps recommending a different route. It would be a dream for mobile advertisers, with those customers walking into a bakery instantly shown offers and recommended products.
The safety aspects, especially drink-driving detection, are also pretty obvious. This system could be built into a car tomorrow and could perhaps deactivate a car if the driver has drink on their breath. However, BoydSense admit that this would take time and co-operation with motor manufacturers.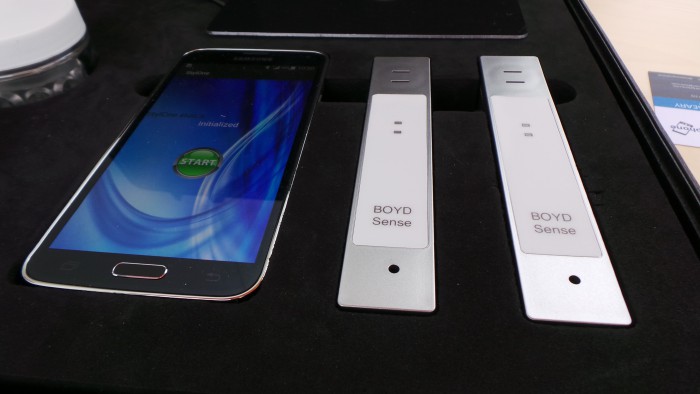 I had a demonstration, using their early prototype kit, which pairs with a smartphone app currently. Obviously these silver devices can be built into a smartphone or smartwatch with the right partner, but at the moment a Bluetooth connection is needed. After getting inserted into a jar with an unknown scent, it successfully detected that vanilla was in the jar. On the next test, it showed that an orange scent was present.
At the moment the company are working on a database of scents, but they're poised for the next step and working hard to find a hardware partner to put their tiny gas sensors into action. Who knows, if you're on a diet you could soon have a smartwatch or a smartphone that detects when you're eating a chocolate bar.