It is really inspiring to see a new OS enter into the crowded Mobile market space. With this in mind I went out to the far reaches of the Fira to track down Canonical. They're the guys behind Ubuntu.
Now, for those of you who have been long time readers, you will have seen that Ubuntu have been working on their phone platform for a while now. This is really the first year that they have been able to bring the OS to the market as a consumer proposition. To do this they have partnered with two phone manufacturers. Both of which are relative unknowns in the UK.
First up we have BQ Aquarius E4.5 Ubuntu Edition…



This the one that can be bought right now and will be available via a Flash sale on a selected date. Check the BQ Site here for info.
The phone itself is a really nice little mid range device that James has already mentioned in detail a few weeks ago. What we didn't have, at the time, was a chance to get hands on. I spent some time with device today and it is a nice feeling little phone.
Here are some hands on pics of the device..
The next phone that we saw was the Meizu MX4, which is nearing its final release and is a flagship specified device.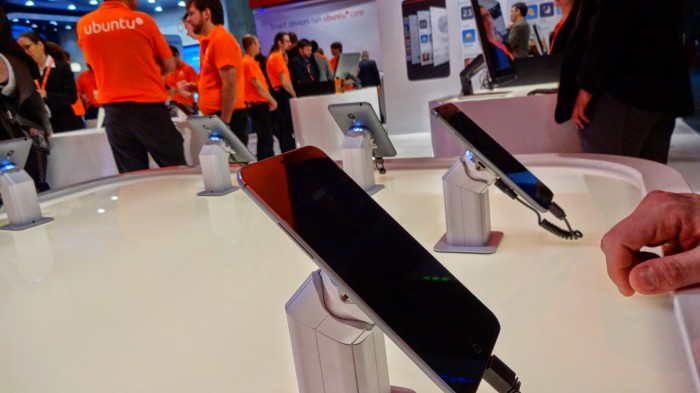 Here is brief overview of the Specs below
Specs
IPS LCD, Touchscreen Screen
1920×1152 418 PPI 5.36″ (13.61 cm)
Gorilla Glass 3
MediaTek MT6595 Octa Core
16,32,64 GB InternalB
2 GB RAM
Rear Camera 20.7 Megapixel, Image Stabilization, LED Flash, HDR,Face Detection, Geo Tagging
Front camera 2 Megapixel, 1080p/30fps
3.5mm audio connector, Mono Speaker, Noise Cancellation, FM Radio
3100 mAh
Sensors Accelerometer, Compass, GPS, A-GPS, GLONASS, Gyroscope, Proximity Sensor
Micro SIM
2G, 3G, 4G
WiFi 802.11 a,b,g,n,ac Dual-Band WiFi, WiFi Direct
Bluetooth 4.0, A2DP, NFC
Micro USB,USB OTG,MHL, Java
Video Playback Formats MP4
Video CODECS H.263, H.264
Audio Formats 3GP, AAC, MP3
Audio CODECS AAC, AAC+, MP3, eAAC+
Dimensisons 144 x 75.2 x 8.9mm (5.67 x 2.96 x 0.35″) 147 grams(5.19 ounces)
As you can see from the specifications, this is a flagship class device in every respect. It feels incredible in the hand. Those curved edges allow it to sit in the palm nicely with a natural grip. The screen has no resistance whatsoever, so that when you are swiping through menus there is no lag to speak of. Check it out in the video below.
I was also able to get up close and personal with it. Here are some of those pics..
As you can see from the pics this is one device that is well worth looking into, especially with Ubuntu Phone on board. The actual OS seems to be very processor friendly and uses the available computing power very effectively. The core of the OS is really in the use of "Scopes" which are really a view of the phone that is based on what it is you are needing it to do at that moment in time.
So, for example if you are traveling, it will pull all the relevant information that you would need to do that journey into a "Scope". This will display everything in a logical way so that you can see what you are doing just at a glance. In addition to "Scopes" there's also native apps which are really for when the developer needs to get into the core capabilities of the phones hardware more. A great example of this would be games, as they will need direct access to the GPU, so these are not part of "Scopes". The last way that apps can and are being developed is using HTML 5. This was being shown off using the HTML 5 version of "Cut the Rope".
As it stands right now the OS has at least 1000 "apps" from big names such as BBC, Evernote, Soundcloud, Here etc. These come in the form of "Scopes" and dedicated apps as well.
The phone will be able to pull in your media assets from all the normal online services and these get tied into your scopes in a really nice way, so you access them when you need to.
The thing that makes Ubuntu really exciting for me (and for all the geeks out there) is the ability for the OS to scale up or down depending on what you're doing. This is something that is still in development and, at the time of writing, the phones are not implementing this yet. However, with the MHL-out capability of the MX4, it is not inconceivable for it to be just around the corner.
Here is brief video showing this happening on an ARM based system..
So the future of Ubuntu phone is definitely looking good. I for one am very keen to see this come to market soon. However, before you get your hopes up, I don't expect to see this on your high street within the next 12 months. Ubuntu want to make sure it it working correctly before they roll it out.