We went to visit Sandisk today and during our time on the stand we came across a few devices that were really interesting. So lets get into them.
First up we have the real unexpected surprise a 200gb Ultra microSDXC, which is worlds highest capacity MicroSD card. As we move into the era of being able to capture 4k video and high res photography on our smartphones. We are needing more and more storage on our mobile devices.


There are two options to solve this you can cram a higher capacity eMMC drive into the phone which whilst it may give you higher read and write speeds than microSD. Whilst this is a neater solution it is less felxible and restricts you to the memory size you can on the day.
The other option is you buy a less expensive phone and then you get a microSDXC to put into the device. This will give you more flexibility with the sacrifice of slightly (I emphasize slightly less) slower read and write speeds.
I would be going for the second option personally as it means that  I go out and but my next phone/ tablet I can move all my media from one device to the other just by moving the card.  It is also a great way of getting your media onto a computer as there are only a selection of handsets that will support USB 3 as things stand today. When using the Card with a USB 3 card reader it is possible to transfer 1200 photos per minute based on average picture size of 3.5 Mb files size.
At the end of the day for me it is all about convenience and that is why when I sell the body parts needed to pay the £260 approx required to buy one I will.
The next big thing we saw is going to make all the iOS users out the very happy. After the recent iOS 8 update lots and lots of iDevice owners had a choice to make. Delete precious content from the phone after backing up to their backup service of choice which would fill most iDevice owner with dread and result in the breaking into a cold sweat. or they could just ignore the iOS update and carry on regardless running out of date and potentially glitchy software.
Well worry not, as Sandisk have donned their Cape of Resourcefulness and have announced the iXpand 128GB to quell you backup concerns for evermore.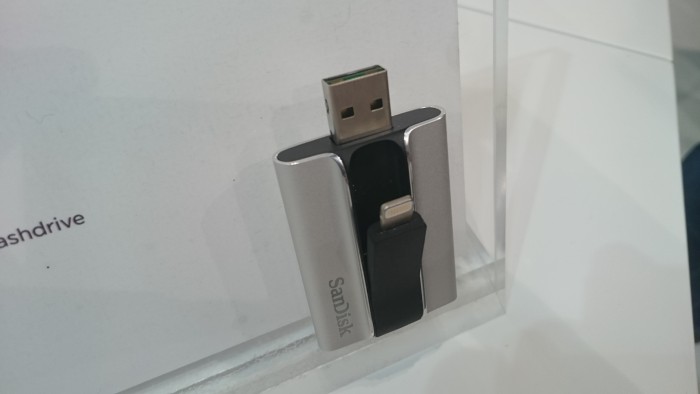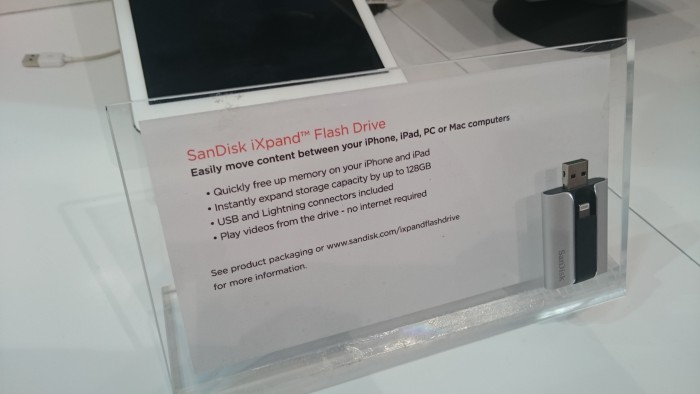 In essence this device is a USB stick which has a lightning port on the other end allowing you to plug into the iOS device and access your external content.This all facilitated Via the iXpand Sync app which will automatically launch when the drive is plugged in allowing you effortlessly transfer Videos, Photos and even Music. It will also tie in with Apples touch ID on the iPhone 6 and the like to provide Encryption on the files located on the drive which is a nice touch for enterprise users. The iXpand will retail at £100 approx
Here is a promo video from Sandisk
https://www.youtube.com/watch?v=zhH5faWowBs
So there we have two storage solutions one for iOS and one for Windows and Android phones and dare I say it Blackberry.
[showwide]
New, Higher Capacity 128GB iXpand Flash Drive for iPhone and iPad SanDisk's popular iXpand Flash drive is designed to quickly transfer photos and videos from iPhone or iPad to Mac or PC computers – without cables, pre-settings, Internet connections, data caps or bandwidth limitations. In response to customer demand, SanDisk is now offering a new 128GB iXpand Flash Drive. When used with the new iPhone 6, iPhone 6 Plus, iPad Air 2 or iPad mini 3 128GB models, the new iXpand Flash Drive instantly doubles the available storage for photos and videos, music, and other multimedia files.
The well-rated and full-featured iXpand Sync app, available on the App Store for iPhone and iPad allows users to automatically sync, backup and transfer photos and videos. It launches when the iXpand Flash Drive is plugged into an iPhone or iPad.
Additionally, the iXpand flash drive enables effortless playback of videos and music directly from the drive, including non-native and PC-friendly file formats such as AVI, MKV and WMV67.
The iXpand Sync app also now allows users to take advantage of Apple's Touch ID fingerprint identity sensor on iPhone 6, iPhone 6 Plus, iPhone 5s, iPad Air 2 and iPad mini 3 running iOS 8 to encrypt and decrypt sensitive files on the drive, utilize popular apps to open files from the drive, as well as save content generated by these apps directly to the drive. The iXpand Flash Drive features a two-year warranty8. Its available in 16GB, 32GB, 64GB and 128GB capacities, with MSRPs of  $59.99  to $149.99, and is compatible with iPhone 6, iPhone 6 Plus, iPhone 5s, iPhone 5c, iPhone 5, iPad Air 2, iPad Air, iPad mini 3, iPad mini 2, iPad mini and iPod touch (5th generation) running iOS 8 or iOS 7. The 128GB drive is available immediately at www.SanDisk.com, and will available next month at leading retailers worldwide
SanDisk  today introduced the 200GB* SanDisk Ultra® microSDXC™ UHS-I card, Premium Edition, the world's highest capacity microSD card for use in mobile devices. In just one year after introducing its record-breaking 128GB SanDisk Ultra microSDXC card, SanDisk has increased storage capacity by 56% within the same fingernailsized form factor. Keeping up with the demands of today's mobile users, the new card provides the freedom to capture, save and share photos, videos and other files without worrying about storage limitations.
"Mobile devices are completely changing the game. Seven out of 10 images captured by consumers are now from smartphones and tablets. Consumers view mobile-first devices as their primary means for image capture and sharing, and by 2019 smartphones and tablets will account for nine out of 10 images captured," said Christopher Chute, Vice President, Worldwide Digital Imaging Practice, IDC. "As the needs of mobile users continue to change, SanDisk is on the forefront of delivering solutions for these demands as is clearly illustrated through their growing portfolio of innovative products, including the new 200GB SanDisk Ultra microSDXC card."
SanDisk achieved this capacity breakthrough by leveraging the proprietary technology developed last year for the 128GB SanDisk Ultra microSDXC card, and creating a new design and production process that allows for more bits per die.
"We continue to push technology boundaries to deliver record-breaking solutions that transform the way consumers use their mobile devices," said Dinesh Bahal, vice president, product marketing, SanDisk. "By focusing on achieving new capacity and speed milestones, we are able to deliver trusted mobile memory solutions that give consumers the freedom to never stop capturing, saving, or sharing – with the benefit of fast speeds to transfer it all quickly."
Ideal for Android™ smartphone and tablet users, this Premium Edition microSD card combines the world's highest capacity and blazingly fast transfer speed of up to 90MB/s to deliver premium performance. At this transfer speed, consumers can expect to move up to 1,200 photos per minute.
Through SanDisk's updated Memory Zone app users will have even greater control over their mobile device's memory storage. In the Memory Zone app, users can engage the OptiMem™ app feature which monitors the phone's memory levels to inform users whenever the internal memory falls below a user-defined threshold. Once this threshold is reached, the OptiMem app feature will automatically transfer some of their old photos and videos to their microSD card, leaving them with more internal memory to continue making memories. The app, available for free download from the Google Play™ store, is compatible with most Android-powered devices and allows users to easily locate, organize, transfer and back up data.
Pricing and Availability The 200GB SanDisk Ultra microSDXC UHS-I card, Premium Edition, features a ten-year limited warranty and will be available worldwide in Q2 at an MSRP of $399.99.
[/showhide]