Dell are here at MWC 2015 and whilst some of you may be thinking that it is odd for this to be case it isn't really. The reason why it is not that odd is that although they are currently not making phone hardware, Dell still have massive presence in the Tablet worlds of both Android and Windows 8.
So what did Dell have to show us today?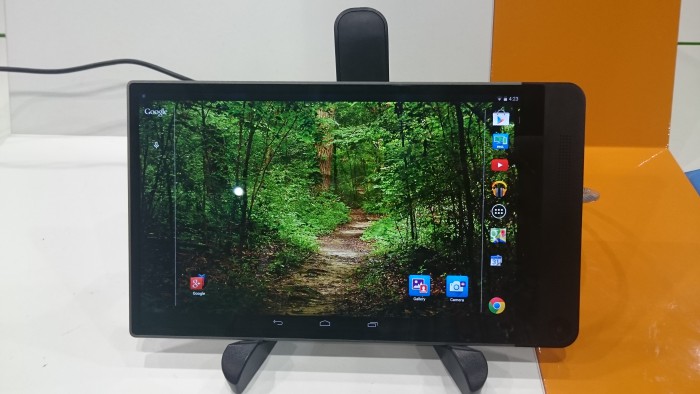 This is the Dell Venue 7480 with Intel RealSense.
So what makes it so special? Well apart from the obvious chin on the base of the tablet the real magic is what Intel have brought to the party. Dell and Intel have created something very clever here as this device has not one, not two but four camera modules on it. Wait why do you need four did they get drunk in the design department and loose count when drafting the design?
No there are two normal function cameras and then there are two depth perception cameras. These depth perceptions cameras allow to capture photos with genuine depth in them.
So why is this a good thing? Well if you add depth of field into the picture you are able to start to do some very clever things with the picture it creates, such as measuring distance and add 3D like effects. I don't really fully understand the intricacies of how it does this so I am calling it magic but hopefully this clip will help to explain.
http://youtu.be/fKOK-DzrQQ8?list=UUk7SjrXVXAj8m8BLgzh6dGA
Okay maybe this might be better
http://youtu.be/CQ678joGsL0
So as you can see in the video there are some really clever use scenarios for this camera technology, but that is just one of the reason why I am a big fan of this device. The other is just the insanely thin bezels that this thing has, I mean look at them its like they are not even there.
Add in the 2k AMOLED screen  and we have got something that is genuinely special. It is also running a near stock version of Android 4.4.4 with Lollipop due very soon (tbc).
Specs
Processor: 2.3 GHz Intel Atom Z3580 quad-core
Memory/Storage: 2 GB LPDRR3 RAM; 16 GB eMMC internal storage and microSD support
Display: 8.4-inch OLED 10-point capacitive touchscreen with 2,560 x 1,600 pixels
Cameras: 2 MP front, 8 MP back
Connectivity: WiFi 802.11 ac and Bluetooth 4.0 combo, micro USB 2.0
Operating system: Android 4.4 KitKat
Dimensions: 8.5 x 4.88 x 0.42 inches
On paper it does not look that bad and that is also the case in the hand. The screen is very responsive and when help in Landscape it fells very good to hold in portrait it is a bit weird due to the speaker positioning and it does lead to a slightly jeopardized movie playback experience however this design is a necessity of making it so bleeding thin. Also having the front facing camera there does lead to some fairly interesting selfie's. Using the Realsense camera does require a bit of playing but once you get the hang of it then it become's very useful. I can see some really interesting use cases for Realsense particularly in the business world where Dell have a vested interest.
That is all we have on the Dell right now but hopefully we will get hold of a review unit in the near future for a more detailed look.