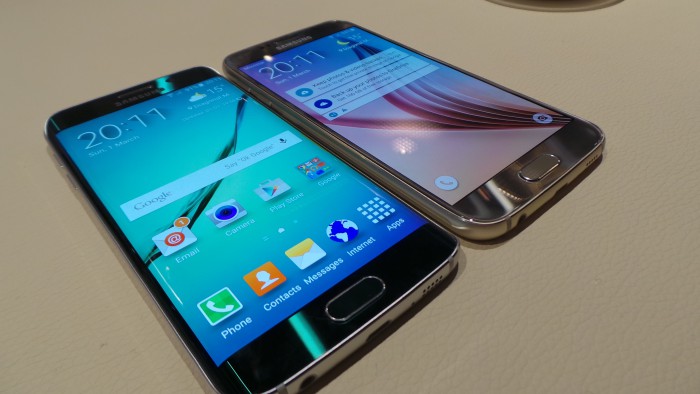 They were just as we expected, but the two new handsets from Samsung had some surprises. Gone is the removable battery, gone is the microSD card and instead we have two handsets with one device in their cross-hairs.
The iPhone 6.
During the presentation the iPhone was mentioned again and again when comparing battery recharge speed, "bendability" and camera quality. That battery technology, according to Samsung, meant that you could charge your S6 faster than any other smartphone out there. A mere 10 minute charge will give you four hours of usage and it'll charge up to 100% in half the time of an iPhone.
The specs and technology in these handsets seems endless.
So, the S6 then. It's slim and full metal and glass construction. These are the thinnest smartphones Samsung have ever created. The screen is a 5.1″ QHD (2560×1440) 577ppi Super AMOLED display which has "real" RGB colour to deliver "life-like" images. The 2K screens are gorgeous, but as usual we have everything turned up to "super-bright" for these demos.
The edge, which we've been told to type in lower-case (grrr), has the dual curve screen and I must admit you don't initially appreciate it when you pick it up because the Android menus don't go to the edges of the screen. The moment comes when you're browsing a site or running an app which uses the whole screen. Websites are particularly good for this and it looks both strange and good in equal measures.
Here's the T-Mobile intro video showing you around the device..
The cameras are F1.9 lenses with 5 megapixel units up front and a 16 megapixel rear camera around back. There's something called "Auto Real-time High Dynamic Range (HDR)" to produce HDR video, Smart Optical Image Stabilisation (OIS) plus IR Detect White Balance which provides "advanced light sensitivities and crisp camera solutions". The shots, especially in low-light, were very impressive.
Running Android 5.0 Lollipop, it has an octa-core CPU comprising of a quad 2.1GHz and quad 1.5Ghz setup. The 3GB of DDR4 RAM (yes, DDR4) adds speed and the combination means that it's 30% more efficient than the Galaxy Note 4. You also get the usual WiFi, GPS, NFC, IR Remote and 2550mAh battery (S6), with a 2600mAh battery in the S6 edge.
In the hand, I thought the S6 edge would be my favourite, but to be honest they're both very good looking handsets and definitely have a premium feel about them. They're both more than a match for the iPhone, although they do have "fingerprint magnet" written all over them. I asked one of the Samsung ladies where her cleaning cloth was. When she mentioned that she didn't have one, I looked around and spotted several reporters wiping the S6's with their T-shirts and other random bits of clothing.
Additional apps and junk? Well, I didn't see a great deal of "junk apps" on the phone but I did see that Microsoft OneDrive was on there to provide 115GB of storage for 2 years. We also saw "Samsung Pay" announced, which is a direct challenger for Apple Pay. Much was said about the American banks (Citi, Chase etc) without the presenter realising that he was in Europe.
The phones operated, as expected, very quickly and fluidly. The UI had been altered to create a clean interface which is an enjoyable place to be. TouchWiz has been turned down a notch so that it's not clunking everything up and it ran pretty quickly for me.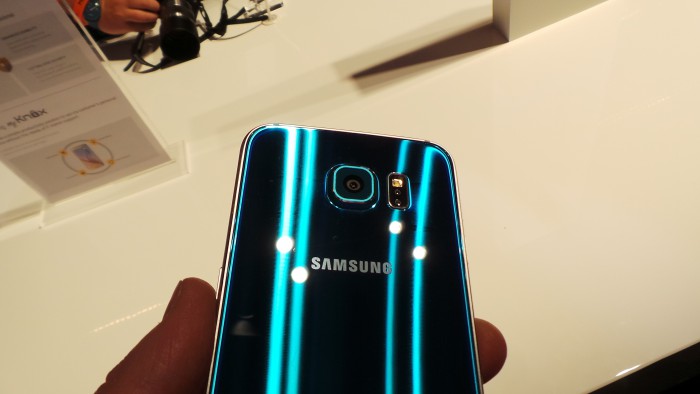 Both handsets are very nice indeed and I like the little touches like the "glowing" edges to show an incoming call, and the fact that you can respond with a pre-set message simply by touching the rear panel.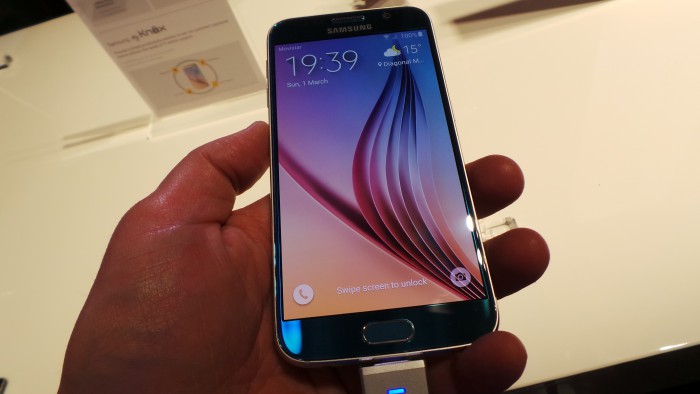 Overall, it was the sheer quality and construction I appreciated over anything else. Gone are the plastics and the almost familiar Galaxy gripes of old. Here we have two really useful and powerful handsets which are top of their game and Samsung aren't afraid to shout about the fact either.