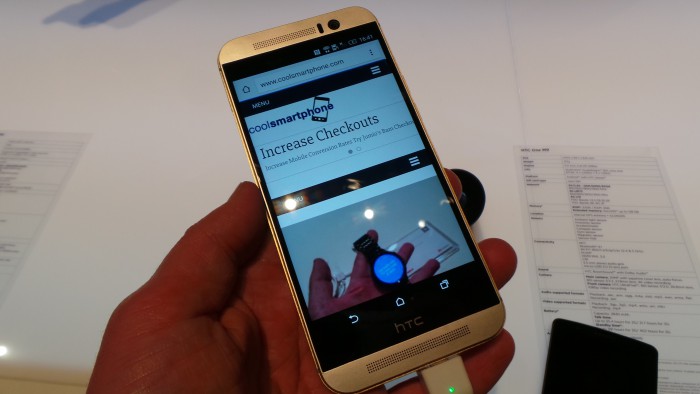 We didn't just get the expected HTC One M9 announcement. No. We had a virtual reality headset and a big partnership with Valve and a fitness tracker too.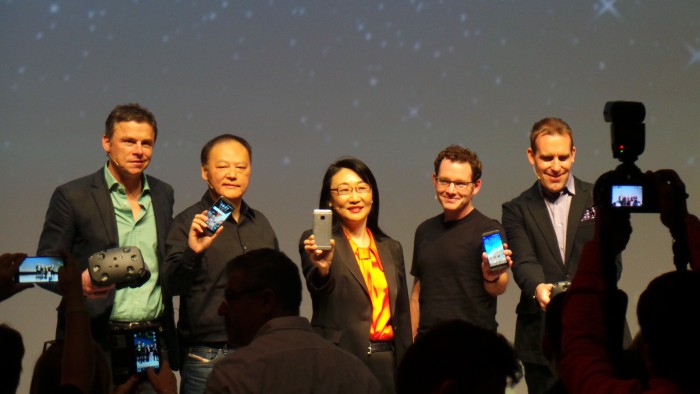 However, concentrating on the One M9 for a moment, it's yet another robust, well designed and good looking handset. The look of it isn't drastically different to the existing M8 though, and just to prove this we the two next to each other.
The M9 is powered by Android 5.0 and has a 5″ full HD screen, octa-core Qualcomm Snapdragon 810 CPU (4x2GHz and 4×1.5Ghz) with 64-bit processing. It comes with 32GB storage on board and a microSD card can see an additional 128GB getting added if you need it. As for RAM, you get 3GB, and it's also got NFC, DLNA, WiFi, Bluetooth 4.1, 3.5mm audio port, 20 megapixel rear camera (with a sapphire cover lens, auto-focus and f/2.2 lens) plus a HTC UltraPixel selfie cam up front.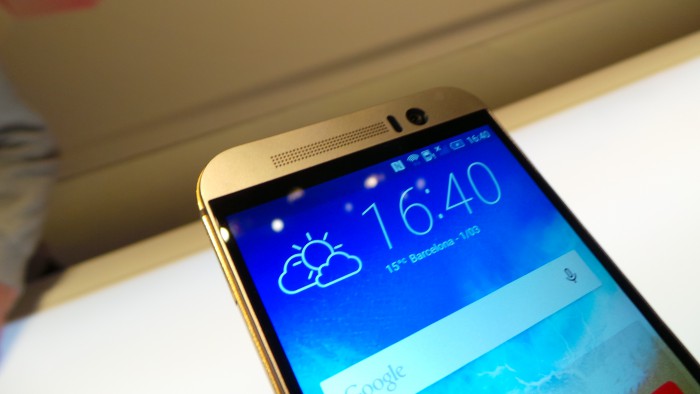 The phone now has the power button on the side, and the camera around the back is square in shape. However, apart from those tweaks you'd struggle to see the difference between this and the M8 if you looked quickly at the devices together.
I filmed a very quick hands-on during my time at the event, but we will have a better demo for you shortly.
It's another solid design though, and HTC were throwing around phrases such as ..
An all-metal unibody design .. highlighted by an exquisite dual-tone silver and rose gold finish that is as distinctive, as it is durable. Mirror-polished gold sides cascade effortlessly into a hairline brushed silver back panel, encasing a bright and vivid display.
HTC Sense 7 is on board and adds themes with location-aware changes depending on whether you're at home or at work. It'll customize your homepage, including the look and feel of the apps, to match your current location. Likewise, HTC BlinkFeed will use your location to show "points of interest" based on your location.
BoomSound has been uprated and now comes with Dolby Audio, pumping out 5.1 surround sound in 24-bit high definition. HTC have also built partnerships with Qualcomm AllPlay and Harmon Kardon to ensure that the media content on your device can easily transfer to speakers and other devices with a three-fingered swipe.
The HTC One M9 will be available in dual-tone silver and rose gold, single-tone gunmetal grey and single-tone gold in the UK.
The newly-announced partnership with Valve should see VR games arriving directly into your face once the headset becomes available before the end of the year. Valve, for the unaware, is the creator of Steam. This gaming platform distributes games directly out to the community and it's hoped that you'll be stepping into a virtual world full of other gamers soon enough.
We didn't get a great deal of info but we're hoping to get a demo at some point..
HTC had another trick up their sleeve, with a new fitness tracker called the HTC Grip. It's GPS-enabled but is currently only available in the US and we weren't given any UK release information sadly. It's part of the Under Armour partnership and will accurately track and monitor your sports and activities. Connecting to your Android or iOS device it'll use the UA Record health and fitness network, plus it's waterproof and features a curved PMOLED display so that you can check your notifications, time and how far you've run.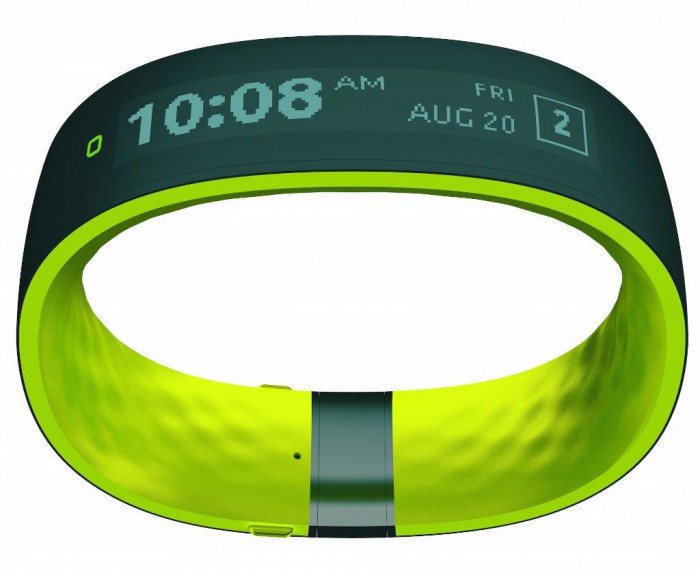 There'll be three different sizes to make sure that it fits your wrist and the in-build 100mAh battery should last 5 hours with the GPS on. Calories, distance, route and pace will be captured.