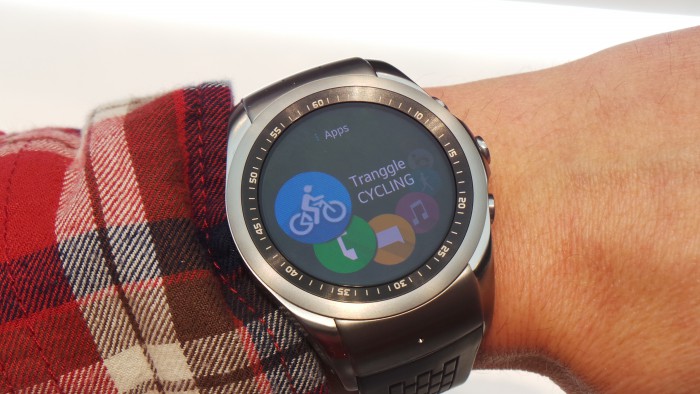 LG went ahead and thought, "Hey, why don't we stick a SIM card in a watch". Everyone laughed, said they were crazy. However, what they've made is really quite nice, and there's a danger that you might even consider leaving your smartphone at home… even perhaps not having a smartphone again.
This is a watch which you can call direct. There's phone numbers printed on the base of each demo watch here in Barcelona. You ring that number, the watch will ring and you can have a conversation, just like in the '80s…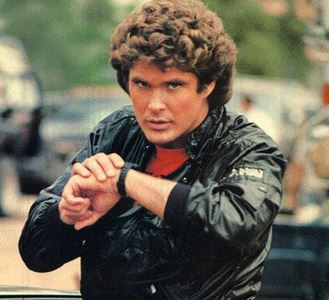 .. if your network supports it and your friend has another one of these watches, you can have a conversation in a walkie-talkie (push to talk) style. Now, that's proper Knight Rider that is, make no mistake.
We had a great look around the watch with the helpful LG staff. I was a tad concerned about simple data-entry on here (dialing numbers, replying to texts etc) but it seems that most of your interaction will be by voice. There is, though, an on-screen keyboard. It could just be the experience of the LG rep or perhaps the fact that it actually works quite well, I'm not sure, but you can type on it and the numeric keypad does a good job at dialing numbers.
There's also a remote shutter feature, which lets you use your watch to activate your smartphone camera. No more selfie sticks.
The whole thing got me thinking though. Why would you pay for a whole new contract for your watch? A mobile contract for your smartphone and one for your watch? Well, there's certainly a section of people who are already used to having a couple of contracts running – perhaps one for their tablet – so this won't be anything new. However, it's not too hard to see a point where some mobile users could switch to this as their main device – taking calls, listening to music, messaging, logging their activity, checking the weather etc.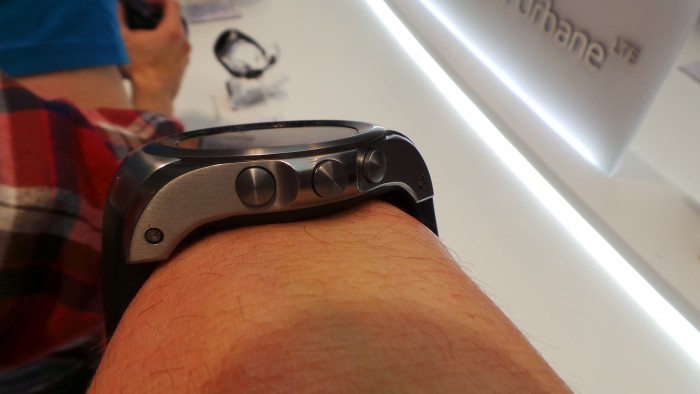 Specs? You're looking at a Qualcomm Snapdragon 400 1.2GHz CPU (quad-core folks, QUAD-CORE) with a 700mAh battery, WiFi, NFC, Bluetooth 4.0, NFC and 4G connectivity. It has a 1.3″ full circle plastic OLED screen and a 9-axis gyro plus an ECG machine (effectively) at the back. GPS is included too.
It runs the LG Wearable Platform OS and has 4GB storage with 1GB DDR RAM and is both dust and water resistant.
No news on pricing just yet.