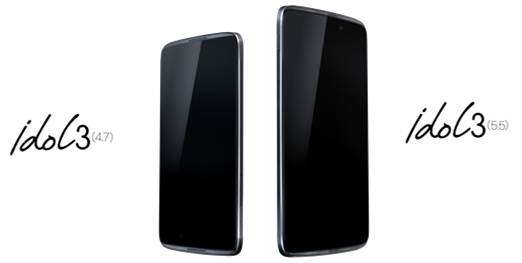 Alcatel are one of those funny manufacturers that just do not get the recognition they should have over the years, so when they popped up again at MWC, the guys were interested.
This year they're introducing the next in line of their Idol series, the Idol 3. The interesting thing about this phone (or these two phones, but we'll get to that) is that it's reversible. Not reversible like the Yotaphone, but more like "I hate these slabs because I-can-never-tell-which-way is-up" type of reversible. Since there's been an odd trend recently to have phones perfectly symmetric, then not worrying about which way the phone is situated when you want to pick it up and start talking is an interesting move. Presumably Alcatel Onetouch have been able to do this by doing some fancy signal processing and utilising the noise cancelling microphone that we've been seeing over the last few years to be the 'alternate' primary mic. There are dual front-facing speakers from JBL no less, and the interface automatically swivels so it up always points up.
As to the 'two phones' comment a little earlier? There's a little brother Idol 3, which is supposed to rock a 720p, 4.7 inch screen, with the Snapdragon 410 chipset and a 2000mAh battery and a front facing 5MP camera.
The Big Brother Idol 3, (which would be a mouthful all in itself if that were it's full name) has a 5.5 inch, Full HD screen, 2GB RAM and the Snapdragon 615 processor provides the grunt. The bigger Idol 3 also has a 13MP rear camera and an 8MP selfie snapper. It'll come in either 16GB or 32GB variants, but obviously there won't be huge gasps if the networks pick one version over the other. Both processors have cat 4 LTE radios, so they'll be ready to strut their stuff when you hit 4G reception.
SIM-free Pricing looks good as well. 250 Euros will get you the 5.5 inch version, whilst coughing up 200 Euros nets you the 4.7 inch version.
All of a sudden, the mid-range market got a whole lot more interesting, either way you look at hold it.