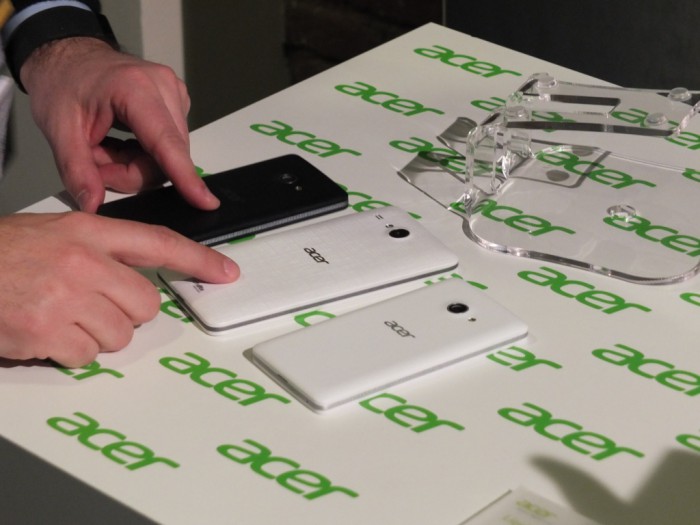 Earlier on today we attended the Acer event where they unveiled the latest phones and Smartband in their portfolio, I despite the crowds managed to take a load of pictures of the devices and even some video. Take a look below.
Acer Liquid Z220
The Acer Liquid Z220 was possibly the most intriguing device I saw today, it's nice and compact, has a great feel in the hand and it has this rather nice ridged plastic band around the device that makes it feel good and sold too. It runs Lollipop as well, which was a pleasant surprise as Acer tend to be a little bit behind in the software stakes usually.
Spec wise it is predictably basic:
4-inch WVGA display with 233 PPI.
Optional dual SIM model.
Qualcomm Dual-core 1.2GHz Snapdragon 200 processor.
Rear Camera: 5MP flash-equipped 89 degree wide view angle rear.
Front Camera: 2MP.
Android 5.0 operating system (Lollipop) with a brighter, flatter and pleasant look.
Internal Memory: 8GB.
RAM: 1GB RAM.
Z220 will be available in Europe in March with a starting price of €89.
Acer Liquid Z520
The Liquid Z520 was the larger of the devices on display, it shares the same design as the Z220 and M220, strangely though this one runs Android KitKat, perhaps the capacitive buttons are causing problems, who knows.
The Z520 has a slight spec bump over the Z220:
5-inch WVGA display.
Optional dual SIM model.
MediaTek Quad Core Processor.
Rear Camera: 8MP auto-focus, rear-facing camera comes and LED flash.
Front Camera: 2MP.
Internal Memory: 8GB.
RAM: 1GB RAM.
Z520 will be available in Europe in April with a starting price of €119.
Here is my hands on video with both the Z220 and Z520:
Acer Liquid M220
The Acer Liquid M220 is one of the first new bread Windows Phones from alternative manufacturers we've seen this year. It is a very basic device, which shares the same design cues of the Liquid Z220 and Z520. So it feels nice in the hand and the strip around the edge gives it a unique look.
Spec wise it's a bit basic:
4-inch 233 pixels per inch (PPI) display.
Windows Phone 8.1.
4GB Internal Memory.
Rear Camera:5MP auto-focus.
Front Facing Camera:2MP.
Colours: Mystic Black & Pure White.
Price: Starting price of €79.
Here is my hands on video with the budget Liquid M220
Acer Liquid Jade Z
The Liquid Jade z was the weird one out of the bunch, more curvy and it felt more like a Samsung device of old. Again it was running KitKat which was strange as the obviously have Lollipop firmware in testing.
Spec wise the Liquid Jade Z is the best of the bunch today with the following specs:
5" HD IPS and Zero Air Gap display.
Mediatek 64-bit quad-core processor 1.5GHz (MT6732).
LTE.
8GB internal memory.
24-bit Hi-res audio through HD DTS speakers.
120 grams.
Super-tough with Gorilla Glass 3.
13MP rear camera with F1.8 aperture.
The Liquid Jade Z will become available in March through selected EMEA retailers at a starting price of €199.
Acer Liquid Leap+ Smartband
The Acer Liquid Leap+ was almost impossible to track down at the event, due to the fact only one of them worked and the battery was almost dead. So we didn't get any hands on with one, we did however discover it is compatible with Windows Phone, which makes it one of the first Wearables to support the platform and to actually tell them time. Personally I can't wait to try one out in real life.
Spec wise the Leap+ is as follows:
1" OLED touchscreen.
Bluetooth 4.0 low energy.
Waterproof certification (rated IPX7).
Richer functionalities with step, sleep and calories tracking, alarms, notifications and music control.
The Liquid Leap+ comes with a variety of colour-bands: Mineral Black, Fragrant Pink and Electric Green.
The Acer Liquid Leap+ will be available EMEA in March with a starting price of €79.
Later on this week we'll get more hands on time with the various phones and hopefully clarify some burning questions, like why are some of the phones running KitKat? Will the Leap+ support notifications on Windows Phone and why no one bothered charging the Smartband before the event.