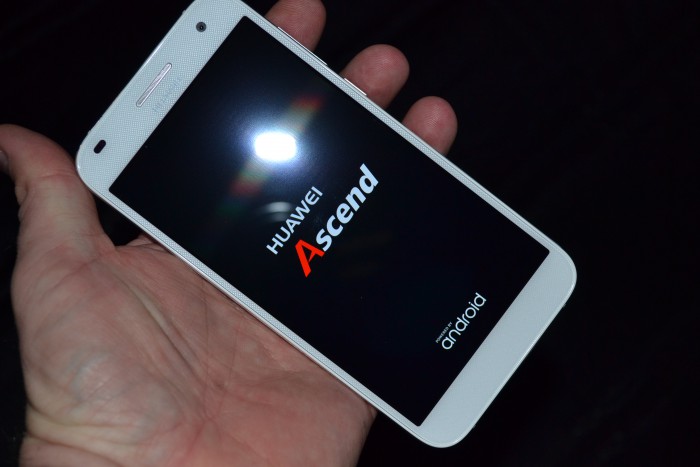 Following on from their announcement of the New Huawei Ascend G7 4G (which I covered here), I was lucky enough to get sent a device for review.
Device Specs.
5.5 inch HD IPS display, 720p resolution.
Measuring in at 7.6 mm thick.
1.2 GHz quad core processor capable of download speeds up to 150 Mbps ( network dependant ).
3,000 mAh battery.
13MP main camera, wide-angle lens and one-second capture button.
5MP front-facing camera.
Emotion UI 3.0.
Memory: 16 GB Internal memory / 2 GB RAM
All metal back plate.
Good Points.
Fantastic premium metal feel in the hand.
Solid feel to the buttons.
Minimum bloatware.
After focus feature on photo's.
Amazing battery life.
Ultra power saving mode.
Time line notifications.
Magnifier app.
Bad Points. 
Emotion UI, takes some getting used to.
It's a big phone.
UI can get a bit bogged down.
Only 720p screen (see battery life).
Can't change the launcher.
Struggled to get 4G connection.
Design. 
The Ascend G7 is a 5.5 inch screened device, which has a quality premium feel to it. This is mainly due to the metal chassis with chamfered edges and metal back plate. On the top and bottom edges there are breaks in the chassis for the antenna, similar to way that Apple does with the iPhone.
On the top is the 3.5mm headphone socket and the bottom houses the microUSB charging/sync port.
On the right side of the device is volume rocker, power button and then two trays. The top one for the microSD card and the second one is the SIM card tray.
As I said, this is a big phone. In comparison it's a couple of millimetres taller than my Note 3 but slightly slimmer and thinner. This is due to the Ascend having slightly larger top and bottom bezels than the Note. However, despite the size I found it easier to hold in the hand than the Note.
A nice feature is the fact that Huawei have included a simple back cover in the box. This is presumably to protect the metal back plate from scratches.
In Use.
Whenever I get a phone through for review, I use it as my sole device. I cannot see the point of having your daily driver in your other pocket in case things don't go well. In the case of the Huawei things did go well, in fact surprisingly well. As I said earlier the G7 felt really well in the hand, which was down to the metal chassis and back plate. Despite being larger than my Note in some aspects (I think due to it being thinner and narrower) I found it easier to hold in the hand.
The screen on the Huawei is a 5.5 inch panel at 720p resolution giving a 267 ppi, and I found it perfectly capable, especially with my old eyes. The screen was clear and bright, which gave a good colour reproduction, although the whites did have a blue "tinge" to them.
Huawei and Note 3 comparison ( Huawei on the left ).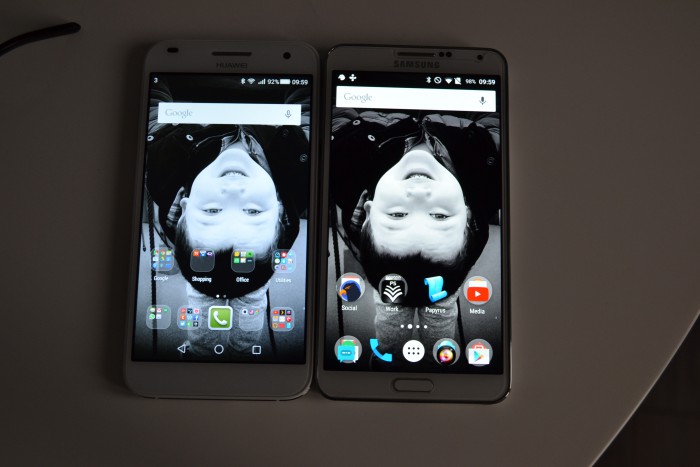 The G7 runs Huawei's Emotion UI over the top of Android 4.4.4 Kitkat, which I struggled to get on with at first. For a start there is no app drawer, and all icons are placed on the home screen – the same as iOS. This did take me a couple of days to get used to it and set up how I liked it. I then decided to install the Google Launcher, which I thought at first couldn't be done, but thanks to @UbuntuBhoy and @lennyuk on Twitter I found the default app buried deep in the settings.
On the OS point there is very little in the way of bloat-ware installed on the device, only a couple of pre installed apps, which don't get in the way at all. One of these I found extremely useful – the Magnifer App ( due to my old eyes ) which uses the camera to Magnify text, example below on a train ticket.
Another feature I liked was the timeline notifications, which puts a time stamp on the left hand side, for each notification.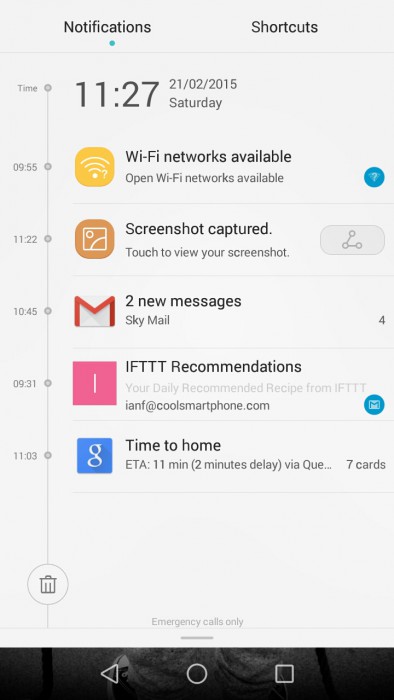 A 720p screen married to a 3,000 mAh battery (which is non-removable) gives one major advantage – stellar battery life. I was easily getting two days of use out of the G7 ( your mileage may vary ).
Also on the battery front the G7 comes equipped  with a Ultra Power saving mode, which we have seen on a number of flagship devices. This will eek out as much battery life as possible by cutting data connections and only having a black and white screen. It pretty much turns your smartphone into a feature phone for call and texts only. It activates at 8% battery life. The G7 then reported a further 11 hours of battery life remaining, which is good if you're miles from a power outlet.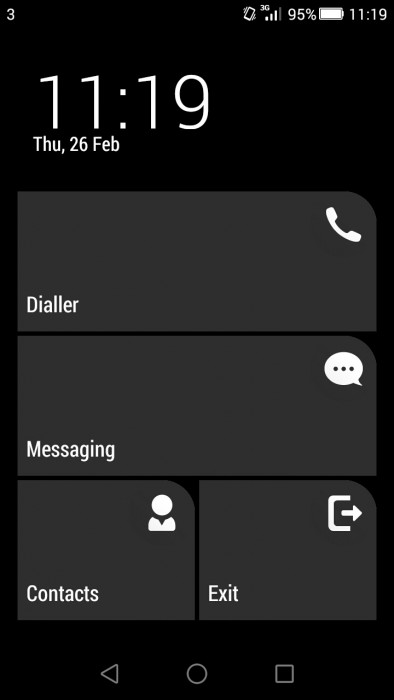 Despite the Ascend G7 claiming to be a 4G device I really struggled to get a 4G connection on the Three network. I took the device to a location that I know my Note 3 gets a 4G connection, but the Ascend remained on HSDA+ ( this may well be a network issue rather than a device issue, as I didn't have another SIM card to try in the G7 ). Despite this the G7 did get some respectable download speeds.
Camera.
The G7 is fitted 13 MP rear camera, which has a usual features. Normal Shooting, HDR mode, Panorama mode, All-Focus mode ( which allows the user to re-focus on different points of the picture after it has been taken ), and watermark mode. This marks the photo with the Geo-tag location and the weather, where the picture was taken.
Some samples photos..
Conclusion. 
The Ascend G7 4G is set to retail for about £150 and will be available from Carphone Warehouse, Amazon and other online retailers, believed to be released sometime in the beginning of March
This device should not be overlooked, especially if you're after a larger screen phone. It feels more premium than its price tag, with fantastic battery life, and takes some decent photos. If my Note 3 stopped working tomorrow I think the Huawei Ascend G7 4G is where my money would be going.
Huawei Ascend G7 4G review
Design - 8.3
Hardware - 8.5
Software - 7.4
Camera - 7.4
Battery - 9.2
Screen - 8.2
Value for money - 9
8.3
Well put together, excellent battery life, decent snaps and a good all-rounder.