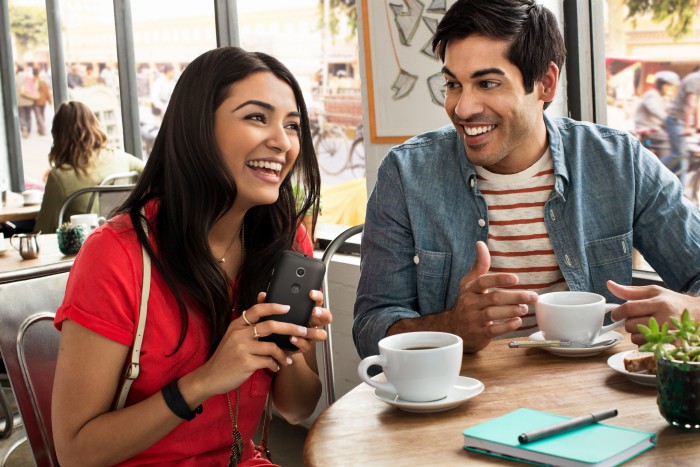 Morning Coolsmartphoners. Hope you're all well. We're just about to board our private jet to Barcelona so that we can be all over that Mobile World Congress thing. It's going to be huge, and already there's the likes of Motorola trying to jump the gun with limelight-grabbing announcements ahead of the big event.
Before I go on, please don't get me started on these images. How come he has a spoon for his coffee which is far too large for his cup eh? Where's her spoon? Has she lost it? Did he not get her a spoon? What's going on there?
Sorry..
The entry-level Moto E smartphone is grabbing those wanting to get on the smartphone ladder and plonking them squarely into a connected-world of TwitterFace, YouVine and SkypeShazam. Now the Moto E has had a bit a refresh and will be arriving in the UK today with the liked of motorola.co.uk, Carphone Warehouse, Tesco Retail, Tesco Mobile, Amazon, Argos and Virgin Mobile. It'll only set you back a mere £109 too.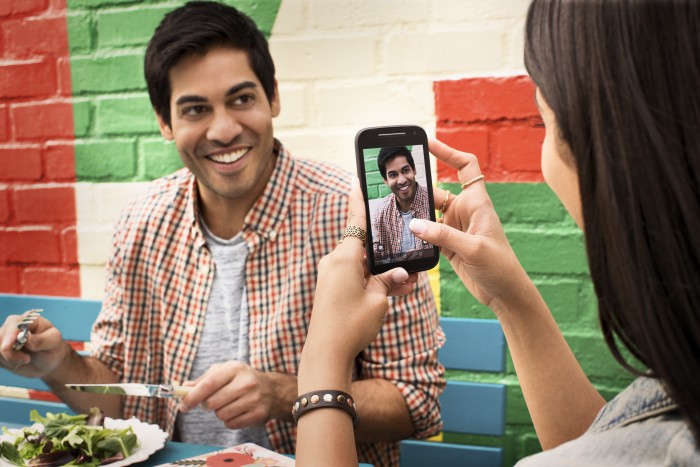 Look. He's eating a salad now and she's taking a photo. If that was my wife I'd ..
a) Not be eating a salad, it'd probably be a steak or something
b) I'd be going mental because I've got a camera stuffed in my face while I'm trying to eat something.
c) Probably not have teeth that white
Sorry. sorry. I've vented now.. I'm done..
The first-gen handset only appeared about 6 months ago but now the second-gen unit will be available on both 3G and 4G, with a 4.5″ and running Android 5.0 on a 1.2GHz quad-core CPU, it'll also have a 5 megapixel rear shooter, VGA front and 8GB of on-board storage with a microSD slot for more space.
You also get a 2390mAh battery which, Motorola quite honestly admit, is designed to last "a whole day". Blimey, that's something we don't hear from the smartphone PR people. Usually we get crazy "standby times" which aren't valid in the real world. Here's LenovoMoto admitting the truth – getting a day of battery life is an achievement. Well done you people.
Anyhoo. It's available in black and white versions. We reckon that they should use this music video in their advertising. Yes..
Get more info on StartwithMotoE.com