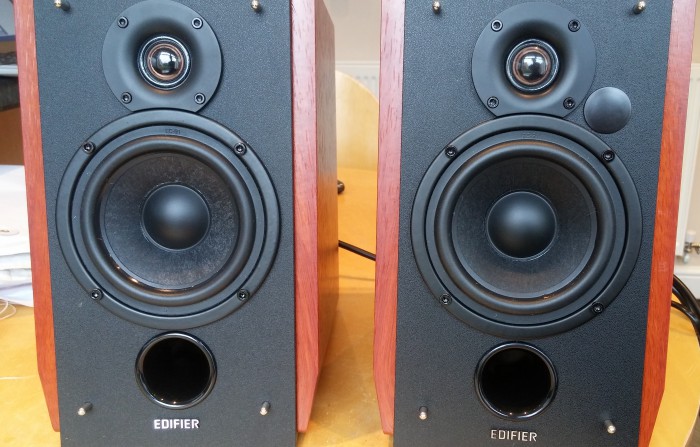 Holy hell. I think something just happened in the trouser department. These are Bluetooth speakers like I've never seen or heard before. I mean sure, you know deep down that the wood enclosing these speakers is 100% MDF, but it looks lovely and these speakers would sit beautifully in even the most design-conscious home.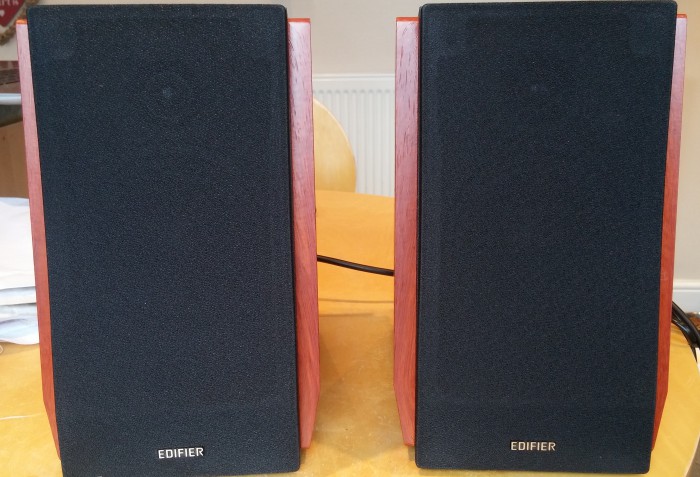 That, though, isn't the best part. Not in my book at least. Pair these two speakers up with your phone and the sound. Oh my good grief. The sound. The very second I turned these on I could feel the power coming out of the things, and that's before I even thought about twiddling any knobs.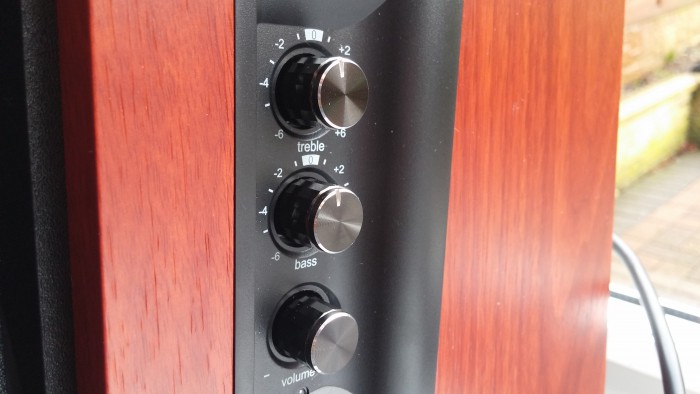 Ah yes, the knobs. There's three on the side. One for volume, which when I turned these on was already at what I thought was "loud", and one each for bass and treble. It was at this point that I thought, "Wait a minute, these are already pretty bassy".
At the time of writing this review I'm listening to a track called Paradigm by CamelPhat feat. A*M*E. Now, if you listen to this track on a laptop or smartphone speaker you're not going to hear anything but a few mid-range drums tapping regularly through the tune. There is, however, a deep warbling bass line resonating through the most of this track which you won't really be able to hear.
I appreciate at this point, by the way, that I've launched head-long into this review without even touching on the specs or anything else just yet. This is mainly because the speakers succeeded in making both the windows and the kitchen radiator rattle and vibrate. They're deep, meaty and clear units without a hint of vibration or distortion.
I'll tell you how I know that.
I found that the volume knob wasn't anywhere near "loud". The "loud" I thought was "loud" was actually "pretty quiet". Crank the knob up, or use the supplied remote, and I guarantee that your neighbours will have their radiators and windows rattling too.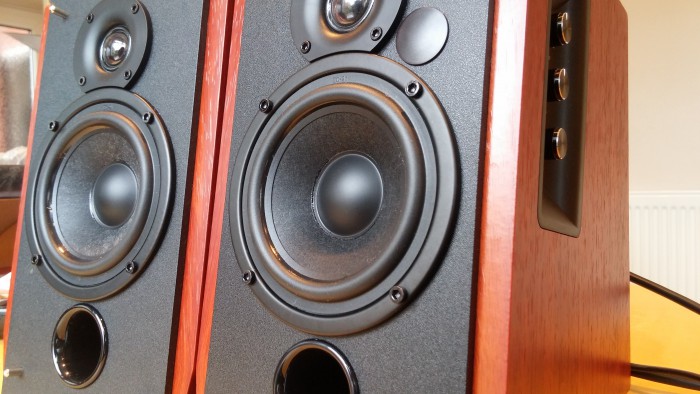 Something. Just something starts tingling in the trouser department. Then, when you realise that the bass setting isn't even on "half", that tingle begins to build into a volcanic explosion. Pop the removable front section off each speaker and you can see the speakers themselves leaping forward and backwards like demented suspension road-drills. You can feel the air getting blown out of the lower reflex port and the quality is as crisp as can be. Did these speakers move? Rattle? Fall on the floor? No. No they did not.
Here's us, as a family, "testing" it. I should point out that the camera has adjusted the audio down somewhat, but we did have the speakers turned up very loud at this point. You can still hear how clear the audio is.
We're listening to Rhymes by Hannah Wants & Chris Lorenzo..
The total power output, for the tech-heads, is RMS 15W x2 (treble) + 18W x2 (bass) (DRC ON). It'll do a signal to noise ratio of 60Hz-20KHz(±6dB) with <0.5% distortion and a frequency respons of R/L 4.0KHZ-20KHZ / SW:30Hz-3KHZ.
If I'm honest, and I'm always honest, I've got absolutely no idea what the heck any of those numbers mean. What I can say is that the bass is deep, loud and it won't distort even on the deepest grumblings. The high notes are well defined and don't clash or blend with the lower tones, and everything is balanced perfectly.
These aren't the run-of-the-mill Bluetooth speakers you see people using on camp sites or in the park. These are proper man speakers.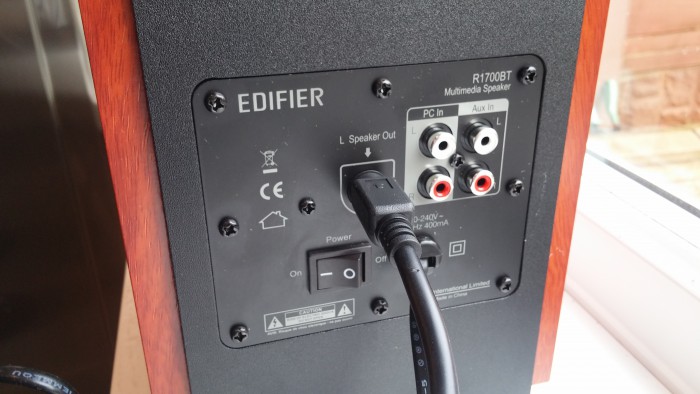 OK, now I've got all that out of my system I should get down to the nitty gritty. First, you unbox the two speakers (they weigh about 6.6KG in total, so it gave the courier a challenge) and stand around 25.4cm high. They're both 15.4cm wide and 21.4cm deep. You can see the design of them here. They have a 4″ bass unit and 19mm (I know that's a clash in measurements, but hey) tweeter in each speaker.
If Bluetooth isn't your thing, or you want to add extra devices into the mix, good news. This'll accept AUX IN. Two different auxiliary inputs to be precise. One, if you wish, for your PC (or whatever) and one for something else (perhaps a CD player, TV or record player). You can switch between them using the supplied remote, which is rather nifty. Cables come supplied too – one 3.5mm to double RCA and another double RCA to double RCA. There's also another cable, which I thought was called a Fil de haut-parleur until I realised I was reading the French instructions. It's to connect the two speakers together, and it's not just a 3.5mm to 3.5mm audio plug – this is a proper four-plug output to operate the bass and tweeter driver in the other speaker.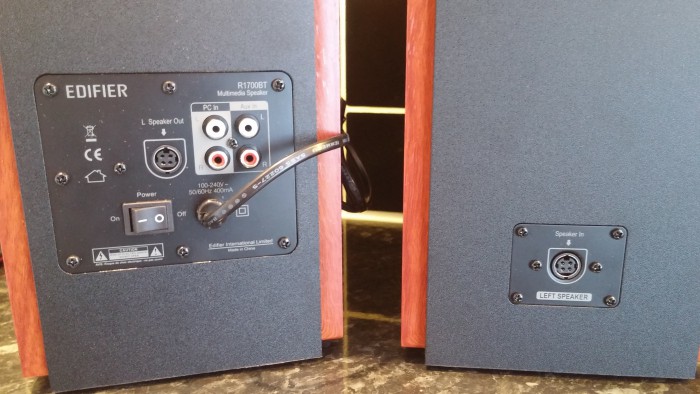 The three knobs on the side of the main (active) speaker are professional and premium-looking. They look like they've been lifted off a mixing deck of some sort. They operate as you'd expect but, if you do lose that remote, you can deactivate Bluetooth my pushing and holding the volume button.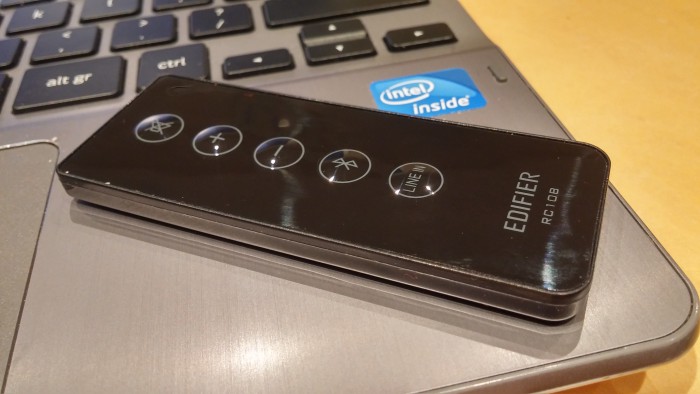 Connecting and pairing to these speakers via Bluetooth is easy as can be. I didn't have to tell the speakers to go into any specific mode, I just searched with my phone (making sure that my phone was discoverable) and off it went.
Overall
A total of 66W RMS, excellently rich and clear lower frequencies, plus clever DSP (Digital Signal Processing) and DRC (Dynamic Range Control) to stop any hint of distortion. It's all good in my world. These produce a clean sound for any tune I pumped out of my phone. Even when the volume was cranked up to "insane" and glasses started to fall out of my kitchen cupboards, you could hear even the softest of notes as heavy basslines and subtle high notes played nicely together in these well designed, well manufactured and well thought-out speakers.
We live in an age now where everyone has tiny in-ear headphones and tiny Bluetooth portable speakers that go, "Tskk tssk tssk, tssk tssk tssk". I'm old enough to remember when speakers were big, bold and beefy. These are the modern-day equivalent of those, and I've been very impressed by them.
Worth every bloody penny, and then some. Highly, and I do mean highly, recommended.
Available from Edifier and elsewhere for around £119.99, and they are worth that.
Edifier R1700BT Bluetooth speakers review
Design - 9.6
Sound quality - 9.7
Value for money - 9.4
9.6
Excellent design, a range of inputs and a hardware and tech combination to deliver your tunes precisely and stunningly.