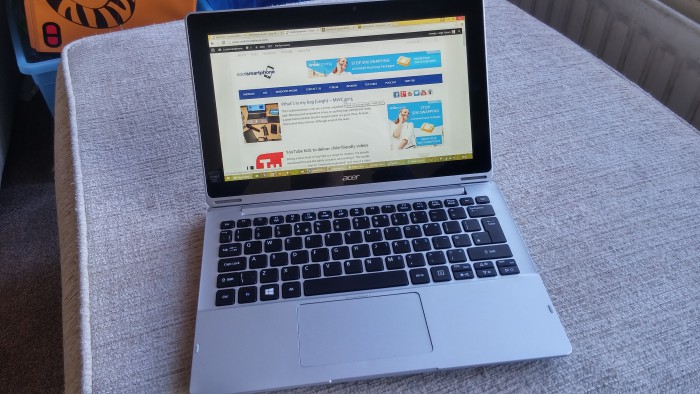 Acer Aspire Switch 11
Intel Atom Quad-core 1.33GHz CPU, 2GB RAM, microSD reader, 32GB flash memory and 500GB drive in the keyboard "base" section. Windows 8.1 (32 bit), 11.6″ Active Matrix LCD IPS LED back-lit multi-touch / touchscreen at 1366×768. WiFi IEEE 802.11b/g/n, Bluetooth 4.0, 8550mAh battery.
I've used this Windows tablet / laptop cross-over for a couple of weeks now and I've been dragged kicking and screaming into the world of Microsoft. Windows 8, without installing anything additionally to make you feel more at "home", has a number of differences to my old and rather battered Chromebook. When I'm using the trackpad, webpages scroll in the opposite direction to the way I'm used to, and the hybrid mash-up of a touch-based GUI and a that traditional Windows UI really should be a disaster waiting to happen.
Yes, I'm going to be biased here. I've bought into the Google cloud big-time and someone at Google knows how warm my house is, where I parked my car, whether it's raining where I currently am and perhaps even I last bought online. Here we have Bing, and I know deep down that the top search term is going to be "Google". Depending which side of the fence you sit, Bing is a complete clone of Google or Google is a clone of Google. Either way, it's Internet Explorer that you get out of the box and it's Bing that does your searching for you.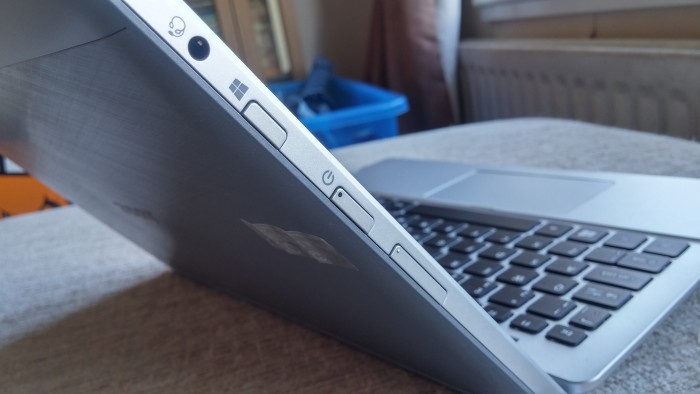 There's always going to be a bit of a gear-change if you're swapping or even upgrading OS. Here, when you head to the Store to get bits like "Chrome" etc, you'll be met with some "Desktop apps" which don't run in the rather swish touch / Metro UI, but break out into the desktop interface where you'll be met with the traditional-looking Windows 7-style interface.
After a short while though, you begin to find your feet. I switched on "reverse scroll" and, although IE isn't my browser of choice, it did a good enough job.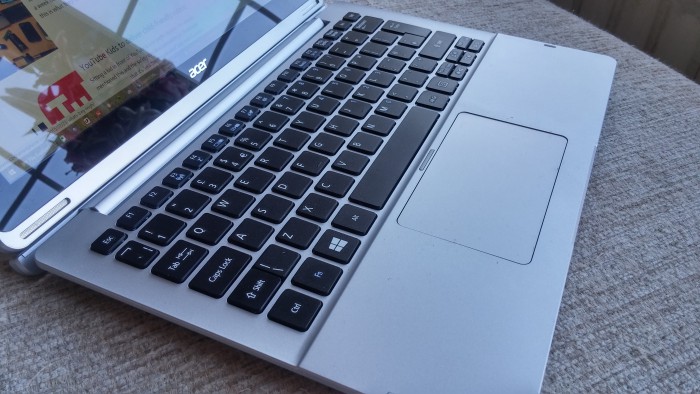 The concept of this device is one that shouldn't really work. You've got that old-school user interface which is traditionally driven by a mouse, and yet a screen that you can interact with and touch. Oh, and that's before I even get to the fact that the screen completely comes away from the keyboard and turns into a tablet.
This, the Acer Switch 11, is a device that'll quite happily act as your laptop. It operates quickly, boots pretty rapidly and has HDMI and USB slots. You can use that trackpad or your own mouse and quite happily never use it as a tablet if you wish. Sure, the slightly weighty tablet / top section can pull the machine over, but only if you tilt the screen back to a stupid angle. The keyboard, which I'm typing on right now, doesn't feel uncomfortable or vastly different to the standard stand-alone QWERTY you may have sat on your desk at work. The black keys are low profile, but they stick proud of the chassis enough for you to easily locate them and typing is a breeze. Properly comfortable.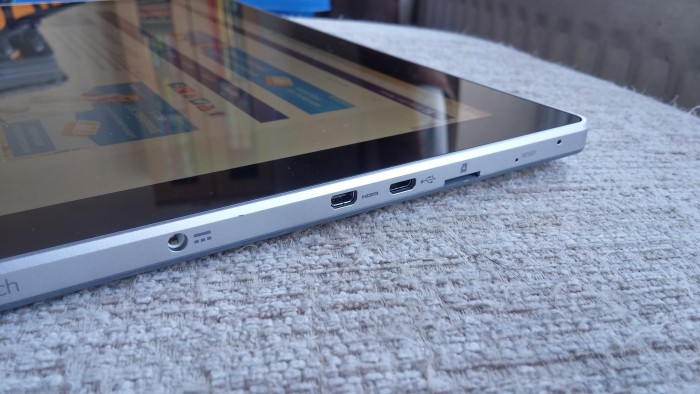 Without even without those clever shortcut key combinations (like Windows + E to switch interface or Windows + S to search), it's fairly easy to navigate around the OS and even to fiddle around with the settings you need to play with to get this feeling right. Don't get me wrong, I still had my foibles (like the on-screen floating "back button" that got in the way of web pages) but overall it wasn't something I was going to immediately discount as I could see that it could be adjusted to be as I'd like it.

The Acer Switch 11 itself, at the time of typing, costs less than £300 (Argos) and comes with a vivid 11.6″ (1366×768) IPS display and is powered by an Intel Atom Z3745. Inside there's 32GB storage, a microSD slot plus that USB, microUSB and micro HDMI slot I touched on earlier. You also, when it's connected together, have a 500GB drive in the base. Loads of storage.
The tablet part clicks into the keyboard base via a very strong connecting system. This uses magnets to help pull the tablet section down and two locking points to slot into. It connects together and then the OS cleverly knows when you're using the keyboard and trackpad. As an example, if you use the physical keyboard then the on-screen one will instantly vanish, but touching the screen and selecting a text selection box will make it pop up again. Likewise, when you use your finger to browse around the OS it'll remove the pointer, but using the trackpad will reintroduce it.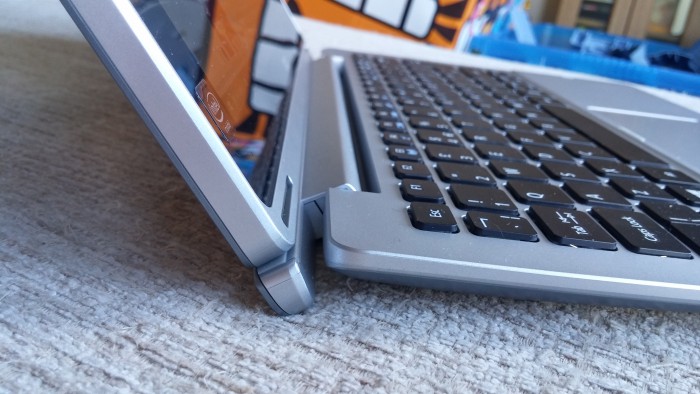 The design of this is almost like a tale of two halves. The keyboard section is fairly swish and reminiscent of other brands, but the tablet section itself has an almost industrial feel to it and the hinge mechanism is a little blocky due to the weight of the tablet resting above.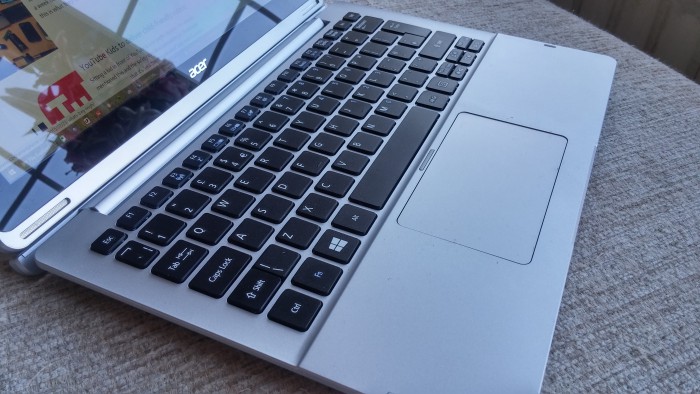 The base section has just one USB port and no ethernet port at all, which is a bit of a shame, but the mere fact that I could use the screen at the same time as the trackpad set it apart from my existing Chromebook. Interacting with websites, flicking check-boxes and operating the GUI was all pretty easy and straightforward if I'm honest and you got used to using the trackpad and the touchscreen together.
The screen was good, although a little more reflective than my standard device, although viewing angles from the sides were tricky once you turned the device 30 degrees or more to the left or right. I also found that the brightness didn't quite go as high as I'd like, especially in a room bathed in sunlight. For me that wasn't a great issue as I don't like screens to glare too much.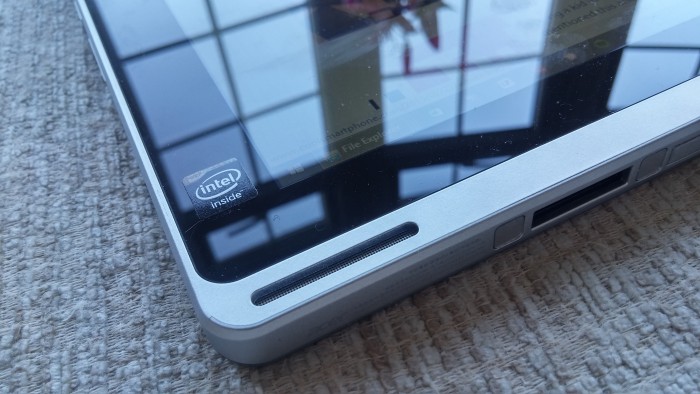 The two front speakers, located at the bottom of the screen when you're using it in landscape mode, produce good sound, although you shouldn't be expecting lots of bass from these small speakers.
Up top, a small 2 megapixel camera lets you do video conferencing but, while I'm here, I should mention what the device is like when used as a tablet. Personally, for me, I doubt I'd use it a great deal in this form. Don't get me wrong, as a presentation tool this is great and you can switch (geddit?) the screen around into the "tent" shape to show the screen contents to others. It also works as a netbook / laptop and I loved the touchscreen on it, but as a tablet it was quite hefty and, in portrait especially, it felt a little unwieldy. If you were to use this as a tablet then you'd probably have it parked on your lap in "landscape" orientation to best appreciate websites and content.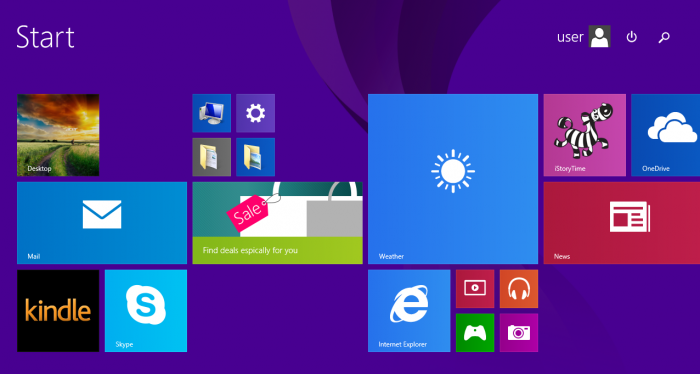 Powered by an Intel Atom Z3745 quad-core CPU at 1.33GHz with 2GB RAM, this powers Windows 8 pretty well indeed and I had no issues with it running the OS or apps on-board. It's well-priced and the battery lasts very well indeed, even with my heavy usage. What I learned, fairly quickly too, was that Windows 8.1 isn't actually as bad as I thought. Even with me using it in my usual ham-fisted UI / desktop switching fashion, it served me well and didn't really give me cause to complain. Sure, I hated the Windows Updates and the wait-times associated with them, but it didn't detract too much from the experience.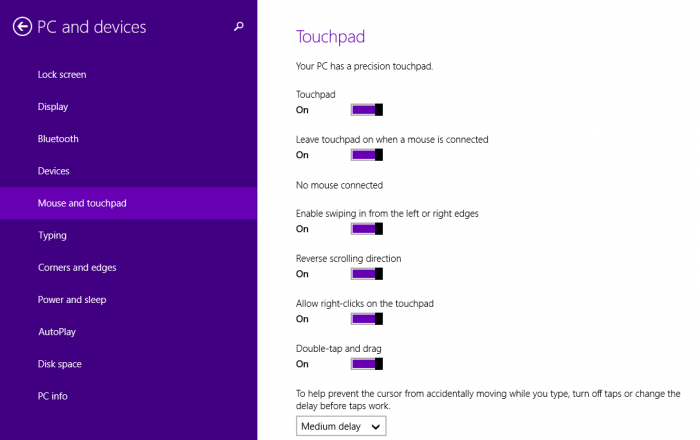 Inside, apart from the OS itself, there's a number of add-on apps which you can remove if you wish. Netflix and some Acer apps plus McAfee AV software.
Overall
Sure, there's some parts of the Acer Switch 11 which don't feel quite as "tight" as they should be. The trackpad didn't seem to be as sensitive as I'm used to and the build quality in some areas could've been slightly better, but at the price, for what you're getting here, it's really rather good. I've got the full Windows 8.1 OS, I've got a neat touch-screen interface and the full-fat desktop OS. There's 32GB of storage to play with, but you can slot in memory sticks and use cloud storage if you want to store files elsewhere and it operated quickly and quietly, without complaint.
For less than £300, this is a great price for Windows 8.1 with a truly useful design, great screen and keyboard combination. I had the OS freeze a couple of times and, although I found the Windows 8.1 interfaces simple enough, the OS still felt like it was trying to be everything for every user and the slightly bulky top-heavy design and 760g overall weight meant that it was a two-handed operation to use as a tablet unless you propped it up against something.
That said, I liked a lot about this device. The idea of having the 500GB drive in the keyboard section and the 32GB flash within the screen was good, and it wasn't often that I left the house with just the top "tablet" section anyway. You're not going to find yourself saying, "Oh yeah, I left that video of our trip to Ibiza on the 500GB hard drive bit of the device" because you'll mostly be using this as a laptop rather than a wide-screen tablet.
Get more details on the Acer website. With prices tumbling down to £299 it's definitely worth considering if you want a well-specc'd budget Windows 8.1 touch-screen laptop that'll also be your presentation device and tablet.
Acer Switch 11 Review
Build quality - 7.1
Value for money - 8.4
Screen - 8.5
Battery life - 9
8.3
For browsing, writing and fiddling around with Office this can be your daily driver and then some. An Acer transforming tablet / laptop / presentation device for a fair price.