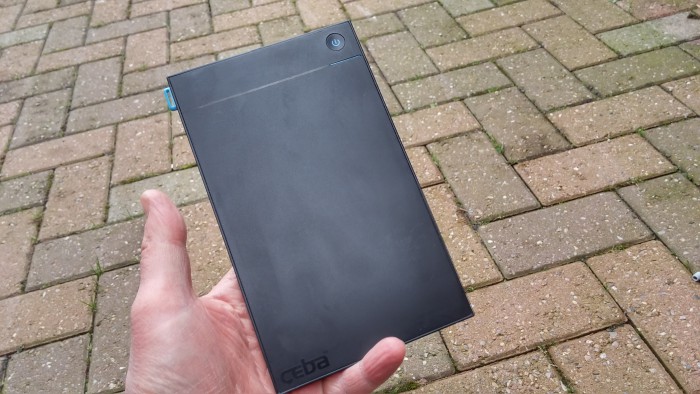 For those who have been living under a rock for the last decade or so, I just need to bring you some breaking news.
Smartphone and tablet batteries really aren't as good as we'd like them to be.
Right, now on with the show. This is yet another "portable charger", which is also known as a "power bank" or just one very big battery that'll charge the smaller one in your smartphone or tablet.. or whatever else you have.
This one is a bit different because it's both thin and flat. The thinnest in the world in fact. Oh, that rhymed. 🙂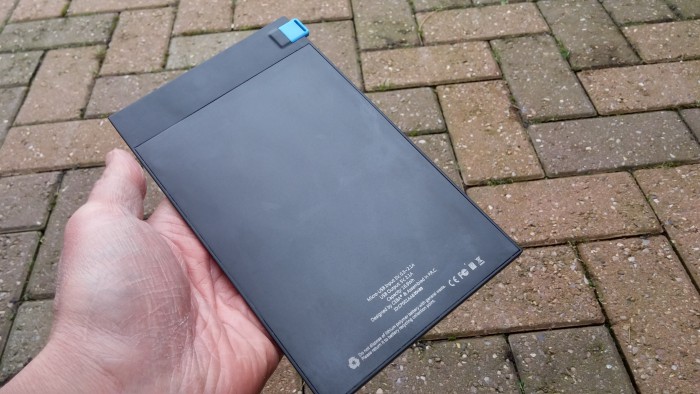 It's a 5000Ah unit which can kick out 5V at 2.1Ah. What we do have to get out of the way though, straight at the start, is the instructions and detail on the box. It's all in classic "Chinglish", with classic phrases such as a "low-self discharge" capability with a "smart slim USB solution so that all the electronic devices and USB wires are fit for use". Other gems include the "user manuel" and "when discharge, LED light will be off according to power remain".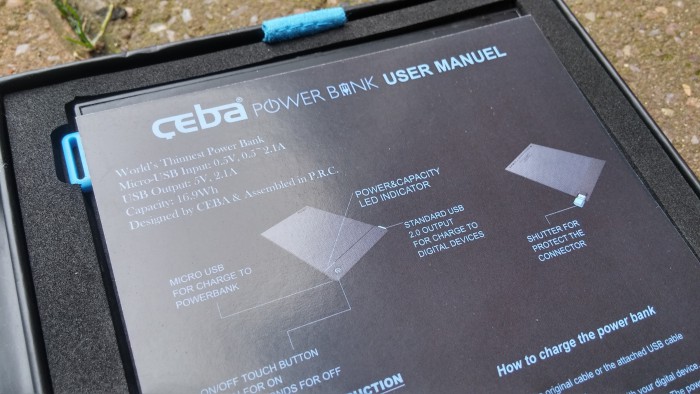 It's not a real problem though because the whole thing is easy enough to work out. On the top right there's a small blue plug, which looks a little like a lanyard loop but isn't. Pull this to reveal a low-profile USB port. Plug this into the supplied cable and plug that into the iPad, tablet, smartphone or iPhone you need to charge.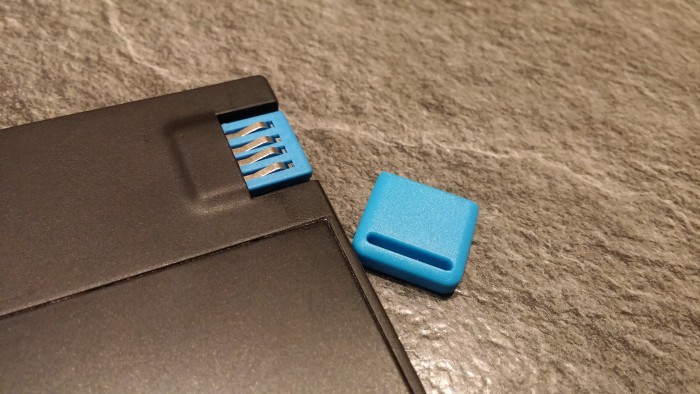 The rather clever double plug on the end of the supplied cable does lack a 30-pin Apple connector though, so if you have an older iPhone you'll need to find your own cable. Keep the small plug in a safe place if you wish, but if you don't there's a small lanyard connection to keep the cap and the power bank together. Handy.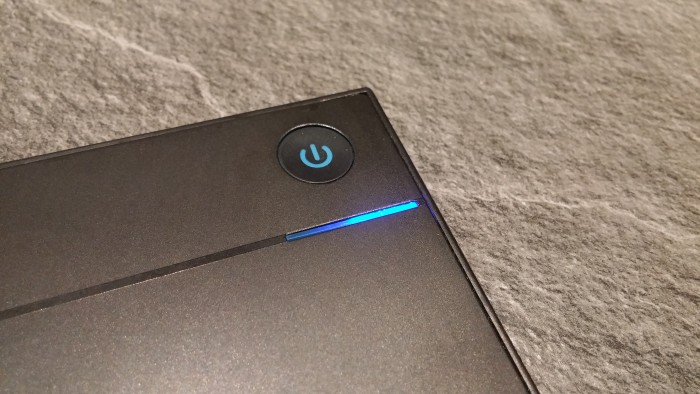 Up front, and next to a nice round power button, there's some blue LEDs telling you just how much power is remaining. You can press the power button once to get an update on how full the power bank is and, if you hold the power button down, you can shut down the device fully.
Charging the Ceba power bank is just a matter of reversing the flat supplied cable. You place the standard USB port into a wall charger and the other micro USB end into the device itself. When you do this you can charge and, if you have another cable and plug back into the protected USB port on the side, create a "daisy chain" and charge a device while you're charging the power bank. From what I can make out in the instructions, if you do this then the power bank will take half the amps for itself and pass the other half onto the device you plug in.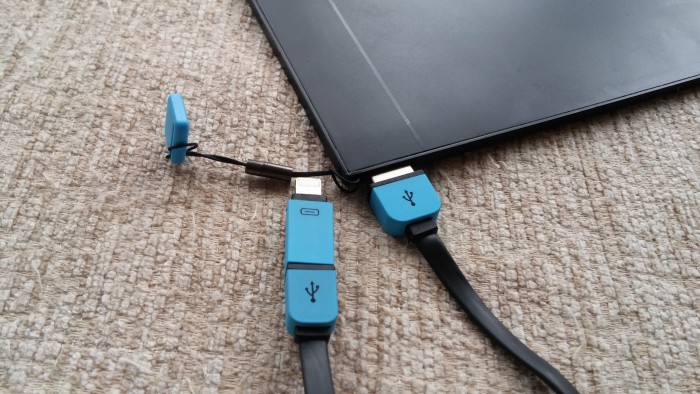 We found this charged tablets, an iPad, smartphones and Bluetooth speakers, keyboards and smartwatches without problems. It lasted well and, if you're using it for a tablet particularly, it's hardly noticeable. For smartphones, it's probably best to keep this in your bag and perhaps leave your phone in there too. Next to a folder, or even inside a folder, this won't stick out at all. It's narrow and less than half the size of a sheet of A4.
If you're interested though, there is one minor down point, and that's the price. It's a massive £89. That, at least in my book, is a little too much. However, if you head over to Casehut.com, who sell them, they may have reduced in price by the time you read this.
Ceba Slim Power Bank Review
Value for money - 5.6
Design - 8.6
Power - 8.3
7.5
Slim, lightweight and powerful. Sadly rather expensive too.