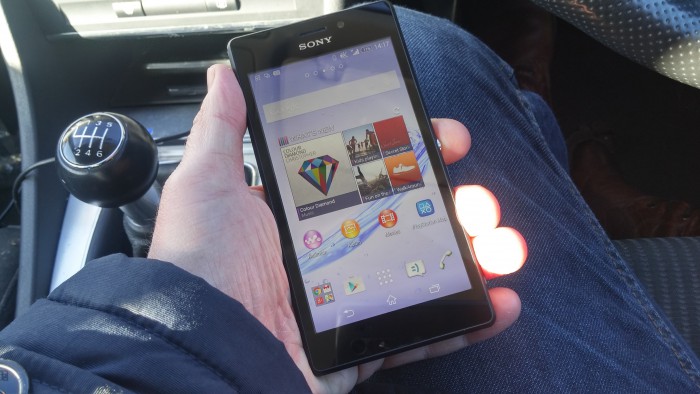 Usually here at Coolsmartphone we'll do a full in-depth review of a phone. It'll include specs, video, pictures and all the geeky information you need to form your decision.
We'll start this review with a bit of that. This Sony Xperia M2 Aqua has a 1.2 GHz quad-core Snapdragon CPU for example. It's powered by Android 4.4 KitKat with a 4.8″ qHD (540×960 at 230ppi) IPS screen, 1GB RAM, 4G capability (up to 150 Mbit/s), Bluetooth 4.0, NFC, aGPS, DLNA and a beefy 2330mAh battery which isn't beefy in weight or dimensions. There's the Sony Stamina mode for keeping you going even longer.
However, it doesn't mind looking like this…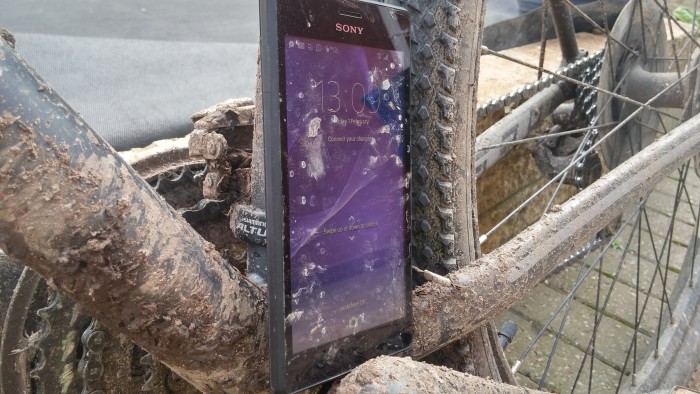 The rear camera is an 8 megapixel unit with Exmor RS for clear shots, great low-light performance and HDR capability. It also has the "Superior Auto" mode, which cleverly recognises up to 36 scene types and adjusts all the camera settings automatically for the best shot possible. There's 8GB storage, plus a microSD slot for another 32GB if you need it.
What this phone can also do, which you may have guessed by the name, is jump underwater (up to 1.5 metres down) for up to 30 minutes. You can take this thing swimming. Yes, you've got to got to ensure that the covers for the micro USB port, the micro SIM slot and the memory card slot are firmly closed but, believe me, you'll know if they're not shut anyway.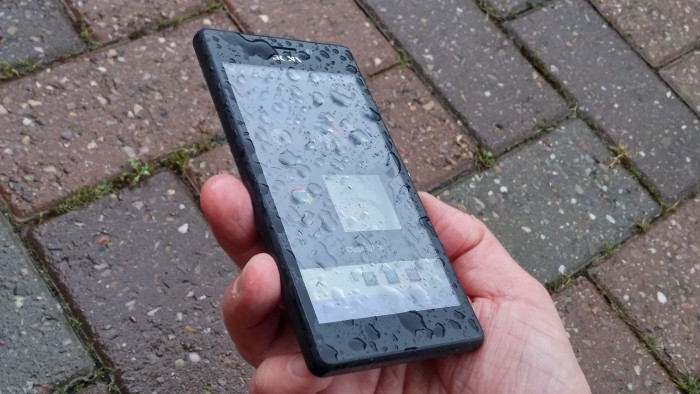 All this means that the phone gets a IP (Ingress Protection) rating of 65/68, so there's dust and water protection.
The OS itself is nippy and comes with all the clever Sony goodness you've grown to expect now plus a great design (with that familiar aluminim button on the side) and camera apps to enhance your photos.
This, though, is where this particular review deviates. We really didn't want to waffle on about the intricate details of the software, the interface or the various settings. Instead, we wanted to show you just how "life proof" this thing actually is.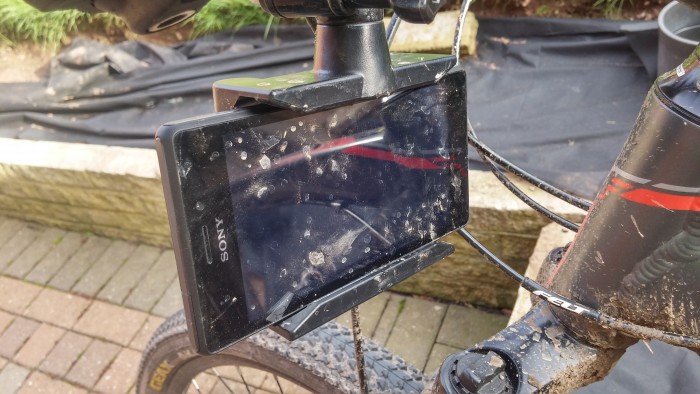 Now, this wouldn't be Coolsmartphone if we didn't do something slightly different, so I started off by strapping it to my mountain bike and taking it for a ride. That aluminium button did stick into the side of the phone mount somewhat though, so I ended up using some electrical tape and to ensure that the mount didn't push the button whilst I took it for a rather muddy, rather wet and rather cold ride around Cannock Chase.
After a few minutes the phone was suitably muddy and pretty trashed from the exterior, as you can see here..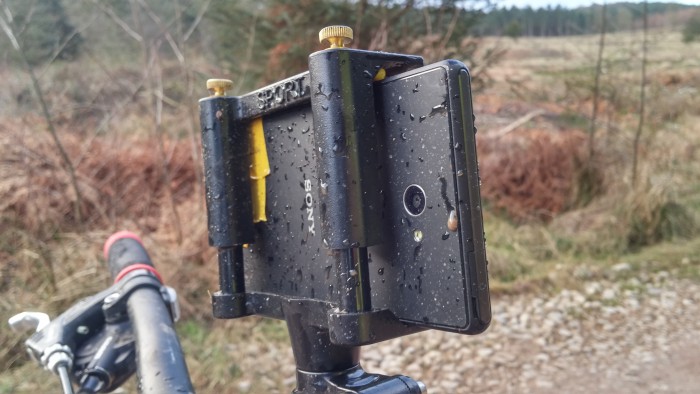 If you're wondering what the resulting video looked like then I've added that below. There's a video stabilisation feature but, to be fair, it would take a huge amount of stabilisation to prevent this video being wobbly, especially across this rough terrain.
This phone doesn't exactly "scream" tough though. It doesn't have huge chunky corners to resist big drops and knocks. Indeed, it probably won't do any better than most other smartphones if you drop it from a height, but it will survive a blast from a hosepipe.
As you can see, when I returned from the ride the phone and the bike were very muddy indeed, so I cleaned both of them with a hose and left the M2 Aqua sitting on the floor in a puddle.
It survived.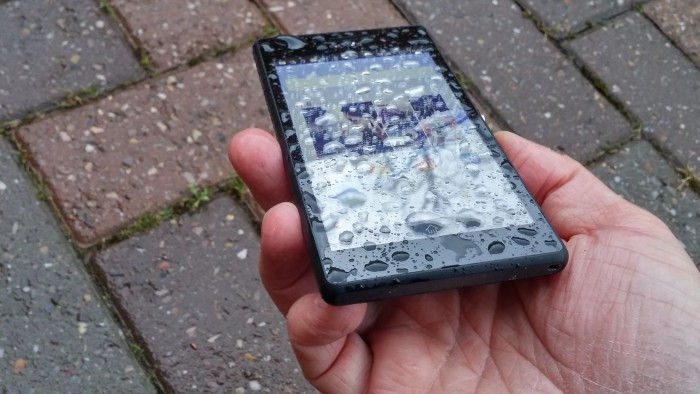 Next, a rain shower. I went out with my regular phone filming this (under an umbrella) and held the M2 Aqua in the rain. The screen went a bit bonkers due to the droplets rolling down the screen, but if I was on a call and running through a damp highstreet in a snow or rain shower, this would work effortlessly.
That's pretty much ticked all the boxes for general day-to-day abuse. Getting caught in bad weather? Check. Getting muddy? Check.
Hmm.. we need to do something more don't we? I know. How about the traditional "putting it in the bath" test? People take their phones in the bath sometimes. Sometimes they do. If nothing else, this is just the same as taking the phone into a swimming pool, which you could do if you wanted to film some underwater footage like this. Here's me filling up the bath and filming the tap from above and below the waterline..
Now, if you've followed us for a while you'll know that we've done that before with waterproof phones. We've done the whole "throwing it in the bath" trick, but we wanted to try something new. Something a bit crazy.
So, I stuck it in the dishwasher..
To do this I hit record and told it to keep the flash on during the filming so that you could see what was going on. It's actually quite interesting to see how the dishwasher works from the inside.. well, it's a "bit" interesting perhaps. 🙂
Now, I tried this and, yet again, it survived no problems. However, I wanted to push it further, so I put it on a hot wash ("intense") and tried it again. After I'd left it in there for a few minutes it was red hot, but amazingly it survived again. GAH! Does this thing not die!? 🙂
TOUR
Alright, alright, enough of the phone pain. I think it's safe to say that, provided that you have all those little flaps shut, this really is both dust proof and really, really waterproof. It also proved tough enough to survive a muddy mountain bike ride, a wash and a ride in the dishwasher.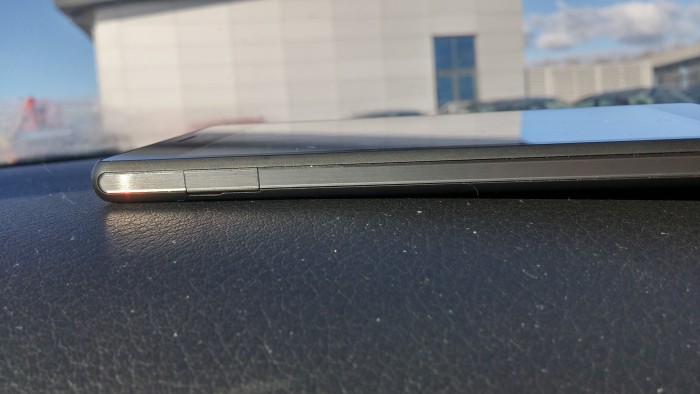 If you do open those flaps you'll find a micro USB charging port on the upper left. This is for transferring data (should Google Drive or other methods not be your "thing") and charging. I found the battery life to be very decent and, if you're on a 2A charger especially, the speed that it hit 50% was shockingly quick.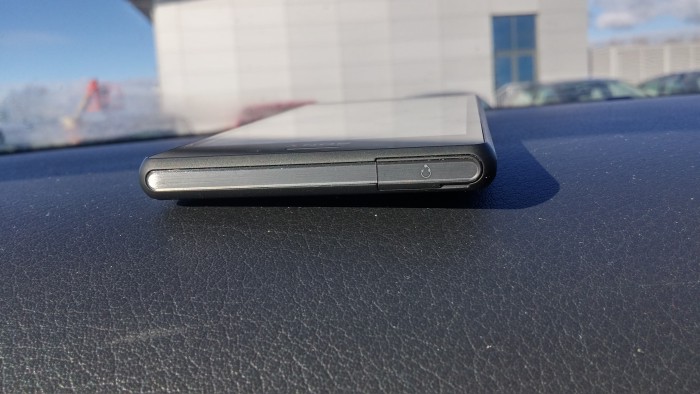 The edges are a dull silver shade nestling between smooth rubber corner strips. On the top edge you'll find a 3.5mm audio port, again behind a flap, and down at the opposite end there's the external speaker behind a quite stylish grill. You'll also get one of those lanyard loops in the lower right corner.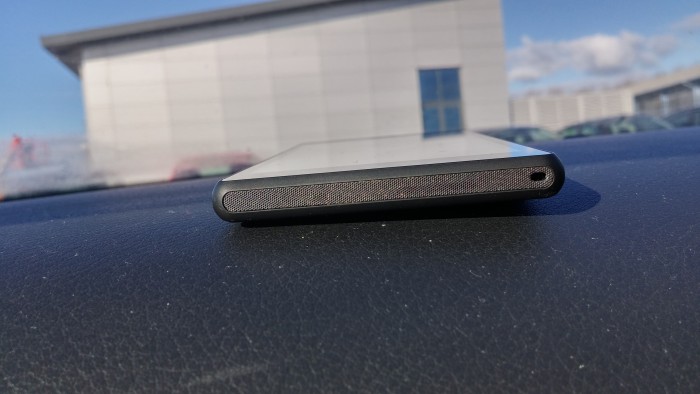 The back is again a dark matt plastic with simple understated logos and that camera / flash combo. There's a VGA camera up-front too, but that's not a great deal to write home about as it's only VGA.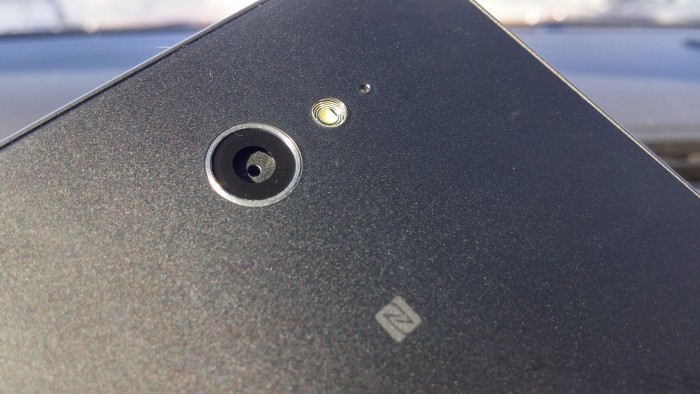 The right edge is the busiest side, with a dedicated camera button, volume rocker and that Sony power / wake key which is now becoming synonymous with the Xperia line. A larger flap sits on this side too, which has your SIM and microSD card for additional storage.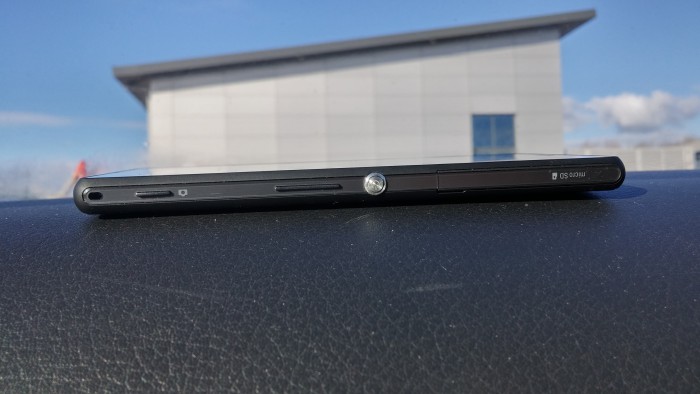 The front has a small LED next to the earpiece and on-screen keys. There's a fair bit of border at the top and bottom of the screen but it's within my own personal "don't make the screen look small compared to the chassis" algorithm.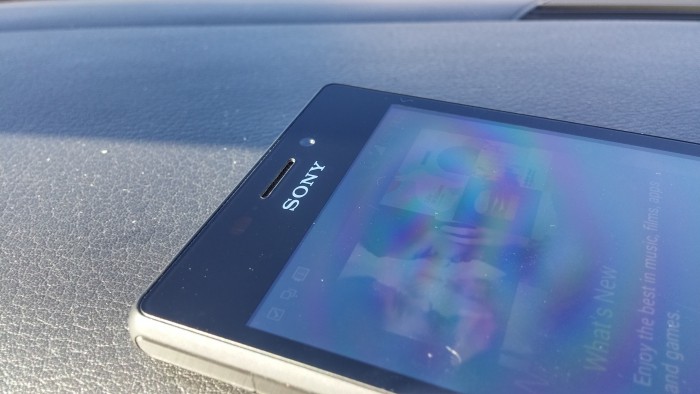 INSIDE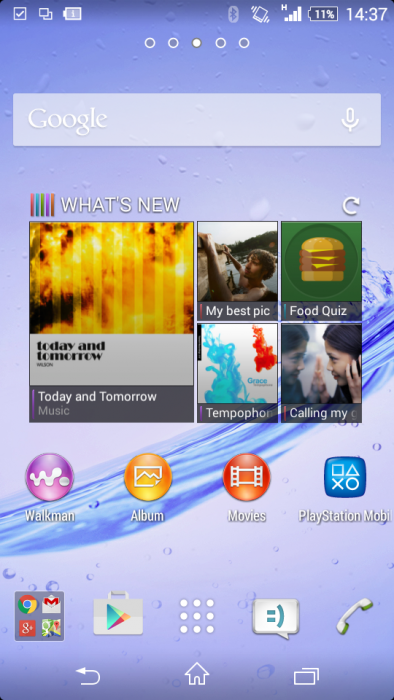 Here we have a number of Sony additions, including Sony Xperia Care for instant help and support, the PlayStation Store for a range of games and apps to keep you entertained, the Walkman music player with the "Music Unlimited" feature to gain access to millions of tracks.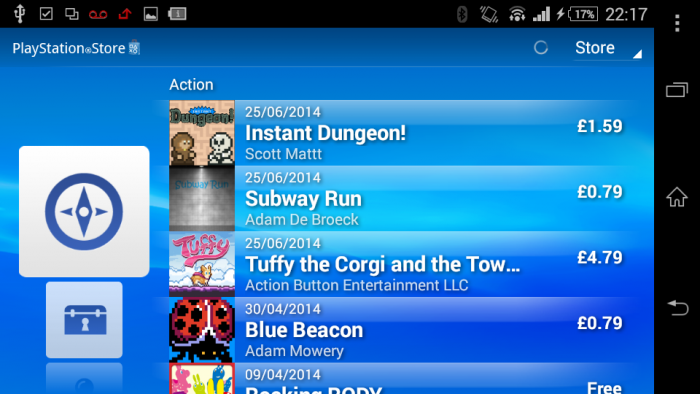 Other helpful extras include the TrackID system, which is a lot like Shazam in that it identifies tunes for you merely by sound and the Video Unlimited service, which gives you access into TV and movies from across the world.
You'll also find a File Explorer, all the Google services (YouTube, Play Music, Google Maps and navigation Hangouts, Gmail, Play Store, Chrome etc) and you can show apps in your own order or by the most used etc. As with all Android handsets you can drag and drop widgets, icons and folders around to make it look just how you'd like and every contact, appointment and email is sync'd with the cloud if you plug in your Google account.
I liked the "Clear Phase" and "xLOUD" functionality in the sound settings, which helped to both clarify and boost the audio output. Sadly though, when taking snaps (I'll get to those in a few seconds) the images didn't look too great until I sent them to my tablet or another device with a higher resolution screen. Then they looked far better, so it seems that the camera itself is producing pretty decent images but the screen itself isn't quite able to show them in the best light.
CAMERA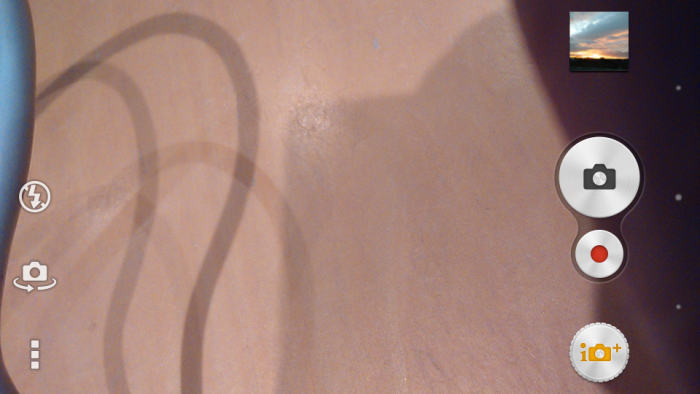 The camera comes with a range of options including a "smile shutter", "face registration", geotagging, touch-capture and a range of effects including virtual scenes with monsters prowling around, a timeshift option, panorama and retouch mode. Usually I kept it on "Superior Auto" for the shots taken here, which are unaltered by post-processing..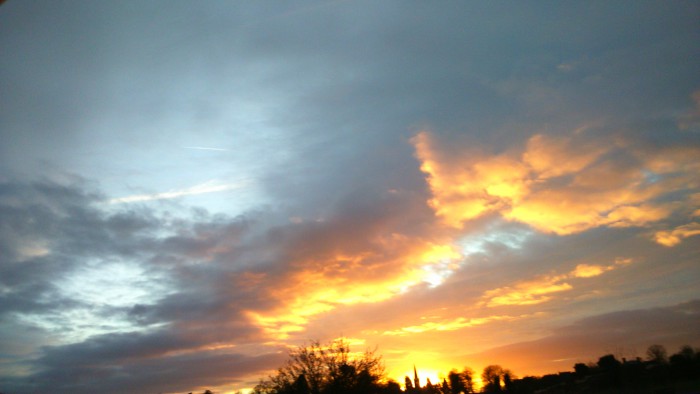 You can open the following shots by clicking these thumbnails..
OVERALL
I have read in other reviews that the flaps were "awkward". Now, whilst this may need a bit of getting used to if you're regularly using the 3.5mm audio port, it wasn't a great problem for me just to slip my nail under the flap and charge it each night. I don't think it was a massive issue really, and you'll soon get used to it. It's simply the pay off for having a waterproof phone.
It looks good, has good audio performance and the Android performance is fine.
Overall, yes it's "mid-range", but I think that this is a very solid handset which performs well and took the "Coolsmartphone battering" without breaking into a sweat. It's a tough phone which maintains sleek styling and all the smartphone features you'd expect. Although the camera sometimes produced fairly standard images, the speed, memory and overall performance and feature-set is very good indeed for the price.
It's available on Vodafone from just £12.50 per month or for £125 on Pay as you go.
Sony Xperia M2 Aqua Review
Great performance, great waterproof protection and a phone that can withstand daily life without problems.