When we get an external battery in for test it's usually, well, a battery. Not much thought goes into the design of the thing usually and you basically just get a chunky phone battery cell wrapped in a case that matches the dimensions.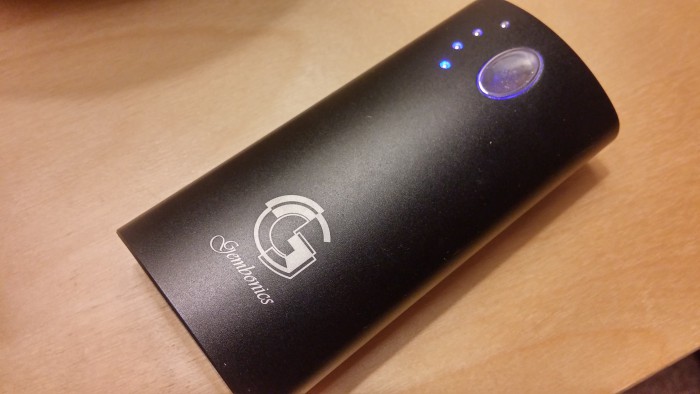 Consider this though. This is the Gembonics 6000mAh external battery charger. It's a more portable and better designed unit for starters, and is a nice oval shape which feels good in the hand. Another good point it the fact that it's pretty small. It's like holding one of those "D size" batteries but here you get a whopping 6000mAh, which is, like, lots.
Have a look at the battery in your phone if you can. My LG G3 has a 3000mAh battery, so this clever unit will charge my phone from flat twice over. That's rather good considering the size and the fact that it sits in my pocket without any real problems.
As you can see in the video, there's a soft pouch to keep this in. This'll protect the device and you can also use it to put the supplied cable into for safe keeping.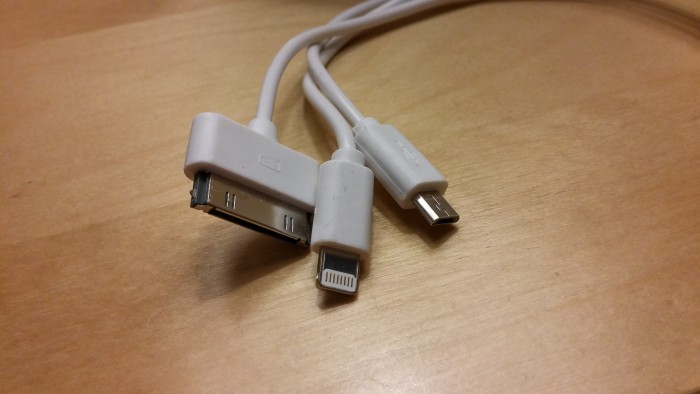 That cable, I should just point out, is rather clever. One end has a standard USB port and the other has three outputs – the 30 pin Apple cable, the newer lightning cable and the microUSB port for everything else. When you're charging this battery itself you'll need to put the standard USB end into your wall charger and then the microUSB into the Gembonics device. This'll illuminate the red LED to tell you that it'scharging. Then, when you're out and about, you simply put the standard USB end into the output of the battery and the required other end into your device of choice.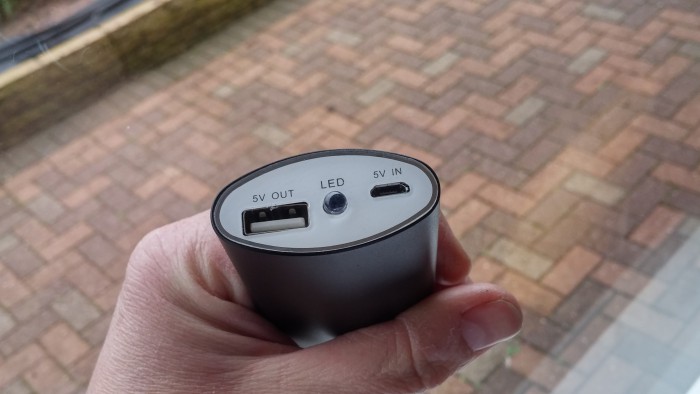 However… it's not just one device. You can plug an iPhone in and a Bluetooth speaker (or another phone / tablet etc) at the same time. This is both because of the way that the cable is designed and the fact that there's 6000mAh kicking out at 2A, which is enough to cope with three devices plugged in at once.
This is one powerful little puppy.
Up top there's a big silver button which, when pressed, tells you just how full the battery is at the moment. Press it twice and it'll illuminate the white LED on the end, making this a torch.
I think I mentioned in the video that it indicated that you were charging the device, but I should in fact say that it's a flashlight / torch.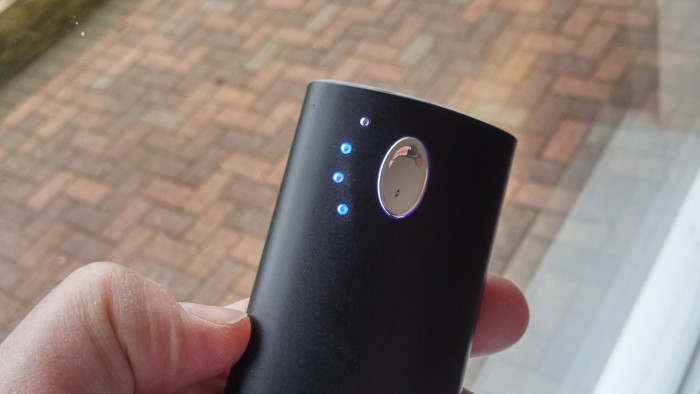 The charger will identify anything you plug in and will, according to the instructions, "guarantee the fastest charge time". The reason for the diminutive size is due to high-density Samsung "Grade A" cells.
It is, as I've already mentioned, a very powerful unit in a very compact and well-designed package. For me, this is perhaps the first portable charger I've seen that you won't feel too embarrassed to carry around or have dangling out of your smartphone. It's a fairly weighty 150 grams, which isn't too heavy but I'd call it "reassuringly heavy" 🙂
I like the fact that there's one output but the possibility of charging three different devices (provided those devices are something like an older iPhone, new iPhone and something needing a micro USB charge), plus I even like the little bag you get which keeps it all neatly stored away. Brilliantly simple, nicely styled, robust and powerful. Ticks all the boxes for me.
This is currently £15.99 (usually £25.99) from Amazon.
If you want it in the UK, check this page. If you're in the USA, head here instead.
Gembonics External Battery Charger Review
Value for money - 8.6
Build quality - 8.3
Design - 8.7
8.5
Small but powerful. Ideal for even your jeans pocket and a life-saver when you out that bit longer than you thought.