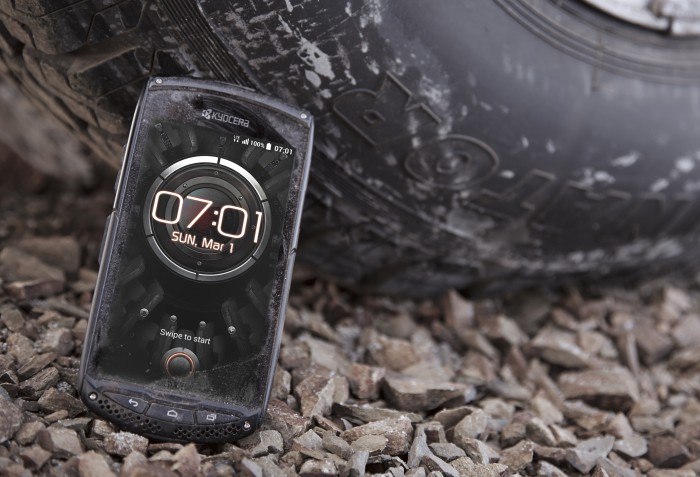 If there's a printer in your office, chances are it's a Kyocera. If not, there's going to be one not too far away. Now though, Kyocera are to enter the smartphone market and will be presenting their "ultra-rugged" 4G smartphone at Mobile World Congress in just a few days time.
Called the "Torque" (KC-S701), this phone has already been certified with the United States Military Standard (MIL-STD-810G) in 11 categories, which basically makes it one tough cookie. Available in the spring in Germany and France SIM-free it's water-proof (and almost everything-else-proof) and has a special "Smart Sonic Receiver" which helps you hear the conversation on the phone even in the very loudest environments. So, if you're working on a noisy building site or anywhere else with lots of background noise, it's ideal. Takashi Nohara, General Manager of Kyocera's Communications Equipment Sales Group, tells us..
Kyocera is committed to building high-quality devices that stand up to real-world scenarios and that allow our customers to be productive at work and on-the-go anywhere, no matter the external environment or harsh conditions they have to face,

We believe durability is a value for all business
The Torque can be dunked into 1.5 meters of water for up to 30 minutes, exposed to powder dust for six hours straight, shock-dropped at 26 angles from 1.22-meter height onto plywood, vibrated and subjected to extreme temperatures (-21° to 50°C for an operating unit for three hours)
It can also survive 95% humidity for 8 hours a day for 10 consecutive days, salt fog exposure and much more.
Running Android 4.4 KitKat, it has a 4.5″ 1280×720 Wet Glove-Touch screen, 3100mAh battery, wireless Qi-charging, 8 megapixel rear camera with digital zoom and LED flash plus a 2 megapixel selfie shooter. It's powered by a Qualcomm Snapdragon MSM8928 quad-core 1.4 GHz CPU.
For more details, head to kyoceramobilephone.com. We'll also head to their stand at Mobile World Congress to take a look ourselves.