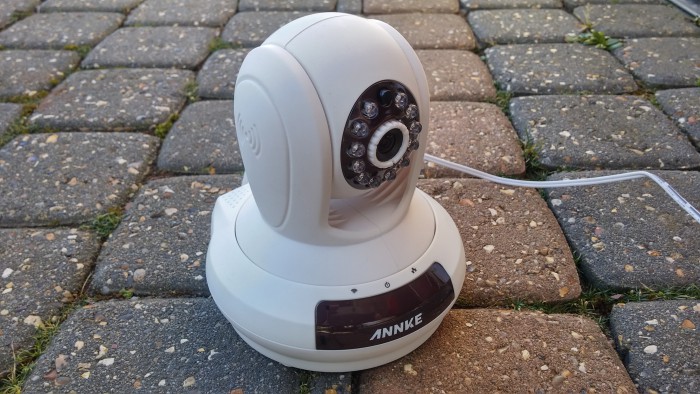 We've got ourselves another security camera here folks. Quick note before I start, this was once £319.99 but they've got it available on Amazon for just £49.99. That's pretty cheap, and it'll let you keep an eye on your house or office remotely using your phone.
It's got a 1280×720 resolution (720P), two-way audio, zoom, pan and tilt plus IR for seeing in the dark.
The device isn't overly large and comes with a mount so that you can connect this to the wall or ceiling. Here's the main unit itself, which is simple and lightweight with three LED's up front. They are, in sequence, the WiFi activity light, power LED and the ethernet activity light.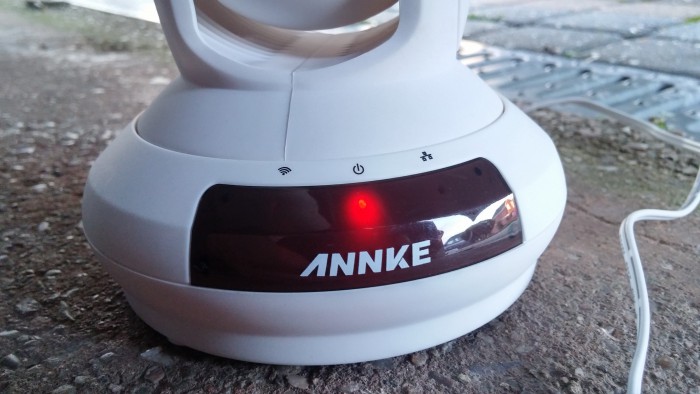 Above these LEDs you'll find the main lens, which is surrounded by those IR lights – known as photosensitive sensors. The microphone is below this.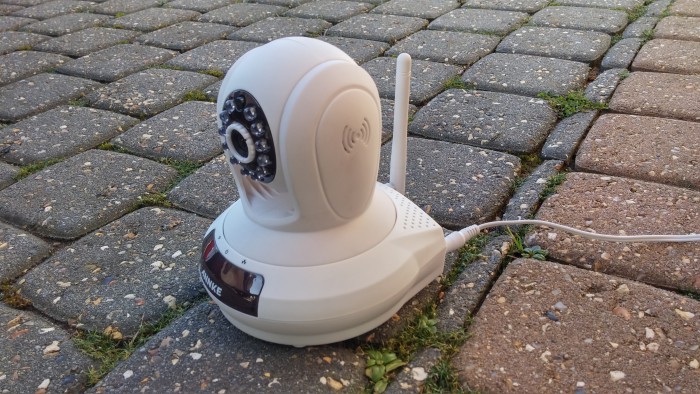 Around the sides there's a speaker so that you can spook out any people who might be in your property that shouldn't be. Good this.
At the back, a nice chunky WiFi antenna, function button, microSD slot, power supply and the ethernet port.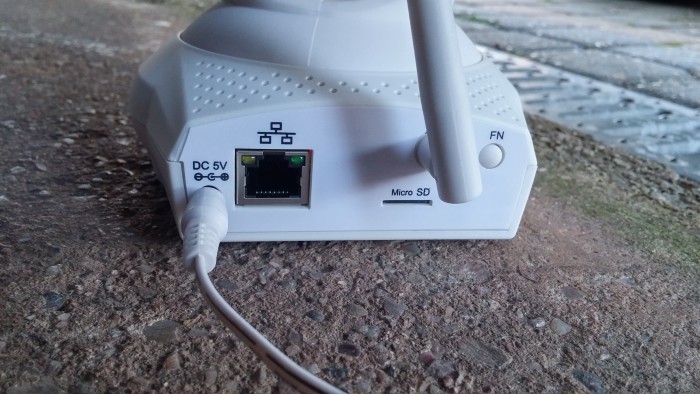 Setup
Getting going is easy enough, although you will need to connect the ethernet cable to begin with, even if you don't intend using it permanently. You'll need to download an app called MIPC. This is available on iOS or Android. Once downloaded, you need to register an account with the MyAnnke, which is done through the app itself. This means that you can basically access your camera from anywhere in the world – not just from the next room.
Next up, adding your camera. You can add many cameras if you have them and they make this whole process pretty simple thanks to a QR code on the bottom of the cam. Scan that with the camera on your phone and it'll then ask you for a password to lock down the camera itself. Once that's done you can tell the camera about your home (or office) WiFi connection details. This'll get the camera talking to your WiFi and you can remove the ethernet cable if you wish.
If you have WPS WiFi, you can just tap that FN (function) button on the rear, then push the button on your router and it'll connect that way.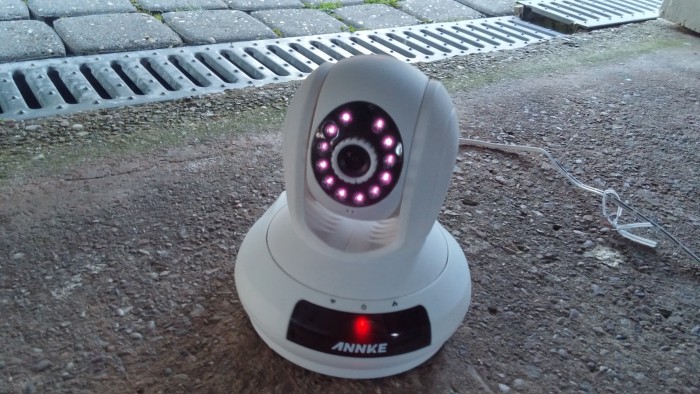 Operation
The app is fairly simple to be honest and it'll let you adjust brightness, saturation, contrast and sharpness. The 12 infrared LEDs do a great job in illuminating the darkest of rooms, and you can see here I've got it rigged up in my garage. The junk is highlighted quite effectively here. 🙂
Setting it to record is just a manner to hitting the record button. You can snap a photo too. This is all recorded onto a microSD card (32GB max), which isn't supplied but you can get one of these fairly cheap if you wish. Clips aren't stored in the cloud unfortunately, although you can access them from anywhere.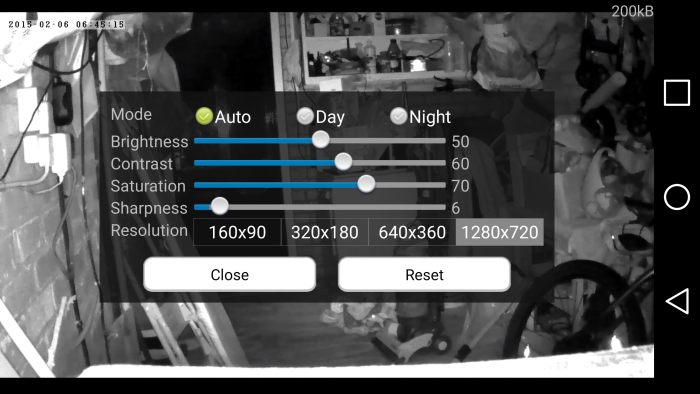 The main screen of the app shows a preview image taken from the camera itself, and if you have additional cameras they'll show alongside this. A coloured dot will indicate the connectivity status, and up top you can switch the resolution all the way up to HD. Being able to alter the resolution up or down is ideal if you've not got a great 3G / 4G signal.


A day / night mode can be switched, but most people will probably leave this set to "auto".
However, perhaps the bit you'll want to know more than anything is how to get the camera moving. This again is easy enough – you just slide your finger across the screen. Left or right will obviously move the camera left or right and up / down… well, you get the idea. It's all very pain-free and you can zoom in – albeit digitally – with the "old pinch 'n zoom".
Here also you can activate what ANNKE call the "intercom" mode, which basically lets you speak into your phone and have it come out of the speaker on the camera itself. You can also listen to what's going on with the aid of that microphone in the camera itself, so you can conduct a bit of a two-way conversation if you wish.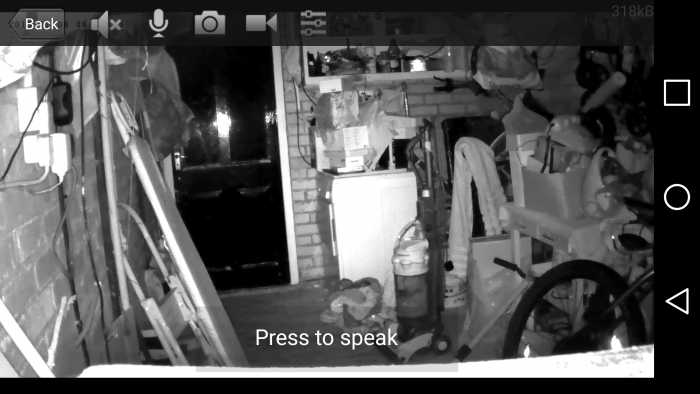 The built-in sensor can detect motion and send notifications to yourmobile devices. With its built-in speaker and microphone, it supports two-way audio intercom which enables you to communicate freely with whoever is at home.
The camera itself will move around to a 350 degree angle and those infrared LEDs will go around 30 feet. The clarity is very decent indeed and it'll switch from day to night mode with a noticeable "click" that most of these cameras. There's also a movement sensor which can send notifications to your phone and then you can check the resulting video live.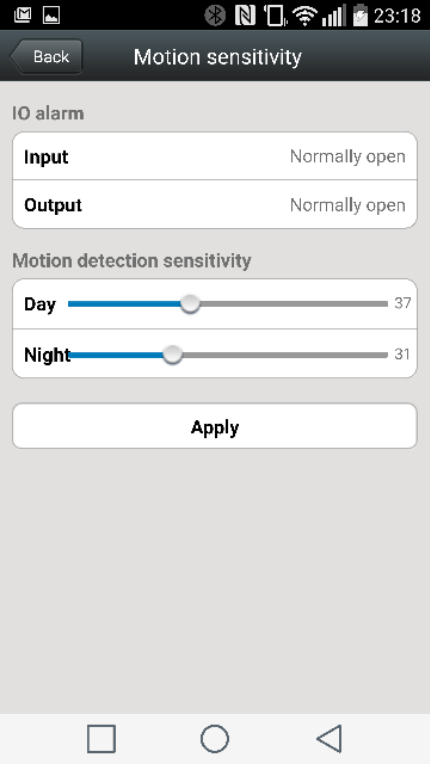 As you can see above, there's sensitivity options for movement in the day and night, so you could maybe adjust it to "off" in the day if you want, or just adjust things here is you're getting too many false positives when your cat walks past the camera.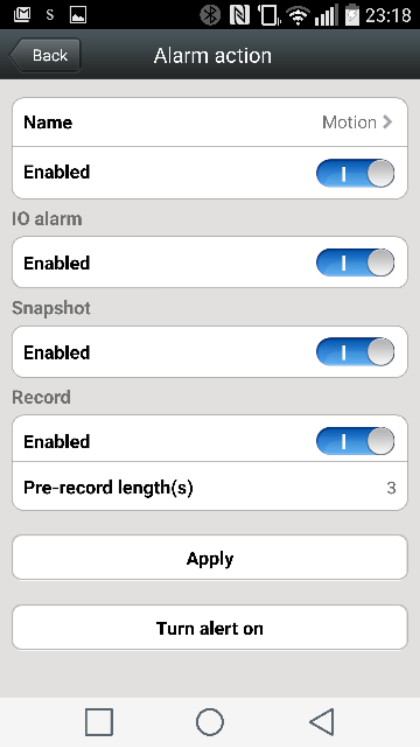 When the alarm is triggered it'll send an alarm and record a slice of video or take a snapshot so that you can check what happened.
If that's not enough, you've also got an automated record function..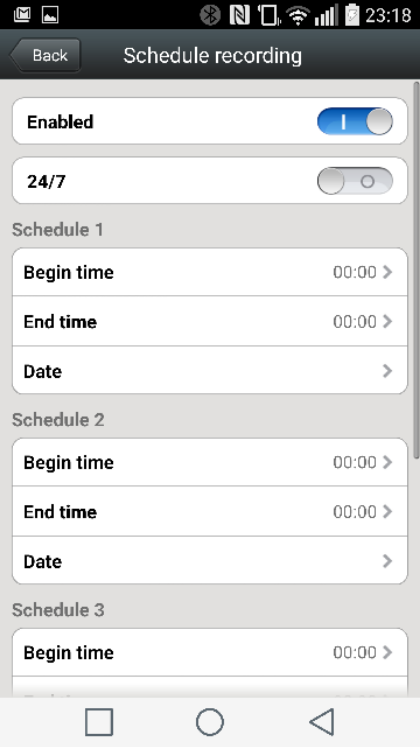 You may find, especially if you want to record for longer, that you'll need to adjust the resolution to fit the resulting video on that 32GB microSD.
Other options in settings include the ability to set the time and check how much space you have remaining on the storage card. You can also format it remotely.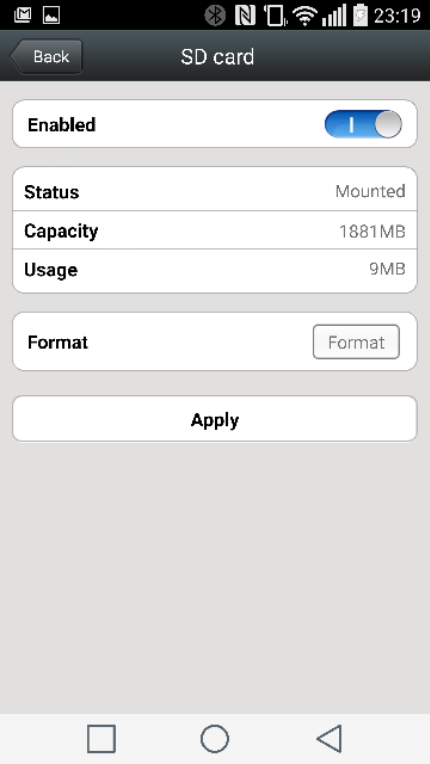 Video demo
Overall
A robust, lightweight and simple-to operate camera which can do pretty much everything from monitoring your pets to securing your home or office. It has an ultra-quiet motor and moves around with ease. It's a great gadget for either quickly checking in at home, having video chats with your family, keeping an eye on your business or remote working.
The setup is easy and the operation is equally simple. Just drag your fingers across the screen on your smartphone as you normally would and it'll move the camera around smoothly.
At just £49.99 with free UK delivery it's a decent price too.
Get more information at annke.com