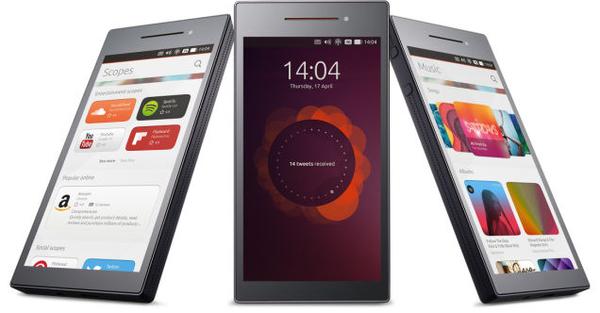 We all love a new phone right? We all love fledging mobile OS's right? We all love web apps right? If you said yes to all three then there is a phone coming out soon that'll be right up your street. The Ubuntu edition of the BQ Aquarius E4.5. Yesterday Canonical the owners of Linux Distribution Ubuntu announced a new phone made by BQ and an updated mobile OS.
So for starters who are BQ? Well Ubuntu have us covered there.
BQ is a Spanish consumer electronics and software development company. It is one of the main European technology players, with a presence in more than 40 countries. It operates in the sector of multimedia devices, 3D printing and educational robotics and is one of the companies most committed to the DIY and open source philosophy.
And what on earth is Ubuntu for phones? Well it's a Linux based mobile OS, that uses web based (HTML5) apps in much the same way that Firefox OS does. Just with some fancy animations and a cool clock widget. As to how it's any different. Again they've got us covered here.
What makes Ubuntu for smartphones so different to other OSes?
We are filling some real market gaps with an innovative platform for a new category of 'superphone' as well as providing a much richer experience for entry level phones. Not only is Ubuntu backed by a strong app ecosystem, it brings great new capabilities including a superb user experience, strong OEM support, customization opportunities and an ability to support all hardware from the low end to the most highly specified smartphones.
Key points about the release are:
– First Ubuntu smartphones available in the coming days with BQ on the Aquaris E4.5
– Ubuntu's Scopes introduce a new mobile experience for users, a smarter ecosystem dynamic for developers, and unprecedented differentiation opportunities for device manufacturers and mobile carriers
– Operators in Europe, including 3 Sweden, amena.com, giffgaff, and Portugal Telecom are all offering SIM bundles at purchase.
So onto this phone then, the Ubuntu Edition of the BQ Aquarius E4.5, spec wise is pretty basic.
Screen: 4.5" qHD 540×960, 240 ppi, 5 points multi touch, IPS, Dragontrail display.
Processor: CPU Quad Core Cortex A7 up to 1.3 GHz MediaTek.
GPU: Mali 400 up to 500 MHz.
Memory: Internal memory 8 GB (5.5 GB free).
RAM: 1 GB.
Battery: LiPo 2150 mAh.
Connections: dual micro-SIM, micro-USB OTG slot, Jack 3,5 mm TRRS for earphones (CTIA), MicroSD slot (up to 32 GB).
Connectivity: Wi-Fi 802.11 b/g/n, Bluetooth® 4.0, GPS and A-GPS.
2G GSM (850/900/1800/1900).
3G HSPA+ (900/2100).
Rear Camera: 8Mpx.
Front Camera: 5Mpx.
Sensors: Brightness sensor, proximity sensor, accelerometer, eCompass, gyroscope.
Dimensions: 137 x 67 x 9 mm.
Weight: 123 g.
Do you want to watch some videos about the phone and the OS? Here you go then.
Next week you should be able to buy the phone from the BQ website or through Giff Gaff.
Mike Fairman, CEO of giffgaff, the UK PAYG network says:
Ubuntu gives us another fresh new way to provide even more options for our valued and engaged users to choose from. We're offering competitive SIM-only bundles to customers purchasing the Aquaris E4.5 Ubuntu Edition
BQ sell the Android version of the E4.5 for about €169 which I feel is a bit steep, especially for a device with a low resolution display and lack of 4G. Hopefully they'll go cheaper with the Ubuntu Edition. Under £100 I'd certainly get one to try out the OS, over that I'll just stick with my Moto G. How's about you guys? Is Ubuntu for phones doing it for you?