As the man of the household, whatever I say goes. I wear the trousers and I make the decisions… errr..when the wife isn't there of course.
So, with my endless chargers scattered around the kitchen and in the bedroom, I do get "reminded" that they're messy and annoying. To try and resolve this I've looked around for some solutions. This, from eBuyer, would definitely help. Sadlyl it's not in silver, like the rest of our kitchen sockets, but it could work for you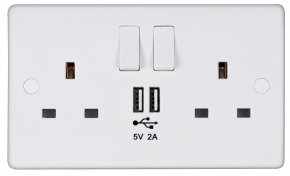 It's your standard double electric socket plus, in the centre, a couple of USB ports to charge your phone or tablet from. Good idea huh? It kicks out 2A on each port too, which basically means your phone will charge quickly and it'll handle your iPad.
Best of all, they've just reduced it in price and it's now down to £12.99 (was £19.98).
Head to eBuyer for more info.