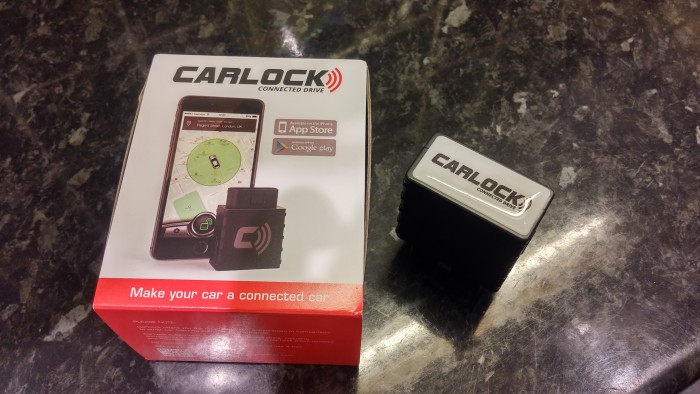 Tracking your car is possible with just a smartphone. Various apps will let you do it, but it's a matter of having a spare smartphone with a data plan and GPS, plus you have to leave it plugged into the 12v charger and that alone will probably attract a thief to your car anyway.
A quick and easy way is through a little dongle sold by CarLock. After purchasing one you simply activate it and plug it into the OBD connector. That usually sits under your dash and it's generally the port that the AA or RAC man will plug into with his laptop if your car does something weird. Effectively it's a gateway into the brains of your car.
Inside the CarLock device is a SIM card and the clever tech that'll communicate with your car. However, as the user you just plug the thing in and forget about it.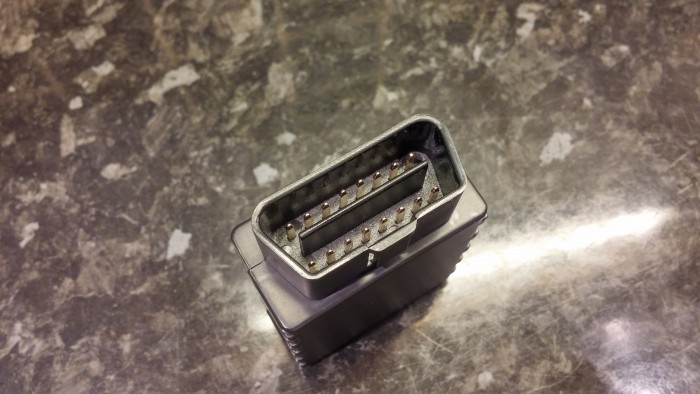 Now, don't worry, this isn't going to start reprogramming your Audi and won't add "hidden" BHP to your engine or make it consume more fuel. This is simple a security, safety and tracking device which also give you live location information via an accompanying app plus it'll send text messages to you or your friends if you're involved in an accident.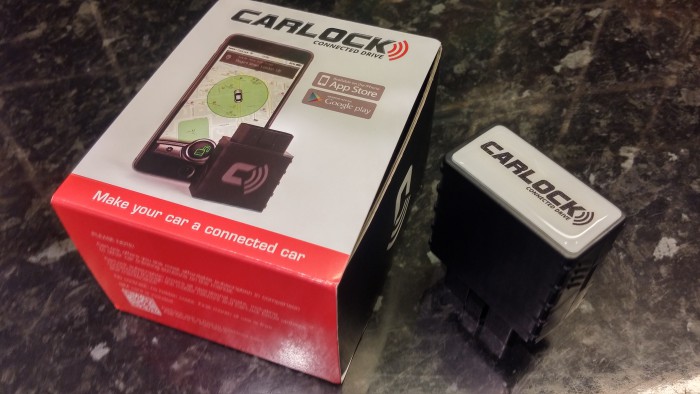 To get started you'll need to register the CarLock device. This'll activate your first month subscription (more on that in a moment) and then you can go ahead and grab the app. Activation is done, as most things are these days, online. Just put the numbers in on the back of the included card and you're done.
There's a 30-day money back guarantee if you need it. Once you've created your account and put your mobile number in (for notifications etc) you're met with this screen, which tells you exactly where your car is. It works thanks to the device in the car communicating with GPS satellites. This information, along with some other data including your battery level, are sent via the on-board SIM card to the CarLock Cloud.
This cloud will be the link between your card and the app on your smartphone.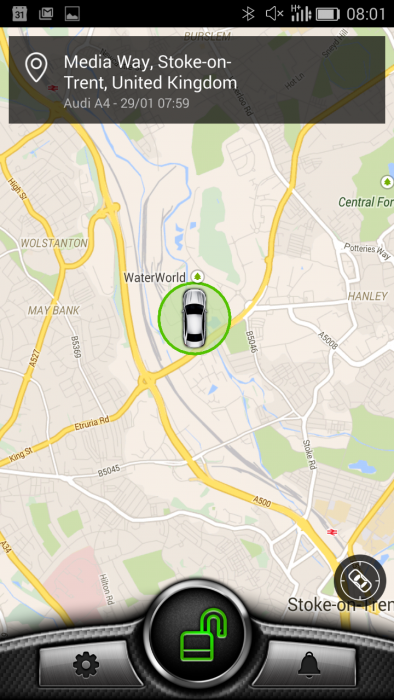 At the bottom you'll notice a green "unlock" symbol. This isn't going to show the lock / unlock status of your car doors, but rather whether the location is locked or not. If you're driving it or you don't really want it to be tracked, just leave this as is. However, if you've just parked your car up and want it to be "followed" if it's stolen, just press the lock symbol.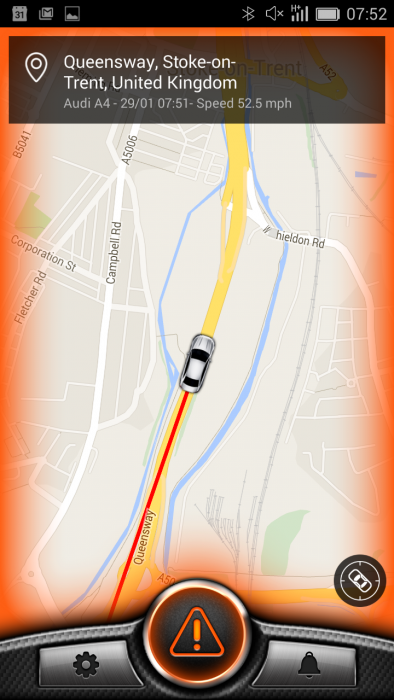 Once you've locked it, the CarLock system will look out for any movement. If some naughty sausage makes off with your motor (or a friend / son / daughter goes off for an unexpected outing) you will see the exact and live location via the app. A red circle will surround your car and you'll get notified of the movement from the app. Of course, if you don't have the app running then you can also get a text message to your handset or any other mobile.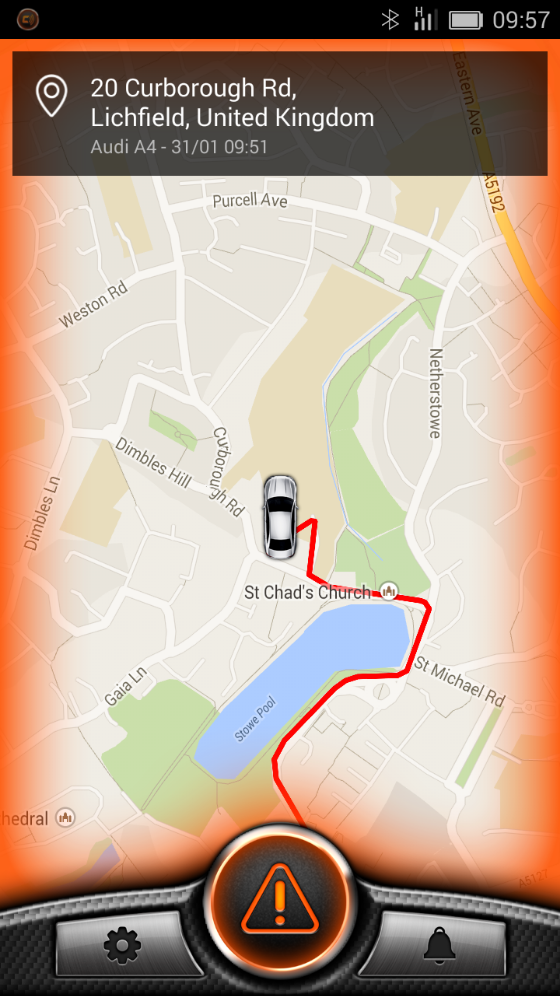 The car doesn't have to be near to where you are because all the data gets sent over the SIM card inside the CarLock device, effectively like a miniature mobile handset inside the car. It'll also work in a variety of countries abroad too, so you don't have to worry if your car is heading towards the nearest ferry port.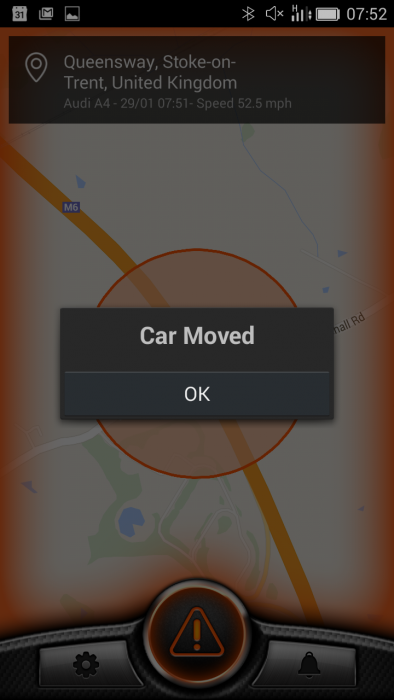 Wait, I know what you're thinking. "If I don't have the app, how can I lock the car?"
That's a good point, but you can setup a schedule, so the device will get "auto-locked" when you want it to. Again, this doesn't rely on your phone directly communicating with the CarLock system, it's the settings you leave on the CarLock Cloud that matter – and their cloud system will talk directly to the CarLock unit in your car, whether you smartphone is on or not.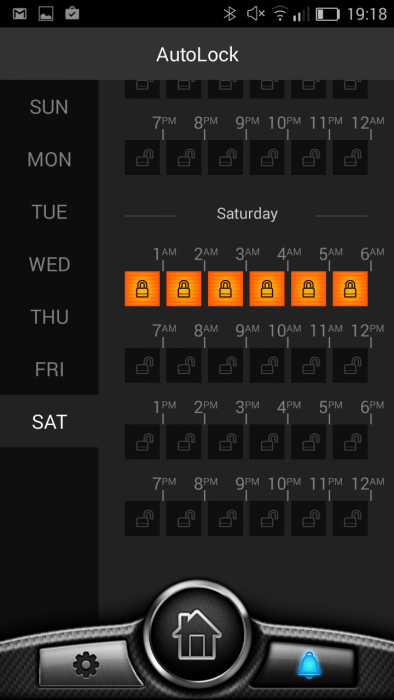 So, I've set mine to auto-lock the car over night and I can then sleep safe in the knowledge that I'll be able to see exactly where it is (and I do mean exactly, as this uses GPS and not any network mast triangulation stuff). You can still lock it manually too.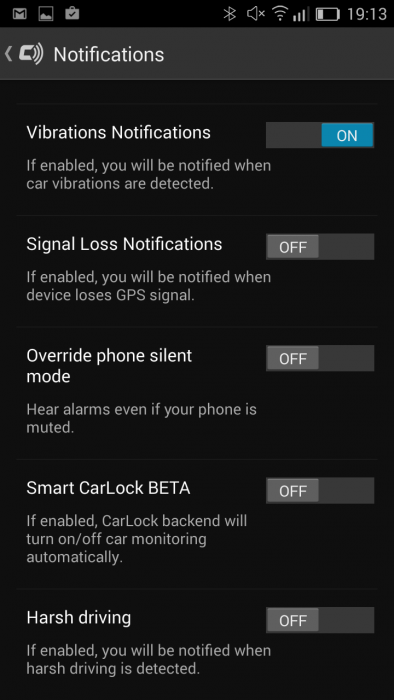 There is, rather temptingly, another option called "Smart CarLock". This is in beta right now but will turn your car monitoring on or off automatically. I'm assuming that it'll auto-lock the system and enabled GPS tracking etc when your car stops for a long period of time. This particular option was instantly turned on with me, as I need the thing to be as clever as possible so that I don't have to worry about it. Due to the nature of my life I can't always guarantee that I'm back home at a certain time or that I'll remember to lock it when I'm out shopping etc. It'll also inform you when it has locked or unlocked the system.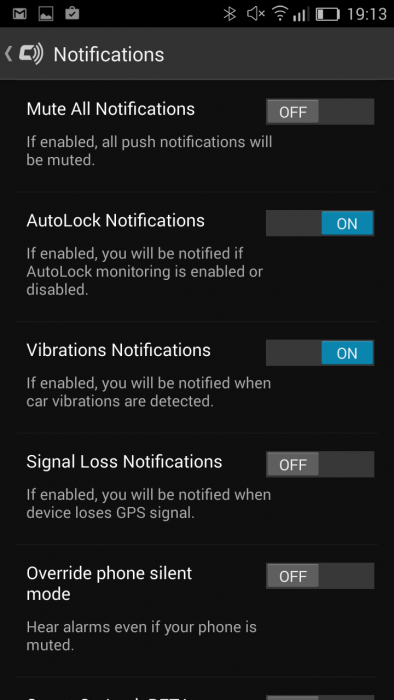 Also, if you perhaps forget where you've parked, you can navigate back to your vehicle..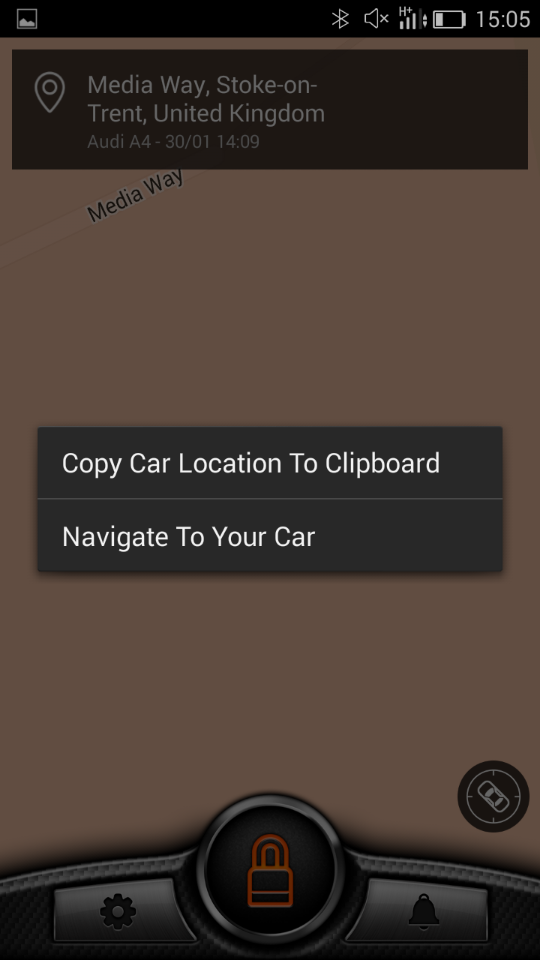 Push notifications consist of whether the car moves, whether the engine has started, the device has been unplugged, GPS signal has been lost, the battery is low and whether there's an vibration.
That last part means that you can use the device in another way. Not just for thefts, but also to keep an eye on the driver. If you have a young or vulnerable driver you can see where they are, whether they've been in an accident and when they arrived at a certain destination using the data from above.
However, it gets better. Check inside the Notifications screen and you'll also see something which will monitor "Harsh driving".
Ahh.. now Pandora's box is opening… 🙂
Yes, the OBD connector provides a whole stack of information and this CarLock device can effectively become the fitness band for your vehicle, collecting data about speed, braking and fast acceleration. This is the sort of data insurers love and you'll find that car insurers use a device very similar to this to keep younger and more inexperienced drivers under surveillance so that premiums are lower.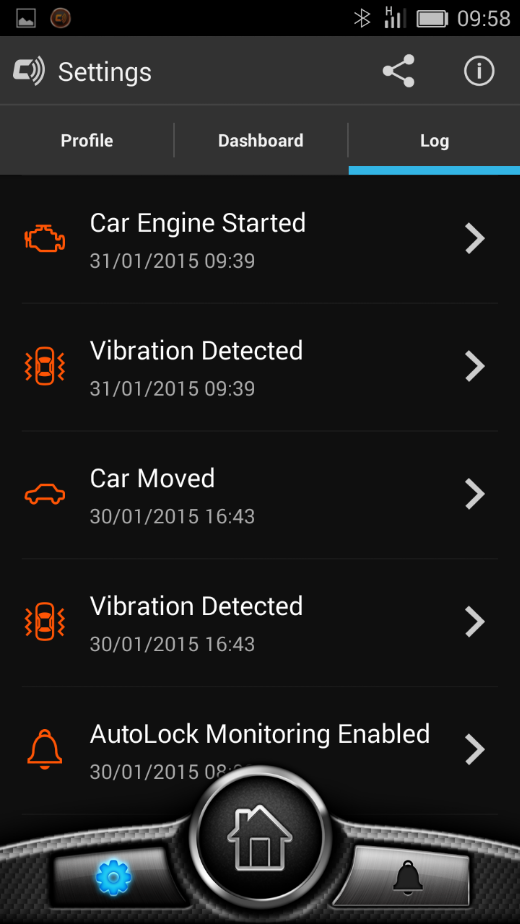 These OBD connectors, by the way, have been in cars since around 1995 and we're only now really using the data in a really useful and interesting way. Previously they just gave data on engine problems, emissions and so on. Boring. 😉
Subscriptions
The device is £99. The app, free. You also get a month subscription free, then it's £5.50. That's probably cheaper than most mobile phone contracts, and I doubt I could hide an Android or iPhone in my car to do this with a mobile subscription costing just £5.50. You can pay that via PayPal and other methods. That £5.50 does not, however, include any text notifications, so unless you've installed the app you won't get notified of issues. You can buy 100 SMS notifications for £15, however you can be a bit more canny and have a bundle containing the subscription and texts. Here's an example of pricing below..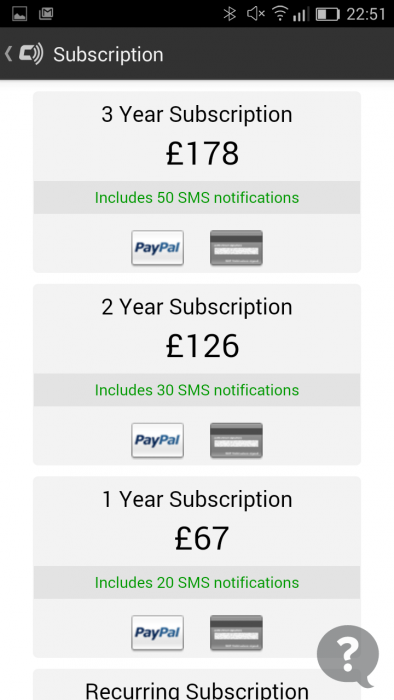 As you can see, paying for one, two or three years up-front gets you texts included, which means that you can text loved ones in the event of an accident automatically, or you can receive a text on a separate work phone if your car (or perhaps the company pool car) is getting driven harshly around the local town.
Overall
I was worried to begin with. I thought there might be some strange pairing setup and perhaps a fiddly notifications system, but it was all alarmingly straightforward and easy to use. It also ticks a lot of boxes. Whether you've just bought a shiny new BMW and tend to have to park on some "iffy" car-parks during the day, whether you want to keep an eye on your daughter as she takes that long drive home from Uni, whether you're secretly spying on your girlfriend (sorry, it had to be mentioned), whether you have a fleet of vehicles or whether you just want peace of mind; it's well priced and a dream to use.
Yes, I'd like to know a bit more about my car and its' health – not just whether the battery is running low (what about the oil, the water level etc? Are any bulbs out?), but it looks like they're developing the app and the services offered all the time, so this could be on the way.
Oh and let's face it. Car alarms really don't work. Nobody cares if your alarm is blaring away, even if some guy is busy fiddling about inside it. Instead burglars are pinching your keys (or cloning them) now, so to be able to direct the police to the exact location of your car is a really nice and secure feeling. I tested it by "locking" the car and purposefully driving off – it worked a treat and told me exactly where the car was at all times. Don't worry if you miss it either, everything is stored in your log so you can see what happened, when and – most importantly – where.
Get more information on this at carlock.co