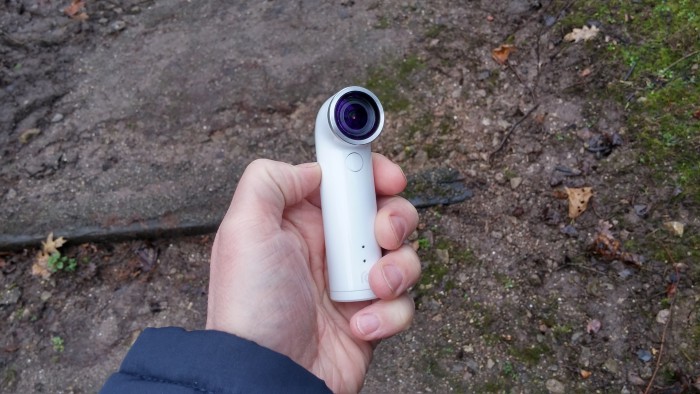 Here it is then, the magical camera without a viewfinder. Well, not an on-board one at least.
Strange thoughts went through my head when I unboxed this. Could I cope without having an onboard viewfinder or some sort of screen to show me instantly what my photo looks like? It's got to be like returning to the 80's or 90's, when we had cameras with actual film in. There was always that magical moment when you retrieved the resulting photos, only to find that you'd chopped someones' head off, blurred that sunset and taken five photos of your cat for no reason.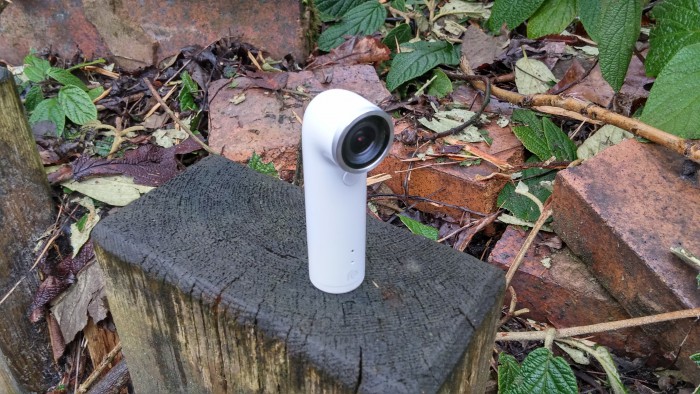 Out of the box this isn't quite as large as I'd anticipated and is about as tall as a regular tea mug. It's like a mini periscope or an asthma inhaler in shape and is a glossy cylindrical design.
A few things out of the way first though, and that 16 megapixel camera up front seems to be set to 12 megapixels as default.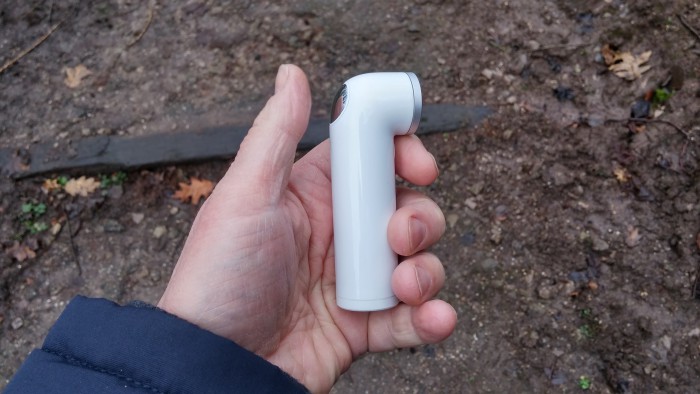 HTC PR told us to be careful with the camera. Of course. It's not like we're going to strap it to the front of a car hurtling up the motorway at full speed, or through lots of mud and ice on my mountain bike, is it?
So, here's a few videos of me with the HTC RE on the handlebars of my bike and stuck to the grill of my car as I go up the M6. Sorry HTC, but we have to test the ruggedness aspect, don't we?
Here's how I mounted the HTC RE. The READYACTION harness we reviewed earlier fixed it to the grill and also acted as the mount for my bike.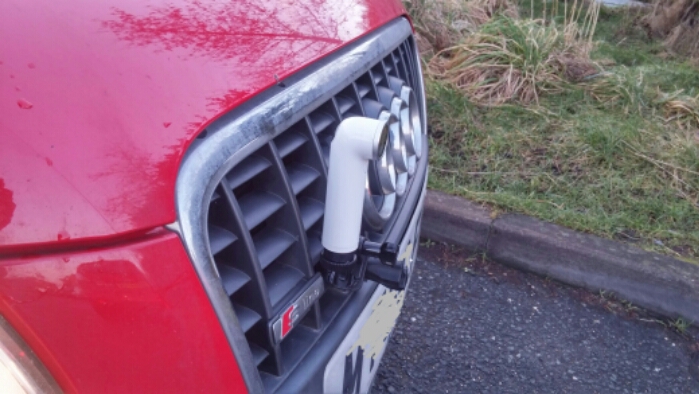 I think by now you can see that I was having a lot of fun with this.
All I can say is, it's lucky that the HTC RE is waterproof. 🙂 You can go swimming with it too, no problem.
The HTC RE also has a stabilization feature, so here's me taking a quiet walk in the woods. Obviously when you're walking it's going to be quite jumpy, so let's see how it performed..
Just just show how the HTC RE handled the night, here's a video recorded with very little lighting..
To get the camera working to it's full potential you'll need to pair it up with your phone. This is a straightforward process but, as this particular cam had been handed around several publications, I had to reset it using a small pin and a tiny hole at the bottom of the camera. Once this was done, the camera will talk to your phone over WiFi Direct. I'm breathing a huge sigh of relief that they didn't choose Bluetooth here because it really wouldn't have worked – WiFi Direct is needed to send the data at a high enough speed across to your phone so that you can view live video and move files from the camera to your phone quickly. The RE supports both 2.4GHz and 5GHz wireless frequencies. It also means that I could travel just that bit further away from the camera.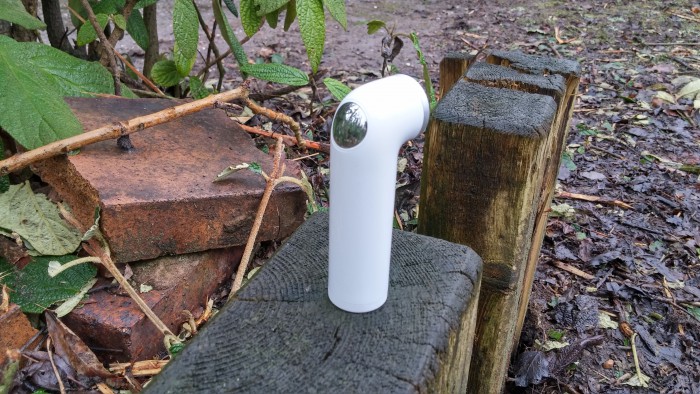 What you basically do (and it's almost too simple for me to type) is press the big silver button on top if you want to take a photo. You'll hear a "click" noise (and you can alter the volume through the app, which you download from Google Play or (soon enough) iTunes. To record, you press the big silver button a little longer, and you'll hear a few extra beeps. Tap it again to stop. You can also press the small white button on the front to start slow-motion recording.
Other than that, and the small flap at the bottom where the microSD card goes (this is where all your on-board storage is and your files will live) that"s about it. There's a small LED up-front plus another hole so that you can hear the various beeps. Up top is another small hole, this time for the microphone, and you'll get a hidden LED in the silver button so you know whether it's recording or not. Strangely I also found that the silver button acted as a great mirror when it was mounted on the handlebars of my bike and that meant that I could see cars approaching from behind.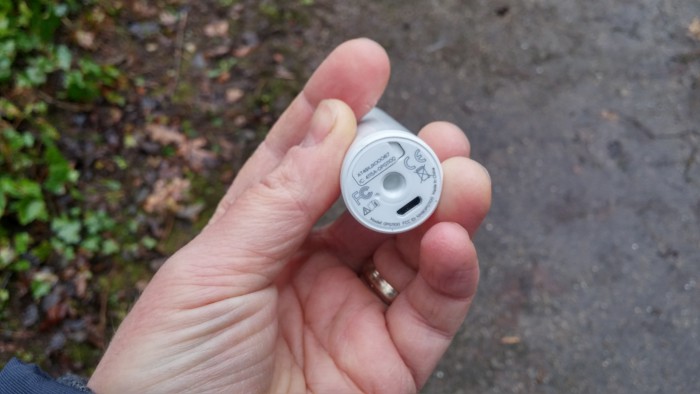 The bottom, I should also point out, has a screw-in tripod socket (which also connects to the various holders and grips I used to keep this mounted onto the cars and bikes I reviewed this with) and a microUSB port for charging.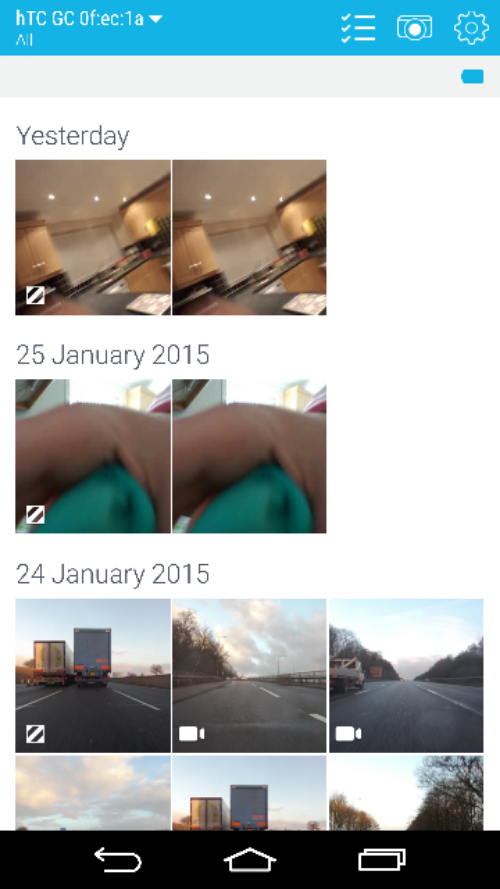 The other side of the HTC RE is the app. The main screen, after a short sync period, will show all the videos and pictures you've captured. The HTC Zoe system, which I really like anyway, is here to add some fun and editing capabilities to your footage. It'll also show you the battery meter and you can multi-select and either share (through your normal apps) or delete. Not only that, but you can of course save multiple pictures and videos to your phone from the HTC RE itself.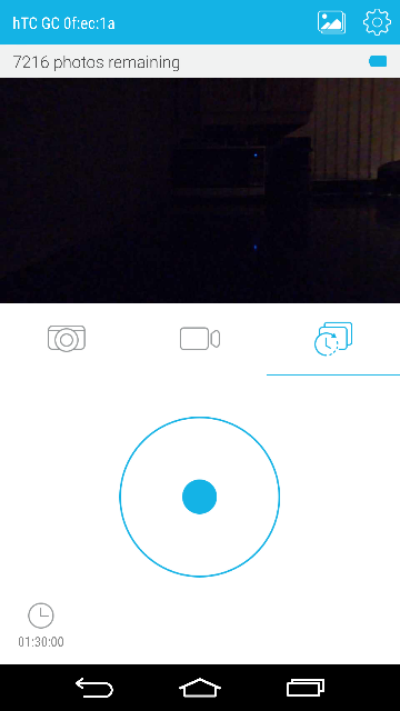 Thing is, when you do move those films and photos to your phone it'll stick the files onto the internal storage on your phone and, right now, there doesn't seem to be a way to adjust this. If you've got a phone with a lot of internal storage then you'll be OK, but if you film something fairly long or copy a number of videos to a phone with a few Gigs of usable storage it'll quickly fill up. That said, the copy is very fast over the direct WiFi connection and it zips over to your phone.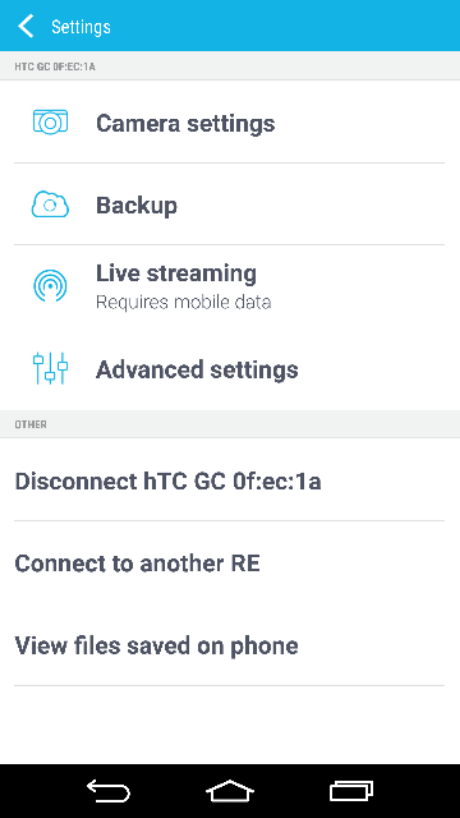 Here's a look at the HTC RE app in action..
Before we get to the settings and the additional settings, clicking the camera icon will show you a live preview from the itself. From here you can snap a photo, start to record a video (at normal speed or slow-mo) or do a time-lapse recording. I liked the fact that, when I did the mounting of the camera on the front of the car, I could completely control and see what was going on from inside the car. You can see how many shots you've got left, how much video time you've got left too.
Live footage can be recorded and viewed on YouTube and there's a number of settings you can easily tweak too. The video resolution is set to Full HD (1080) but you can also switch it to HD (720p) – both a 30 fps. Photo resolution was set to 12 megapixel (16:9) but you can crank it up to a square 16 megapixel shot or a low-res 8.3 megapixel mode (16:9).
The ultra wide angle mode turns shots from this..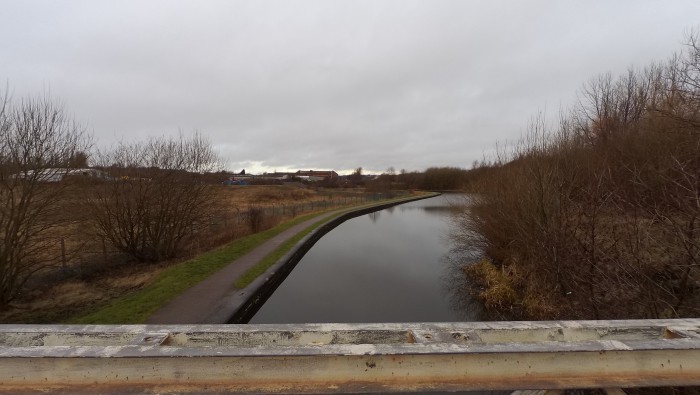 ..to this..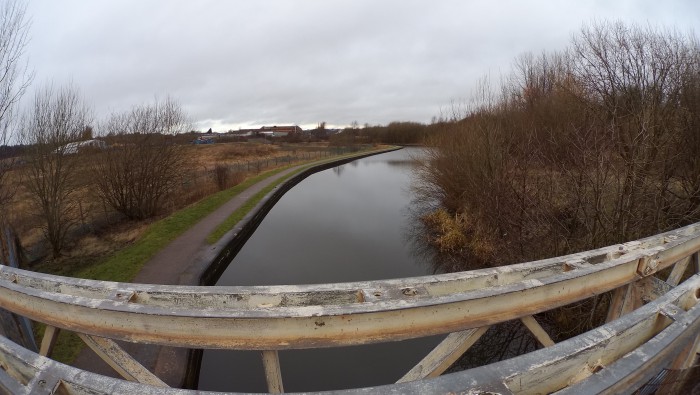 Here's an example of some of the photos I took. It performed well in normal light and did really well outside in daylight. Up-close images were a no-go and lower-light images suffered due to the lack of a flash. Don't get me wrong, it would take low-light pictures and you'll see an image from a completely dark motorway below, but if you did move around to the left or right it'd blur the shot.
In the settings we can switch connection to another camera (if you have another HTC RE), view all the files you've saved to your phone, adjust those camera volumes, tweak the password and flick an option to auto-delete images from the HTC RE when you've copied them to your phone. Location information can be stored and stabilization can be turned on or off.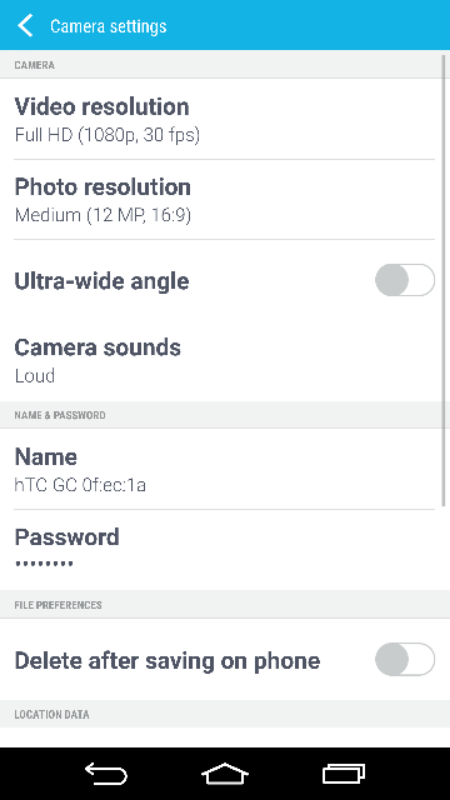 I appreciated the backup option as, with so many phones and cameras making photo and video-taking easy, you can forget to keep those images in a safe place.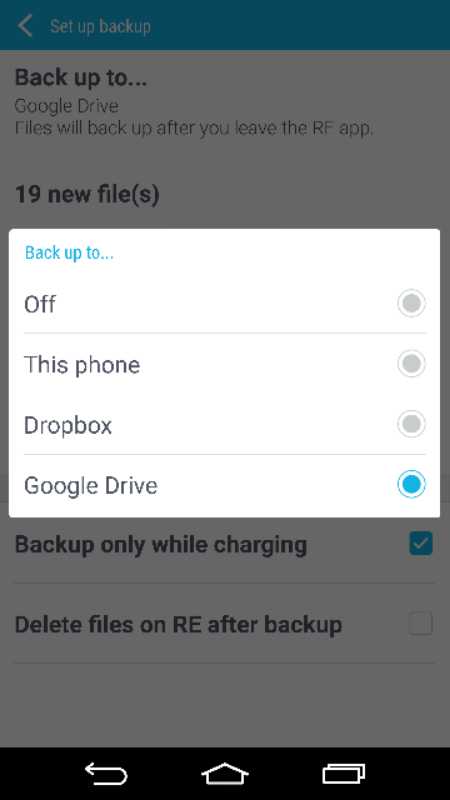 Here it'll do it for you. Dropbox and Google Drive are supported, plus you can backup everything to your phone – just watch that on-board space though.
Live streaming, should you need it, means that you can broadcast your snowboard session, bike ride or walk into work to the world via YouTube and Google. Everything you do gets pushed out live, and then you can watch the resulting video later too.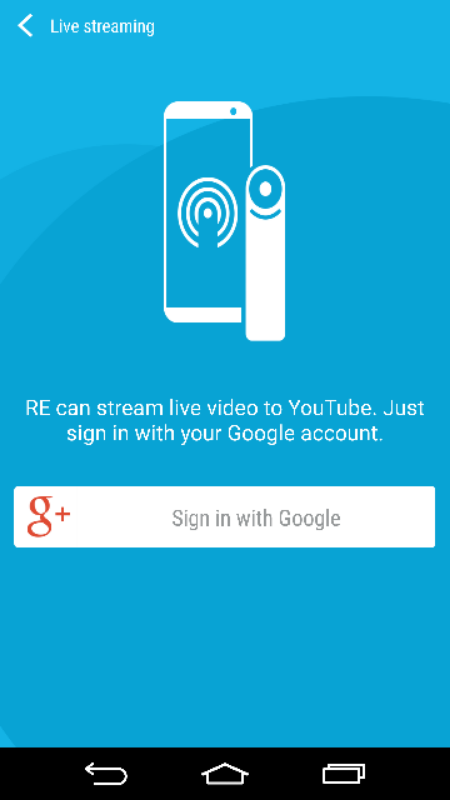 The advanced settings can be used to format your on-board RE SD card (which you can remove and upgrade if you wish). We had 16GB on-board, but you can whack up to 128GB.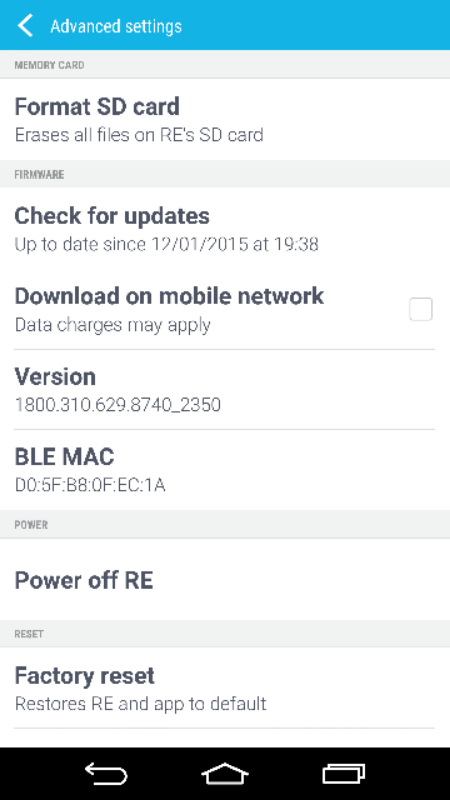 Updates to the app come over the internet and, likewise, to the camera too.
Overall
To begin with I was a little confused as to where this would "fit" in my life but it's definitely an action / sports camera in my book. It'll also work for those moments when you'd perhaps like to take a small Director role in your own footage, filming a concert perhaps and holding the RE aloft while you check the shot on your phone. I could mount it on the dash of my car and film myself doing a live drive into work. I could use it as a (fairly expensive) reversing camera if I fixed it to my car and put the phone on the dash.
Whether you're actually going to take it with you as a dedicated camera on a day out.. that's questionable. This is more of a "fun" camera, where you can freely jump in the pool, go swimming in the sea and perhaps use to film yourself and your family on fun days out. It's got cheaper recently too and now retails for £129 with the likes of EE, which isn't too bad. The footage that it produced was good and you could quickly grab it and snap a shot or record something without worrying too much about having to frame the image perfectly. That lens performed well in the sense that such a wide angle was captured and it'd grab most things you were pointing it at.
Whether it'll replace your smartphone camera is debatable. The images it produced, even with that 16 megapixel quality, weren't a huge deal different to your smartphone. However, as a go-anywhere snap-anywhere shooter which was instantly available and had a great deal of additional cleverness, I was sold.
HTC RE Review
Photo and video quality - 8.4
Build quality - 9.2
Value for money - 8.1
8.6
A fun and intelligent point and shoot camera which plays with you without you having to care.