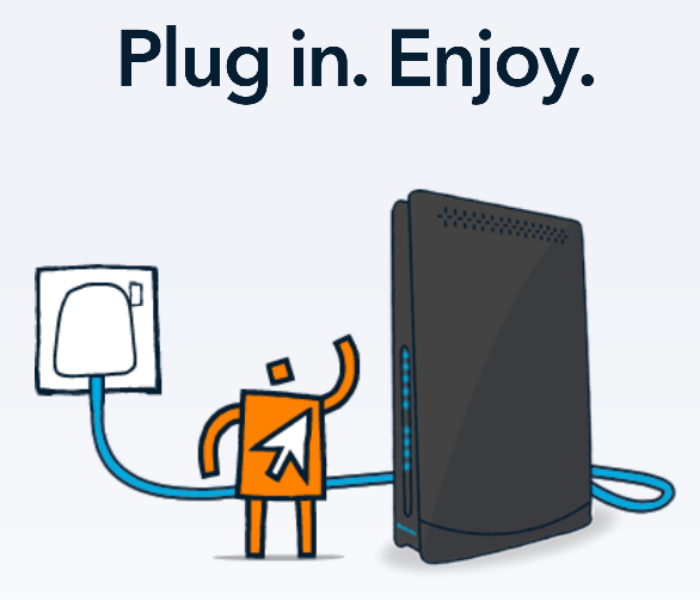 If you're in London then you've already got quite a selection when it comes to home broadband, however you'll usually find that line rental is an essential. Those headline figures try not the mention the all-important line rental cost, which is tucked away in the corner of the screen on most adverts. However, there is one company that is taking a different approach. UK Broadband (UKBB) is a service sold under the name "Relish", and you may have seen their advertising campaign kicking off on the social networks you frequent daily.
Why are they different? Well, there's no wires, no fibre, it's all over 4G – and it's their 4G too. They offer "fibre-fast speeds without the wires" and you can set it up yourself. Their plans are also stupidly simple, with a £20 monthly charge getting you unlimited downloads at up to 50Mbps speeds. Better still, it can be delivered the very next day and there's no long contracts. They also tell me that "unlimited" really, actually, does mean unlimited too.
Here's their home service…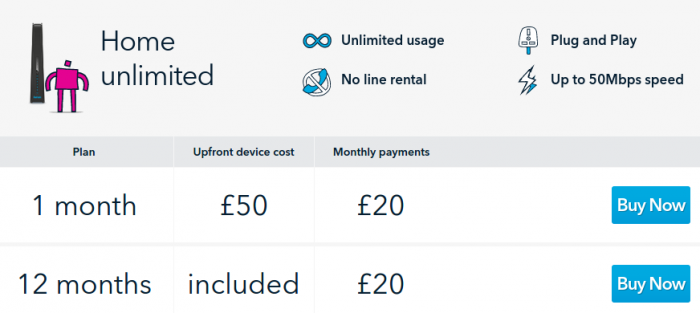 There's a 2 week money-back guarantee, you can give it a try without cancelling your old service and you can either pay monthly or yearly.
Now yes. This uses 4G. So why, you're probably asking, restrict it to an in-home or in-office connection? Why not travel around the capital with your speedy data connection? Well, you can. They offer mobile broadband at £10 per month for a 1GB allowance or you can take it up to 20GB for £35 per month. There's also an up-front device cost on some plans..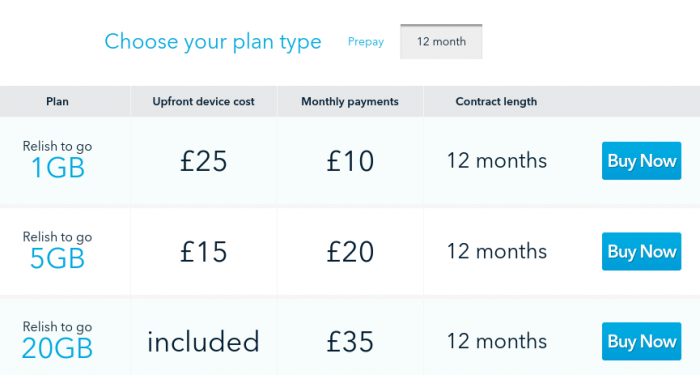 I know. I'm thinking the very same thing you're thinking. Why do you get unlimited usage over 4G if you chose the home plans but you have to pay more for the mobile broadband offering? Well, Relish tell me this is because you'll fall back to 3G if you're out of their area, but on the home and business plans (which are also crazy cheap), you're going to be in their service area, which you can check here on their coverage page. Basically put, you're paying extra for being able to roam across to a 3G network if you head out of central London with your Relish WiFi dongle.
Me? If I was in central London? I'd snap up their home and office packages in a heartbeat. This is the exact opposite of what most networks do. Most networks will hate you sitting in one place, pulling unlimited data over a MiFi unit.
With Relish, provided you setup and stay at the address you install it in, they want you to use 4G for your home and office broadband.
Sadly Relish is currently only available in the capital, and their business model will no doubt require a densely populated area. We spoke to them about their customer broadband solutions and whether they had plans to expand further. They told us that they will be growing the network across Greater London and out to other UK towns and cities in the future. Good news.
Who are Relish though? Well, I can tell you that they don't use anyone else's network for starters. They are operated by UK Broadband, part of the PCCW Group that includes HKT, Hong Kong's premier telecommunications service provider and largest mobile service operator. Here in the UK they've already delivered commercial 4G LTE services to a number of cities, towns and businesses.
http://youtu.be/wEWx40R_Hu4
If you want more information, head to their website.