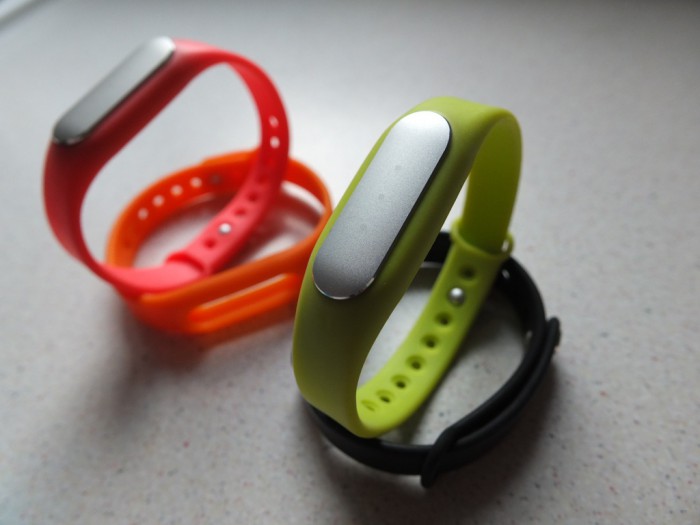 I have been a wearable convert for about a year and a half now, be it a smartwatch or a fitness band I usually have one such thing strapped on. I see great potential in these little bits of plastic attached to me, I scour through related forums trying to find the latest extension, plugin, hack or app that enables some fancy additional functionality. Android Wear is great for this, the SDK is available for people to make apps for Android Wear smartwatches and as such there are loads of things you can find on the Google Play Store. Fitness Bands aren't quite as open as this though, with barely any onboard storage there isn't much you can do on them.
For the past few months I have wearing the Xiaomi Mi Band and it is really starting to impress me. I also recently have been using the Xiaomi Mi4 and it is becoming my favourite phone ever (more on that in a separate article soon). The "official" Mi Band on that is on the Google Play Store has basic functionality if used with a non MIUI Android device, it tracks steps, it tracks sleep, it allows you to set alarms and you can set it to vibrate for incoming calls. If you use it with a Lollipop device it also allows you to use the Smart Unlock option too. However if you connect the Mi Band to a Miui device you can use Smart Unlock too, even though it is a Android 4.4.4 based device.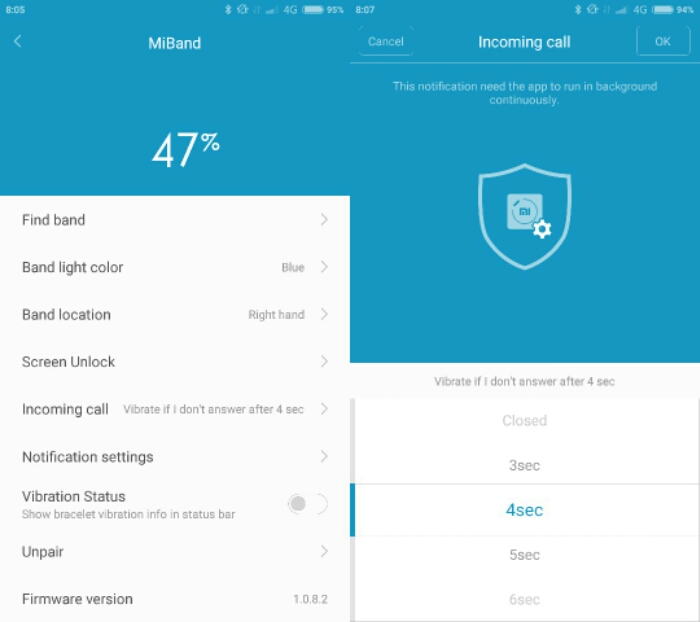 The thing that got me thinking was vibration for incoming calls, the app on the phone must have something built in that recognises the call notification and pushes it to the band. I wondered if anyone had managed to hack the app and extend this functionality, lo and behold they had.
So just to recap, the Xiaomi Mi Band is a £15 fitness tracker, that has functionality similar to a Fitbit Flex, apart from the Social aspect. A bargain really. Oh and the battery lasts about a month.
So back to the modified app for the Mi Band. The app has been developed by Xiaomi forum user dezmen3, hats off to them for their hard work. The thread for the Xiaomi Mi Band modified app is here and that's where all the info and links you'll need are. The thread for the faq is here which is where you can ask questions.
Install Mi Band application. If you have a Xiaomi Mi Band you'll have had to register with Xiaomi, this account you get allows you access to the Xiaomi forums. All you have to do is register a forum name and reply to the apps thread and then the download links become visible. Or you could just download the current version of the app here. You'll need to uninstall the old version of the app and make sure you have unknown sources allowed on your phone, head to Settings -> Security -> Unknown Sources. This allows the modified app to be installed. Next you'll need to enable notification access, go to Settings -> Security (Privacy on a miui device) -> Notification access and choose BleNotificationService.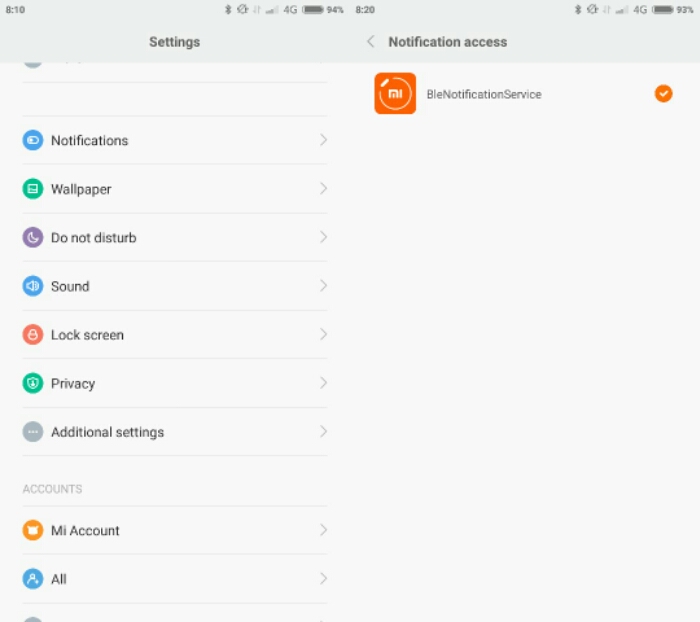 This allows the app access to your notifications, much the same as when pairing a SmartWatch for the first time. Now it's time to run the new app, log into your Xiaomi account, wait for the band to pair and then have a play with the settings.
To activate notifications, just go into the Mi Band settings -> Notification settings and pick needed application. 
Click on the grey tick to enable that app and then click on app name to go into its settings. You will see Vibration and LED settings, you need to tick them to activate them (Green mark = activated) .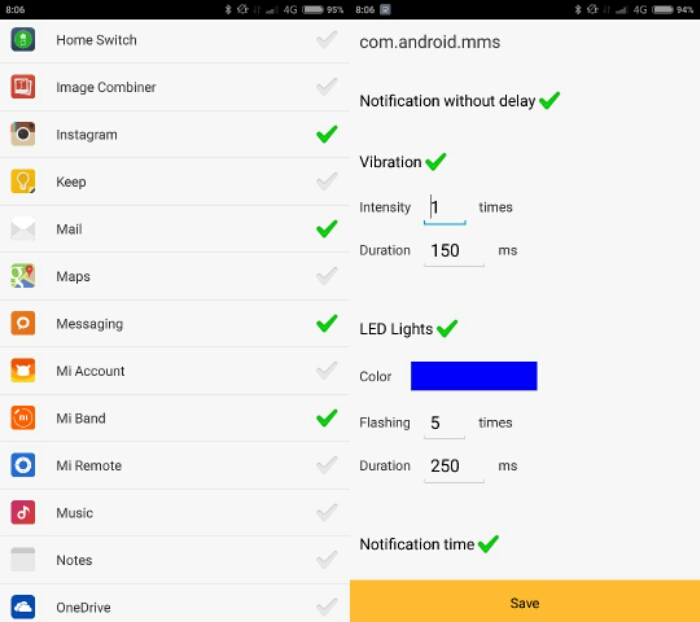 So once you've uninstalled the old app, installed the new app, enabled notification access and then configured the app you're good to go. Just get someone to send you a text or something and see if it buzzes. I ended up adjusting the vibration settings to quite low as the default felt like I was being electrocuted. I've installed this on a few different phones, not just a Xiaomi phone and it all worked, you just have to have installed and enabled all the correct parts. The only problem I did find was with my Pebble, having two devices paired to your phone that are forwarding notifications to Bluetooth devices basically caused them both to stop and in the case of my Pebble Steel it now doesn't want to talk to my phone anymore, regardless of how many reboots. So please unpair any other wearables. Another slight issue is with battery life, normally the band lasts about a month. With the phone pushing notifications to the band battery life is reduced, I'm not sure by how much as I've only been using this for about a week, but the drop is noticeable. Reducing strength and frequency of vibrations will help and also the number of times the LED flashes.
So after a bit of tinkering around I have a £15 fitness band, that counts my steps, logs my running, automatically logs my sleep, buzzes when I get a phone call, unlocks my phone when it's in the vicinity, it has a battery that lasts about a month and now it buzzes for notifications on my phone. Which in some situations is all I want, like driving or if you're in a meeting. The buzz lets you know there is a notification to deal with later.
As regards getting hold of one, I'd have a look in the European Warehouse section of either Merrimobiles or ibuygou, hit eBay or go crazy and order one from Xiaomi direct and wait a few weeks. Whoever you order from make sure you understand what they tell you about import tax.
So if you've been toying with the idea of a fitness band I'd recommend the Xiaomi Mi Band, it really has great potential especially for the cost. Just make sure you tick the right boxes when trying to set it up.