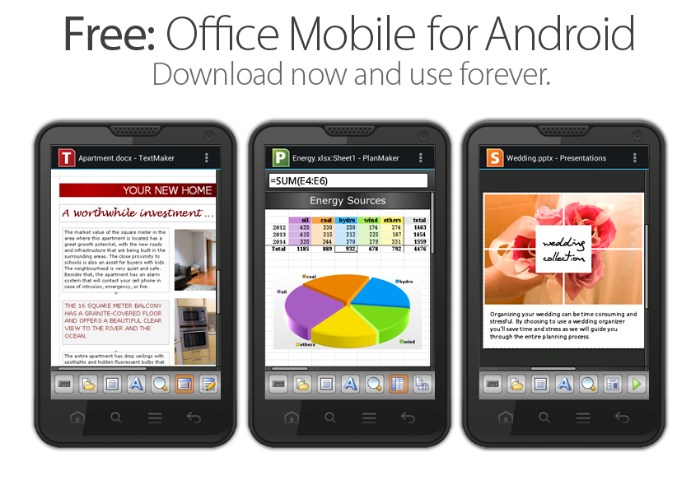 The hunt for the perfect office suite has been a long one, dating back to Windows Mobile. The hunt for the ideal office suite continues today. I and many others just want to quickly and easily edit Word, Excel or PowerPoint files on the go.
The problem is that there are plenty of apps that work with Word or Excel files, they just all do it differently. Sometimes you'll get bogged down with adverts or weird UI choices and sometimes you'll just dig out a laptop or just not bother. Sometimes I'll even go so far as to make an online doc instead via Google Docs and not worry about further issues.
SoftMaker have been in touch to let us know that their Office Suite has now gone free and is fully compatible with all types of Word, Excel and PowerPoint files.
SoftMaker Office Mobile consists of the word processor, TextMaker Mobile, the spreadsheet program and PlanMaker Mobile and the presentation app Presentations Mobile. All three applications can seamlessly open, edit and save all Microsoft Office files: this is true not only for the classic formats (DOC, XLS, and PPT) but also for the current file types that have been introduced with Microsoft Office 2007-20013 (DOCX, XLSX and PPTX). You won't find any other free mobile office suite that displays files in all these Microsoft Office formats as faithfully as SoftMaker Office Mobile, and because it is the only office suite that is able to save them again in their original format without loss of formatting or layout, SoftMaker Office Mobile ensures trouble-free documents exchange between a PC and Android device every time.
Some quite bold claims here, so I'm going to test this out and bring you a review fairly soon. In the meantime you can get the apps on the links below using your mobile Android device.
Play Store Links – Textmaker – PlanMaker – Presentations