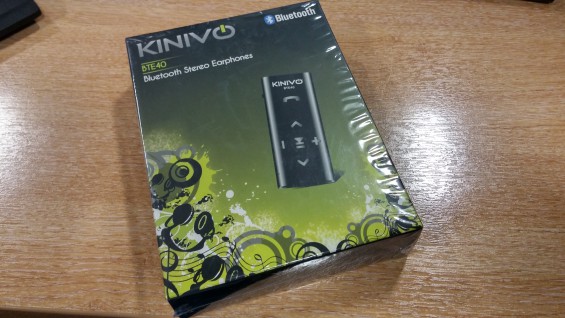 You've got your favourite headphones and you don't want to get rid of them. I understand that. However, you don't want to constantly be shackled to your smartphone or tablet. It's a pain isn't it? Especially if you have a tablet or a phablet. Those things are always pulling your pocket down and yanking your headphones out of your ears.
If only there was a super-light "thing" that you could plug your 3.5mm audio cable into, then that could magically communicate over Bluetooth to your phone or tablet?
Guess what we have here then my friends. This is the Kinivo BTE40.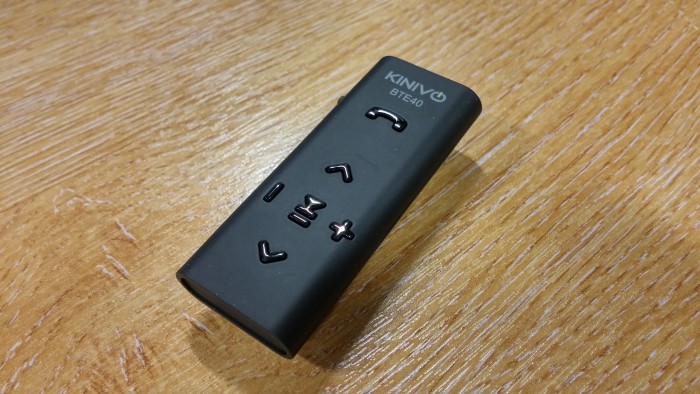 This is a tiny little thing, about the size of a packet of chewing gum, which is charged via a standard microUSB port. You basically charge it up, pair it with your phone, then you plug either your favourite headphones in or the ones supplied in the box, which are OK-ish.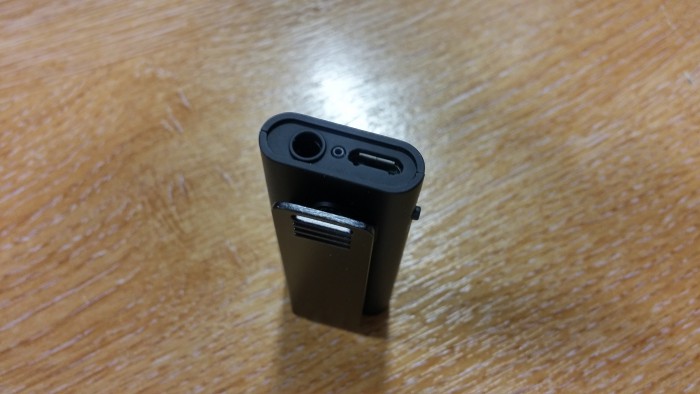 Once you've paired you can control your music (play, pause, skip tracks etc) and make calls too. Not only that, but Kinivo have included a couple of 3.5mm to 3.5mm cables, so you can put this little Bluetooth receiver next to your home theatre system, plug it into the "AUX IN" and blast out tunes from your smartphone or tablet directly to your big speakers or amplifier. Neat huh?
Getting started involves charging. There's no charger in the box but you'll no doubt have a spare charger or USB port knocking about somewhere. During charging you'll see a small red LED. Once it's fully charged that'll change to blue, and the process takes about 3 hours (absolute maximum though, I had it charged in less time). Once you're fully charged you should be good for up to 6 hours of listening time, which should do a fair few bus or train journeys and – let's not forget – you can use your smartphone or tablet wires-free too.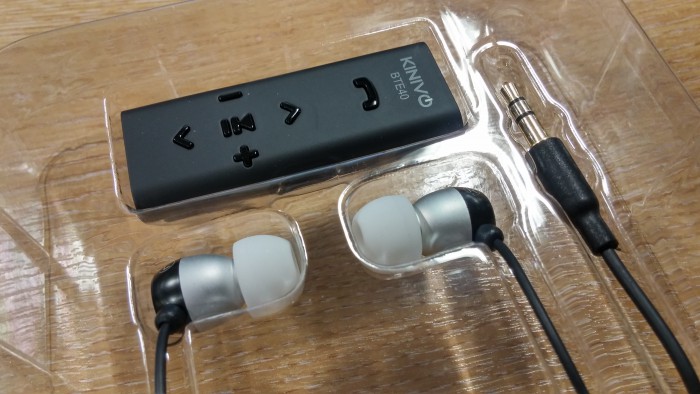 If that battery does start to go flat you'll hear a "battery low" message in your headphones and the red light will flash quickly. I was pretty glad that there was some sort of audio notification, especially considering that this Bluetooth gadget is going to be clipped on your coat or in a pocket.
Yes, I did say clipped. There's a clip on the back which takes the whole length of the unit and is strong enough to hold it in place even on the bumpiest bus journey. This means that your headphones won't be pulled out of your ears, and you can put it anywhere on your person rather than your trouser pocket or in your hand (like a phone would normally) with cable trailing.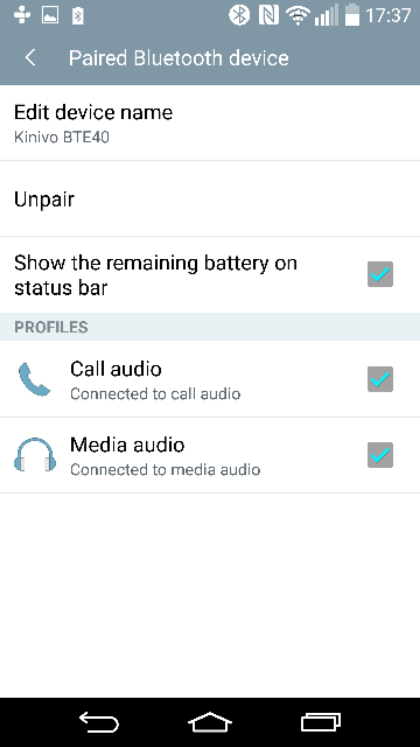 Pairing is a simple enough task. Turn the BTE40 on and then press and hold the call button for a couple of seconds. The red and blue LEDs will start flashing and then you just search for devices on your smartphone, ensuring that your smartphone / tablet is visible.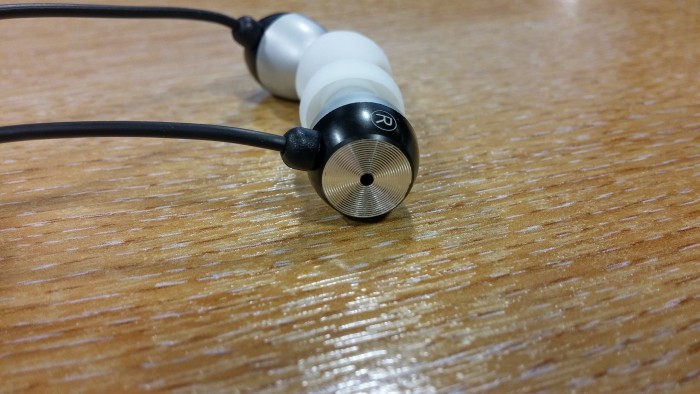 Once you're connected you can play and pause music or skip tracks. I found that, by double-tapping that "call" key, you get through to your voicemail.
The earphones you get with this aren't terrific. They'll do, and they're certainly as good as a lot of included headphones that you get with smartphones, but you probably have a favourite pair that you have in mind anyway.
The other option, if you don't want to use headphones, is to plug this into your big stereo system and blast out the tunes that way. It worked well in this setup and in both cases I was glad to be able to see the battery level on my smartphone so I could see just how much juice was left in the BTE40.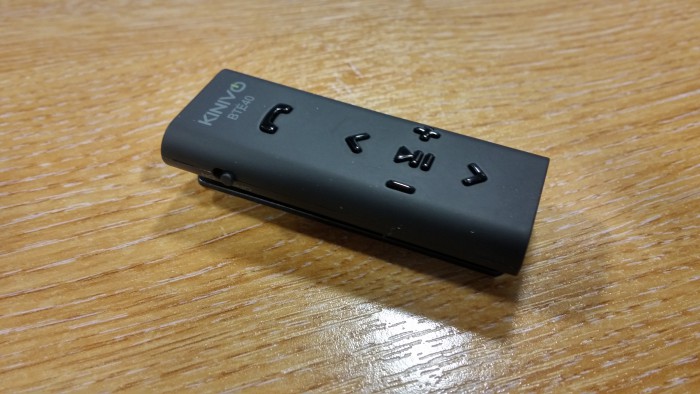 With my own headphones on audio was perfect, it was as good as having the headphones plugged into the phone and I like the multi-point functionality, which lets you connect two devices simultaneously without interruption. This is great if you carry your phone with you but want your iPad to provide the music when you get home.
If a call comes in then music will pause and you can use the It has a built-in noise canceling Microphone. Music will automatically pause when you receive an incoming call and then there's an inbuilt microphone to pickup your voice.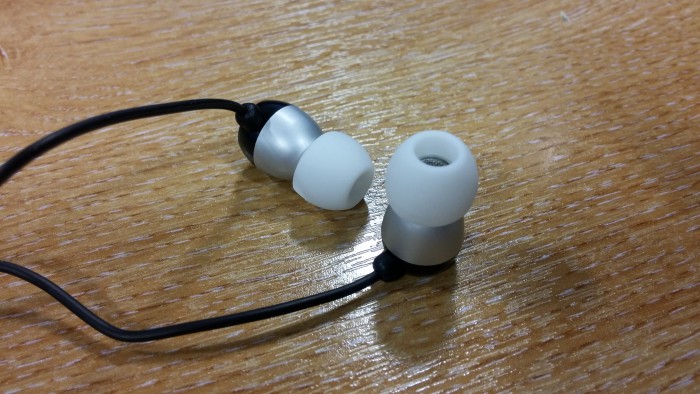 What I would've perhaps liked was an auto-power-off system, as the small switch on the side was something I was constantly forgetting to use. Range was pretty good, especially with line-of-sight. In my house, if I left my phone fairly central, I can walk into a number of rooms wihtout losing the audio, and that was quite "freeing" in a way. I was glad not to have a coat, jumper or phone pulling one of my earbuds out and it's a light and very clever gadget which is easy to recharge and use. Personally I'd still stick to my own headphones, but the fact that I can make them wire-free (almost) is a bonus.
Want them? They're £56.93 from Amazon. That's a little costly for some, but if you want to have a Bluetooth experience without binning your own headphones, it's definitely worth the look.
Kinivo BTE40 Stereo Bluetooth headphones review
Headphones (supplied) audio - 6.8
Price - 7
Audio quality (using other headphones) - 9
Build quality - 8.8
7.9
The headphones themselves could be a bit better, but the technology and build quality of the controller is spot on.